Food News
St. Jack Launches Sunday Brunch
Seafood innovator Trent Pierce resurfaces at St. Jack with a new all-day Sunday brunch and raw bar.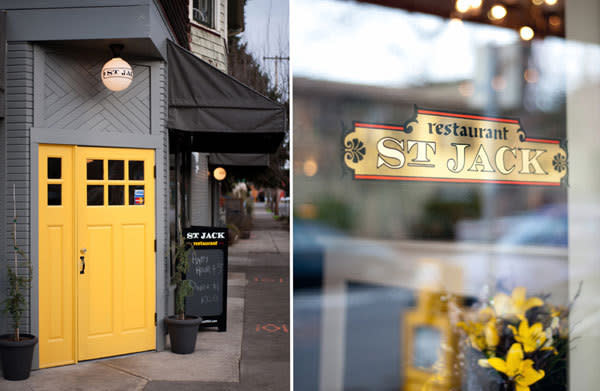 Trent Pierce, who made waves with a daring seafood menu at the short-lived Fin, is back ashore with a new brunch menu at St. Jack, Portland's hot new neighborhood French eatery at 2039 SE Clinton St. The new menu launches Sunday, April 17, and is served all day, 10 a.m.–7 p.m.
With the famed Les Halles de Lyon food market as inspiration, the seafood-focused menu holds intriguing possibilities: the kitchen's boudin noir paired with scrambled eggs and smoked salmon; sausage and oysters sided by grilled bread; and a French-Canadian meat pie, which we suspect is the handiwork of chef Aaron Barnett, drawn from his home base.
Pierce's vision extends to a raw bar showcasing a changing mix of local shellfish and various caviars. But we can also hope for the kind of artistic, modernist dishes that earned him a reputation as a cook to watch. His current brainstorm list includes cured mackerel with grilled ramps and cold smoked salmon with pickled morel and crushed fava beans.
St. Jack's brunch has all the elements for success. This is one of the most friendly, passionate restaurants in town, with promising talent in the kitchen, at the bar, and behind the patisserie. But Pierce's stay is likely to be brief and focused on recipe creation. He's currently working on his own restaurant project with St. Jack's co-owner Kurt Huffman, with plans to be unveiled soon.