Beer Bulletin
Tappy Days
A bonanza of brew fests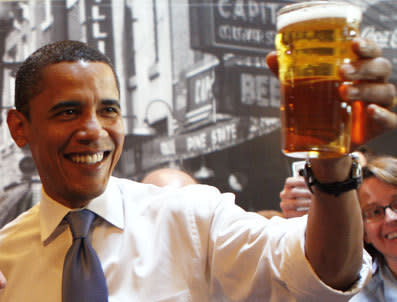 You might need two Sharpies to circle all these dates on your quaffing calendar. Yes brew believers, you are indeed living in the best of all possible worlds as the next four weeks brings us enough beer blasts to plaster a platoon of parched frat boys. Needless to say, in a town that prides itself on constant innovation and sudsy style points, average ales are not on the menu.
Firkin Fest On Saturday, Rogue Brewing hosts the fourth annual Firkin Fest, a split-session soiree of beers that are unpasteurized, unfiltered, carbonated in the cask, and served at room temperature. Some 30 Oregon breweries, including Bridgeport, Full Sail, Cascade, Upright, and Natian will be in attendance to pour decidedly distinctive ales. Ticket purchases goes to help Buckman Elementary School, so buy a whole bunch of them,
GermanFest 2011 Get ready to hoist a stein or two as the lads at Bailey's Tap Room don their leather shorts and Tyrolean hats starting at 4 PM on Saturday afternoon. Here, a cadre of Oregon's best breweries have created exclusive ales brewed with Old World recipes. Bocks, dopplebocks, Berlinerweisses, goses, and rauchbiers will flow from the likes of Heater Allen, Lompoc, Laurelwood, and Alameda. Ich bin ein beer drinker!
Spring Beer and Wine Festival Every year sipping sophisticates come from miles around to sample the suds, vino, and artisan munchies on display at the Oregon Convention Center. Big-name breweries and regional upstarts like Flat Tail and Calapooia will be jockeying for your tokens. Remember, it's a two-day event, so no need to hit every single booth in one afternoon. Save a little room for Saturday.
Portland Cheers to Belgian Beers Burned out on IPA? Bid the hops a fond farewell at this celebration of yeasty, malty, Belgian-style ales. Participating brewers from Hopworks, Fort George, Lucky Lab, and Deschutes (to name just a few) actually threw darts at a specially marked board to help them decide if their brews would be light or dark in color, and strong or light in alcohol content. Taste the difference!
Cascade Saison Festival Saison, or farmhouse ales, originate from the 19th century in rural France and Belgium, where impromptu farmhouse breweries would quickly crank out these creamy, crisp, and substantial beers to whet the whistles of their seasonal laborers (saison means "season", duh!). Rough and tumble brews from Block 15, Breakside, Oakshire, and Double Mountain will be on tap, but keep your eyes on the home team. Cascade brewmaster Ron Gansberg is one of the most skilled and imaginative cats in the business.
That's a whole lot of beer—and it's not even summer yet!