Happy Hour
Hummus a Tune
Tarboush tingles the taste buds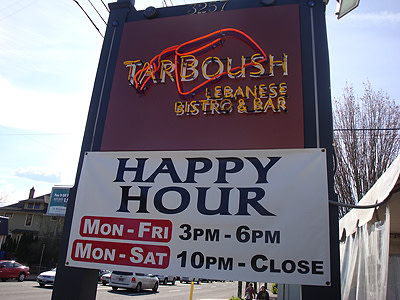 Generally speaking, I'm a man of simple tastes (with a mind to match). However, on those occasions when my taste buds go on strike, I am powerless to placate them with nachos, wings or other examples of Happy Hour usual suspects. If you've got a moody palate like I have, be advised that Tarboush, my latest Happy Hour discovery, delivers a high level of nuanced Lebanese flavors at reasonable rates.
Full disclosure: I'm rooting for Tarboush to succeed because it's in my neighborhood and this particular location has seen three different restaurants (including Belly Timber) come and go over the last four years. Even so, I've had a few disappointing dinner outings. Like a distressing number of eateries in this town, the quality of food can vary greatly depending on who's in the kitchen. For the most part the entrees have been serviceable, but I've also encountered skimpy shawarma plates, lackluster hummus, and tired salads. On my most recent Happy Hour visit, I was pleased to note that the A-team was definitely on duty. Everything we ordered was deftly prepared and the service was swift and reliable.
Happy Hour rolls from 3-6 M-F and 10 to midnight M-Sat, with 16 very sharable items ranging from $4 for lentil soup or rice pudding to $12 for a heaping order of kawaj (green peppers, eggplant, zucchini, potatoes, and onions piled atop basmati rice. The most basic staples of Lebanese cuisine, tabbouli ($4.50) and hummus ($4.50) are well represented here, accompanied to the table by a basket of pillowy, oven-baked pita. The tabbouli, which can be an extremely bitter experience, was properly balanced with a foundation of olive oil, mint, and lemon. The hummus was creamy perfection with an agreeable garlic kick.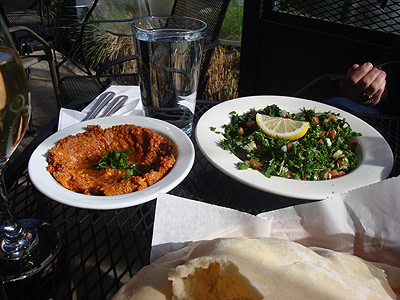 The biggest surprise was the mhammara ($6.50), a vivid vermillion spread of red pepper paste, crushed walnuts, olive oil, and pomegranate molasses that's deceptively dense and filling. Robust flavors abound, as the spicy pepper and sweet pomegranate meld for a zesty walnut crunch. Attention mhammara! I will be back! And I will finish you!
Shanklish ($6.50), a plate of homemade Lebanese cheese coated with thyme and garnished with tomatoes, onions, and olive oil, looks like a salad and can be eaten as such, but for a true Middle-Eastern feast of the senses, I recommend that everything should be piled indiscriminately onto the warm pita, folded over in taco fashion, and shoveled into your pie hole. Once deposited therein, the forces of sweet, sour, bitter, smoky, and astringent rattle their sabres and threaten to do battle before assimilating peacefully.
Vegan and gluten-free diners have an assortment of options, though it would be nice if there was a bread or cracker substitute for the gluten free, since most menu items are spreadable or dip worthy. My poor girlfriend was forced to improvise with french fries with mixed results.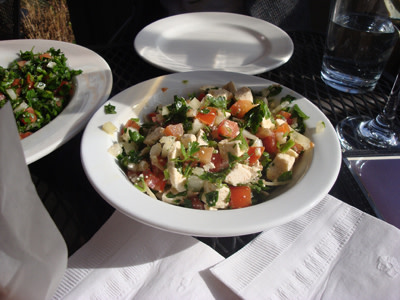 For the washing down of all this delightful chow, pints of beer are a paltry $3, with selections from trustworthy names such as Ninkasi, Terminal Gravity, Widmer, and Laurelwood on tap. Signature cocktails ($7) like the spirit-heavy Tarboush Iced Tea (gin, rum, triple sec, vodka, Coke, and sweet and sour) rely on puissance rather than mixological finesse, but they get the job done if you're cruising into an early weekend. Brimming glasses of house wine go for $5-7.
Obviously, the average citizen does not have weekly cravings for such far-flung fare, and for them there are an infinite number of spots that will happily serve up domestic kibble. I for one, however, am deliriously grateful that my rebellious taste buds can be pacified with a victual vacation to Tarboush—where the breeze is redolent with the aroma of olives and mint and the imaginary heat of the desert sun warms my tired bones.