DATE NIGHT CONFIDENTIAL
Tabla Turns it On
Tabla's 3 courses under $30 means you'll have plenty left for a movie… or some more wine.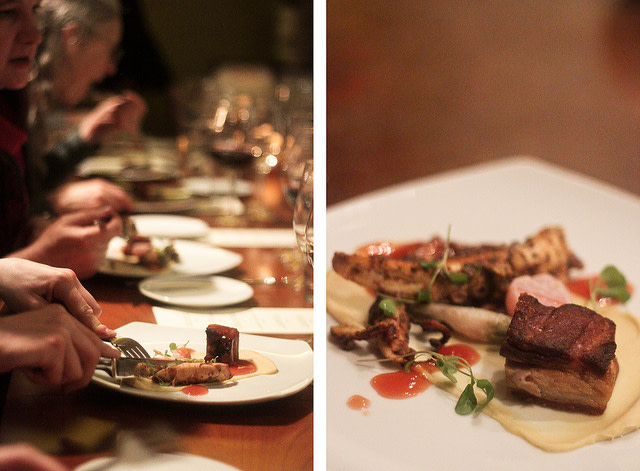 Fresh out of ideas for date night? Eat Beat's got your back – we'll be tracking down and sharing some tried and tested bars and restaurants guaranteed to get the night off to a sexy start. Our patented Date Night Confidential rating system will help you find the perfect spot to snog your sweetie over dinner, whether you're looking for the best spot to see-and-be-seen with your arm candy or that quiet, dimly-lit booth where you'll be able to escape from the world.
First up, the ever-sexy Tabla Bistro at 200 NE 28th Avenue, just north of the Laurelhurst Theater. The perfect spot for dinner and a movie, Tabla's classy European vibe is sure to spark some romance. Grab a seat at the chef's counter overlooking the open kitchen to have an interactive meal with the good-lookin' staff, sit side-by-side at your own small table, scoot up to the bar for some tapas and cocktails, or – for the polyamorists among us – reserve the private back room that seats up to 14.
The big deal here is the 3-course dinner – you get to choose any appetizer, any pasta dish, and any entree from the constantly shifting seasonal menu – for only $24. Favorites include the sous vide egg salad with chickweed, toasted bread crumbs, and smoky coppa vinaigrette (there's something devastatingly sexy about a runny egg yolk, isn't there?); dark, silky squid ink tonnarelli with Campari-poached gulf prawns, shallots, citrus cream, and oregano; and the complex, architectural mar y montaña with marinated Spanish octopus, house-made chorizo, turnips, leeks, almonds, and tomato. From the fresh-made pasta to the hyperseasonal, locally foraged mushrooms, nettles, and other edible forest bits, Tabla's attention to detail makes the low price tag a true bargain – without sacrificing any fine-dining quality.
Looking for smaller bites you can eat with (and lick off of) your fingers? Tabla's tapas menu has you covered. Every evening from 5:30 p.m. to 6:30 p.m., you and your date can load up on small plates of chef Anthony Cafiero's inventive take on Spanish and Mediterranean classics.
Insider's tip: Sneak a peak at the online menu before your date and Google any ingredients you're not familiar with. Nothing says "Ooh, Baby, I Love Your Way" like being able to identify chickweed and chicken squazet.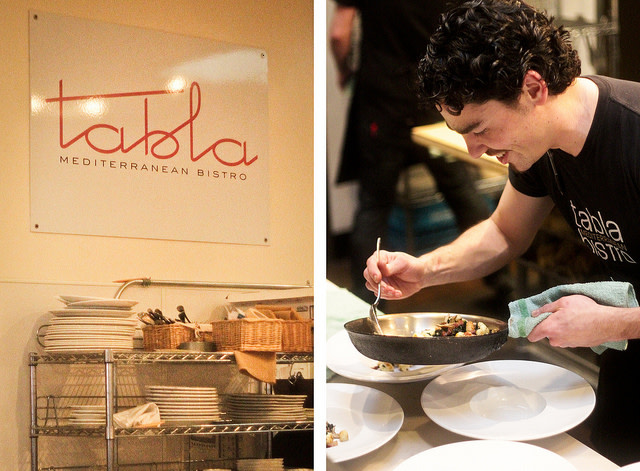 The Date Night Confidential Low-down
Shareability: While tapas are meant to be shared, the 3-course menu is priced per person.
Noise Level: Busy nights at Tabla are on the louder side, perfect for an exciting night out.
Lighting: Muy Romántico. The well-lit kitchen means the chef counter is brighter than the rest of the restaurant, but the tables and booths are dim enough for a romantic moment.
Physical Proximity Potential: You can easily scoot up close to your date at the bars, and tables are small enough that you don't feel like you're shouting across an abyss.
Privacy: Not so much. Tables are pretty close together and there aren't any nooks, so save the PG-13 action for the movie theater.
Overall Date Night Score: 4/5