HOLIDAY EATS CHEAT SHEET
Your Portland Easter Guide
Our picks for the best ways to celebrate with ham, lamb, and your fam this Sunday.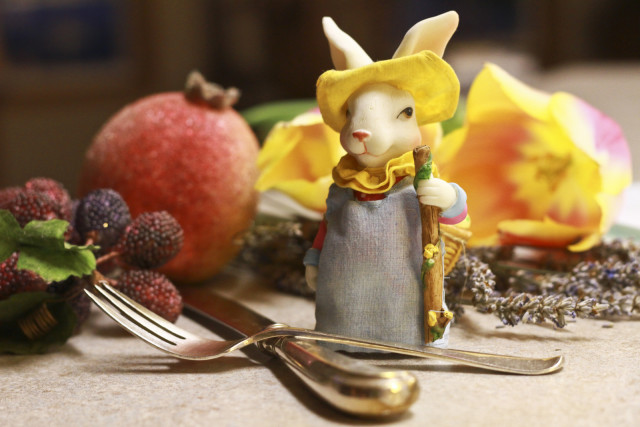 As if you needed another reason to eat brunch this Sunday, a few Portland restaurants are throwing in extra incentives to skip the egg hunt.
Ned Ludd Seatings at 9am, 11am, 1pm and 3 pm
Chef (and dad) Jason French knows Easter is all about family, so he's created an affordable tasting menu with kid-friendly options and plenty of seatings to fit your group's schedule. Expect a holiday spin on French's wood-fired comfort food, with gooey cinnamon rolls, smoked ruby trout and creme fraiche on toast, house corned beef hash, and some good old-fashioned Easter ham.
$25, Reservations available online at nedluddpdx.com.
Cocotte Extended brunch hours from 10:30 to 3:30
Cozy up with the crowd at Northeast Killingsworth's new French bistro for brunch cocktails and hearty spring fare served family-style. Think roasted leg of lamb, roast chicken with hollandaise, and wild mushroom and ramp tarts with a choice of sides including garlic-roasted asparagus, house-cured steelhead gravlax, and spoon bread with maple syrup and whipped cream.
$35, Make reservations online at www.cocottepdx.com.
Urban Farmer Buffet available 9 am to 2 pm
Got any picky eaters in the family? Sometimes, in order to please everyone, you need to take a break from chef-choice menus and go for that Easter stand-by, the buffet. With nine interactive food stations (think made-to-order Eggs Benedict, make-your-own deviled eggs with creative toppings, and a kid-sized buffet with chicken fingers, sandwiches, Easter eggs and jelly beans) this sky-high restaurant at the top of the Nines Hotel has got you covered.
$49 for adults, $19 for children 10 and under, Children under four are free. Reservations are recommended. 503-222-4900 or book online.
Din Din One seating, 11 am.
Courtney Sproule never met a holiday she couldn't cater, so for April's incarnation of the monthly supper club she's put together a classic Easter brunch with wine pairings from Teutonic Wine Company. A true celebration of spring in the Northwest, dishes like crab, nettle, and ham soufflé, local Steelhead caviar, and a French omelette with braised rabbit, morel cream sauce, and "herb petal pasta" make the most of the early regional bounty. Fitting for the holiday, brunch will take place at The Little Church, 5138 NE 23rd Avenue.
$60 per person; make reservations at 971-544-1350 or [email protected]
The Heathman Restaurant & Bar Brunch available from 9 to 3, Buffet from 9:30 to 2
Likely the most traditional Easter brunch in town, the Heathman's annual Easter buffet will feature fresh oysters and shrimp cocktail, an omelet bar, eggs benedict and ricotta cheese blintzes, and roast leg of lamb and Tails and Trotters porketta carved to order. The Downtown Portland mainstay will also be offering their regular brunch menu with Easter specials like Portuguese sweet bread french toast, smoked salmon hash, and roast leg of lamb. Followed, presumably, by a very long nap.
Adults $38, Children 12 and under $17. 503-790-7752 or make reservations online.
Wildwood Brunch available 10 to 2 pm.
Gardener and lover of greens Chef Dustin Clark is putting his springtime spin on traditional brunch offerings this weekend, including green garlic and potato soup, tomato and rapini pizza, leek and wild mushroom frittata, corned beef hash, and Easter ham with braised collard greens. Brunch will no doubt feature some of Clark's home-preserved pickles and produce saved up to get us through to Spring.
Reservations available at 503-248-9663 or online.
The Country Cat Brunch available from 9 to 2
Adam Sappington – everyone's favorite chef in overalls – and Jackie Sappington – Adam's pastry-slinging partner in crime – are adding a few Easter specials to the always-delicious Brunch menu at their Montavilla neighborhood family-friendly restaurant. This Sunday's treats include spring vegetable quiche, crepes, and pork cheek pastrami sandwiches (leave it to the chef that butchers his own pigs to forgo the traditional Easter ham in favor of cheeks!).
For reservations, call 503-408-1414.
Nostrana
In the mood for an Easter dinner? Double-up your Sunday decadence with Chef Cathy Whims' special three-coure prix fixe Easter menu. Menu selections include radish top and potato soup (perhaps inspired by Vitaly Paley's recent radish coup on Iron Chef America?), shepherd's salad, halibut, braised lamb Marche style, and lasagne with Fazzoletti and a choice of gelati or La Colomba and Moscato d'Asti.
$39, For reservations, call 503-234-2427
Clyde Common One seating, 6:30 pm.
Holiday meals are a great excuse to do something really special, and Chef Chris DiMinno at Clyde Common isn't going to waste that opportunity. This Sunday's dinner menu is inspired by the 1887 White House Cookbook, featuring nineteenth-century specialties like Virginia brown bread with veal cheese, mock turtle soup and calves' head, deviled lobster, squab pot pie, hashed mutton, and a "chocolate and tutti frutti" ice cream cake. Feel free to wear your monocle and twirl your presidential 'stache.
$50 (includes 5 courses with wine pairings), 503-228-3333 or online.
Brewing up Cocktails at Spints Alehouse 5 pm to 8 pm
If your holiday revelry tends to lean more toward the liquid variety, get your boozy beer fix at the next installment of Brewing Up Cocktails. This nontraditional celebration hosted by Ezra Johnson-Greenough and Jacob Grier (the great minds at the forefront of the Beer Cocktail movement) with brews from Oakshire Brewing will be a great way to recover from the morning's buffet. In true Easter Egg style, every featured cocktail will be a flip – a cocktail featuring a whole shaken raw egg – using eggs from Oakshire brewery's own chickens.
Event entry is free, pay per drink. Giant bunny not included.