OPENING NIGHT
A Sweet Cart Kick-Off
The creative ice cream scoopers at Salt & Straw debuted their new cart on NE Alberta – and we've got the photos.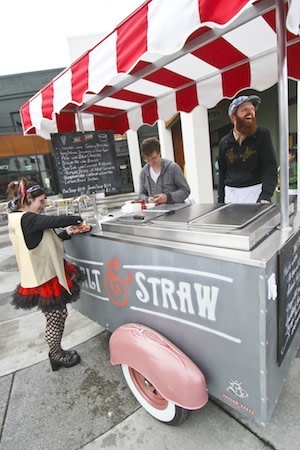 While watching a grown woman in a tutu eat a cone of locally-made beer and bacon ice cream in the rain, I couldn't help but marvel: it doesn't get more Portland than this. The Last Thursday Alberta Arts district street fair was dampened by wet skies, but the line at Kimberly Malek's new ice cream cart Salt & Straw proved that a great idea can weather a storm.
The eight opening-night flavors were chosen via Ice Cream Democracy (aka a public Facebook poll), and included Honey Balsamic Strawberry with cracked black pepper, Laurelwood Brown Ale with Olympic Provisions bacon, Almond Brittle with salted ganache, Cold brewed Stumptown Coffee with cocoa nibs, Pear with Rogue Blue Cheese, Lemon Basil sorbet, Chocolate with brownies, and the night's best seller, Sea Salt with caramel ribbons.
Construction on the brick and mortar scoop shop down the street is coming along smoothly, and if last night's crowd is any indication, they'll have a loyal following by the time it opens in August. Until then, you can find the Salt & Straw cart on the patio in front of Aviary and Barista at 1733 NE Alberta seven days a week, 1 pm to 10 pm, rain or shine.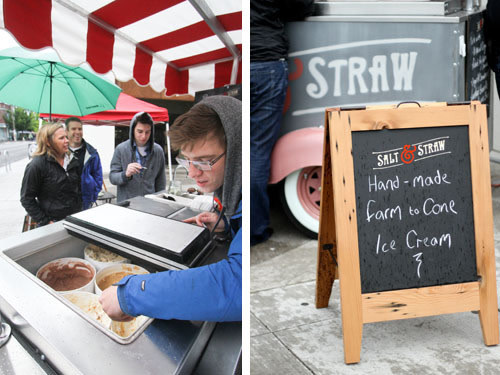 Umbrellas and raindrops couldn't stop Portlanders from getting their hands on their first scoop of farm-to-cone ice cream. Head ice cream maker Tyler Malek was on hand to chat about his difficult, difficult job of tasting ice cream all day.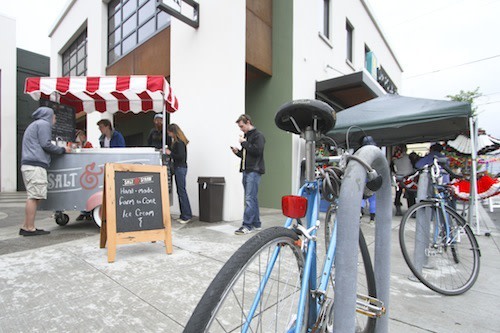 The new cart was stationed in the middle of the stretch of Alberta closed to cars on Last Thursday, perfect for walk-up and bike-up scoop orders.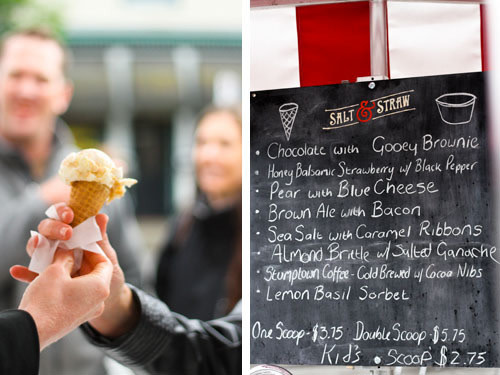 With this many flavors to choose from, most customers sampled every variety before settling on a single scoop. When the scoop shop opens, customers will be able to order flights of ice cream if they can't pick a favorite.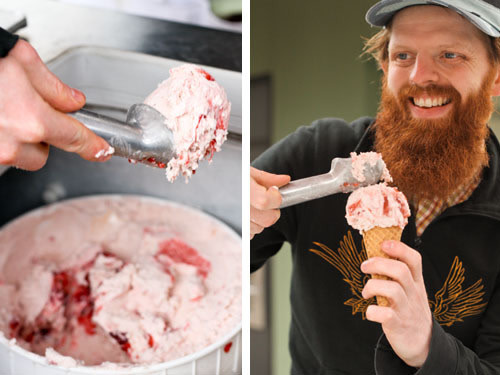 The Honey Balsamic Strawberry with cracked black pepper is a sophisticated take on a summer staple. Salt & Straw flavors are available by the cone or cup in one scoop, two scoop, and kid-friendly sizes.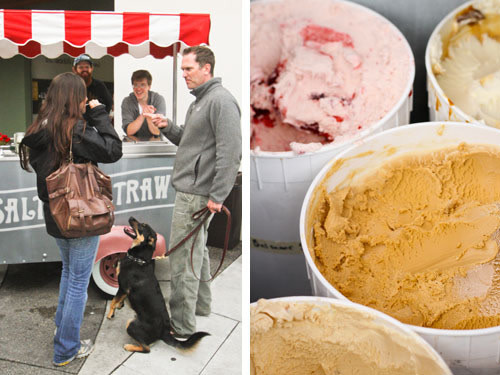 Even the dogs of the neighborhood crave a cone. This spoiled little guy got a taste of sea salt ice cream – off a spoon, no less.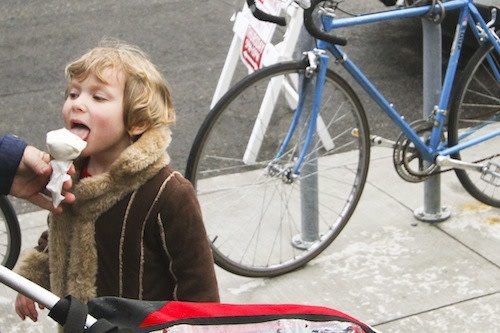 Just another satisfied customer. When asked if she liked it, this cutie responded, "It's bacon! Bacon ice cream! My favorite." Ours too, kid. Ours too.