CHEAP EATS
Bambuza's Bargains
With plenty of options under $5, this South Waterfront eatery has your fresh and flavorful cheap eats.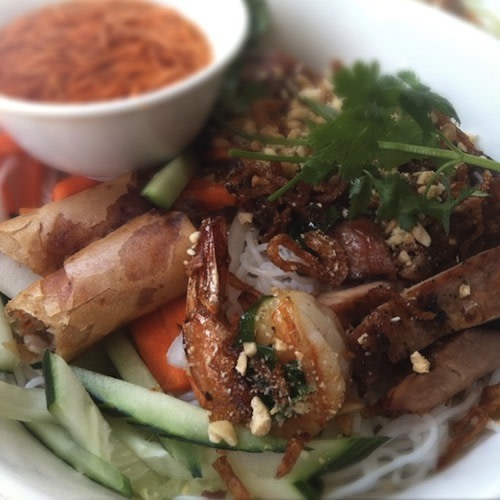 A few years after the high-rises of Portland's South Waterfront sprouted up like mushrooms in the Oregon forest, the district is still hungry for culinary development. Luckily, one of the few restaurants in the area is serving up reliable fare for residents and workers alike. Bambuza serves up fresh, filling, and flavorful Vietnamese food in a chic setting that blends seamlessly with the space-age condos and eco-chic offices of SoWa.
Located on the street level of the John Ross tower, Bambuza's best deals are found at lunch – perfect for the OHSU and construction crowds. You can beat the lunchtime line by coming a bit before or after the noon rush, and Bambuza's outdoor tables lining the sidewalk are good bets for sunny afternoons.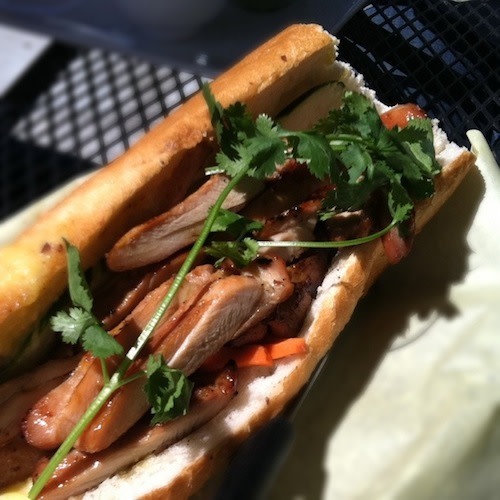 Cheap Eats Picks:
Salad Rolls: Bambuza offers several kinds of salad rolls, and each serving comes with four huge rice paper rolls stuffed with fresh veggies and extras for just $4.90. Try the Bambuza Salad Rolls with shrimp, vermicelli noodles, shredded carrots, lettuce, and basil, or try the super-fresh flavor combination of their Coconut Summer Rolls with fresh coconut meat, tofu, veggies, and roasted peanuts for a welcome crunch.
Sandwiches: Bambuza's take on the traditional Banh Mi comes with a choice of grilled chicken, grilled pork, lemongrass beef, or sauteed tofu ($4.50-$4.90). Served up on a freshly baked french baguette with house-made mayo, cilantro, pickled carrot, jalapeno, these sandwiches are truly satisfying. You can add your own heat with plenty of chili sauce, which blends with the house mayo for a creamy kick.
For a few extra bucks, you can get a bowl of soup or a combination noodle bowl that will feed two. Though less adventurous than the kind you'll find out on 82nd, Bambuza's beef, chicken, or vegetarian pho has plenty of that addictive complex flavor ($7.50-$8.50). The Saigon Combination noodle bowl comes with grilled chicken, beef, pork, and shrimp, spring rolls, shallots, and roasted peanuts over vermicelli noodles (or jasmine rice for gluten-avoiders) and mixed greens ($8.50).
Drink me: Grab one of Bambuza's signature Vietnamese coffees or a fresh-squeezed lime-ade to add a sweet splash to your savory meal.
Fun Foodie Fact: Bambuza uses a blend of Cafe Du Monde and Vietnamese beans for their signature sweet Vietnamese coffee. The New Orleans favorite roasts their coffee with chicory – a flavor combo developed during the French civil war when the root was used to extend meager coffee rations. The method made its way to French colonies around the world, including Vietnam, where the dark brew is mixed with sweetened condensed milk. At Bambuza, fans of the beignet bistro's brew can also buy cans of Cafe Du Monde coffee to go.
Bambuza 3682 SW Bond Ave. 503-206-6330 – Monday through Saturday, 11 to 9.
For locations in Hillsboro and Tualatin, check out "Bambuza's website": http://www.bambuza.com.