NEW TO THE NEIGHBORHOOD
Clinton's Cute Compote
Southeast Clinton's newest eatery is sugary sweet with enough substance and spice to keep things interesting.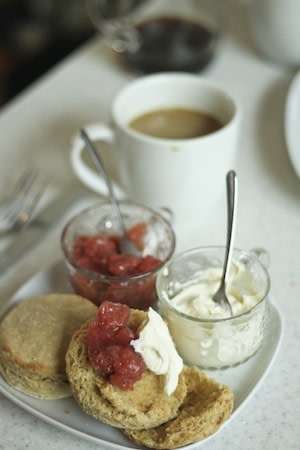 When I first stepped into Compote, Southeast Clinton's newest bakery, owner Shana Lane-Block was having breakfast with her two young children. A small pair of rain boots sat under the first in a row of cozy tables, a pink umbrella was hanging from a low hook, and several children's books were scattered around the otherwise pristine and well-lit cafe. It was easy to imagine I was stepping into a busy mom's kitchen, with freshly-baked cookies and pies on the counter and a pot of water boiling away on the stove.
While part of that image is accurate – there's an undeniable maternal coziness to the neighborhood spot – Compote also abounds with a thoughtful sophistication that satisfies Portland's decidedly grown-up tastes. With plenty of gluten-free and vegan options, cheap eats and full sit-down meals served all day, Compote's pretty much guaranteed to please everyone. It's surprising that there aren't more places where you can grab a perfect cup of pour over coffee, a refined brunch with locally-sourced ingredients, AND offer the little ones a truly kid-friendly kid's menu and play area.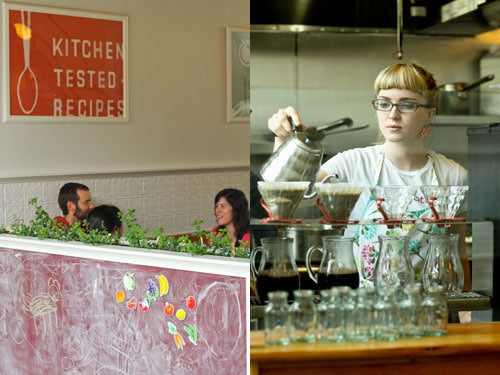 Compote's apron-clad servers offer breakfast and lunch menus that put a conscious spin on classic comfort dishes. All of the eatery's pastries, breads, soups, salads, sauces, sodas, and spreads are made in house using local, organic ingredients in season. From the eponymous compotes (including hearty spiced apricot plum and vibrant rhubarb apple) to the cultured yogurt and granola, every bite connects the sweet Clinton neighborhood spot to the farms, dairies, roasters, and ranches in Oregon.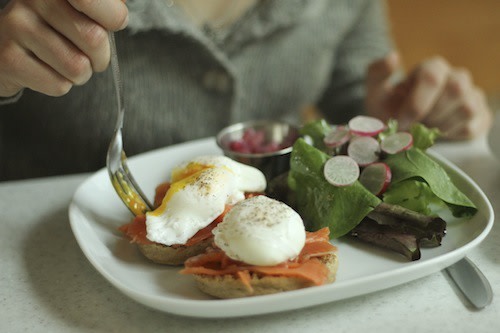 The pour over coffee from Ristretto roasters may take a few minutes longer than your average cup, but then again Compote is the kind of place that makes you want to make that cup "for here". The inviting tables, fully-stocked kid's play area, sunny side patio, and sweet decor beg everyone (and their kids) to stay a while and play.
Compote 2032 SE Clinton, 503-234-5689
Open Monday through Saturday, 8am to 4pm.