DATE NIGHT CONFIDENTIAL
Cocotte Coquetry
This saucy new addition to NE Killingsworth's Restaurant Row brings the flirt to French favorites.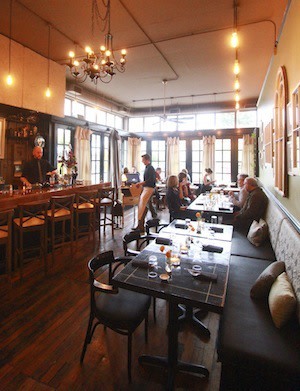 Fresh out of ideas for date night? Eat Beat's got your back – we're tracking down and sharing some tried and tested bars and restaurants guaranteed to get the night off to a sexy start. Our patented Date Night Confidential rating system will help you find the perfect spot to snog your sweetie over dinner.
Next up, Northeast Killingsworth's new come-hither café Cocotte. This flirty French bistro is serving up creative, comforting takes on French classics, like satisfying Saison crepes with duck confit and chicken liver mousse with french breakfast radishes and rhubarb jam ($14) and Poulet en Cocotte with local farro, easter egg radishes, poached eggs, and sherry jus ($25). The bar serves up carefully crafted cocktails like the La Nella Moda with Old Overholt rye, Dolin Rouge, Amaro Ramazzotti, and bitters ($8) or the delicate Mére with Dubonnet Rouge, Hendricks gin, and lemon ($8). Not sure what to sip? Impress your date by asking the talented bartender to make a custom drink with your favorite ultra-sophisticated booze of choice.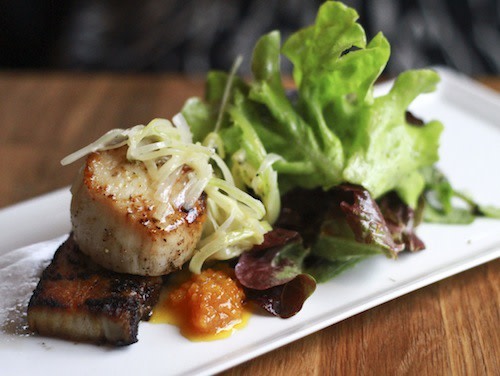 The Date Night Confidential Low-down
Noise Level: The restaurant hums with cozy conversation, accented by the timeless grooves of Sam Cooke, Al Green, and Otis Redding.
Lighting: Natural light floats in through gauzy curtains and walls of French doors until the sun goes down, when rows of vintage filament bulbs and candles ramp up the romance.
Physical Proximity Potential: A cozy booth runs the length of the restaurant allowing for cuddles and canoodles, and there are plenty of tables for two.
Privacy: Cocotte has plenty of nooks for coy conversation. The romance of the place fosters a welcoming environment for kisses on the sly.
Shareability: The house-made charcuterie plate ($12) and French and local cheese selections ($12) are sized for sharing, and the asparagus velouté with leeks, cream, and herb pistou is a decadent taste of spring that's perfect for two spoons ($6). Cocotte's version of the ultimate shareable dish, the classic ice-cream sundae, comes with three scoops of house-made ice cream (like peanut butter and jelly, mocha latte, and chocolate chip), whipped cream, marcona almonds, and an Oregon Maraschino cherry on top ($7).
Overall Date Night Score: 4/5
Cocotte: 2930 NE Killingsworth St. (503) 227-2669
Dinner: Wednesday through Saturday, 5 to 10 pm. Sunday 5 to 9 pm.
Brunch: Saturday and Sunday, 10:30 am to 1:30 pm