BEST OF PDX
Dawning of the Age of Asparagus
Our favorite Spring vegetable is back in a big way – and it's showing up everywhere.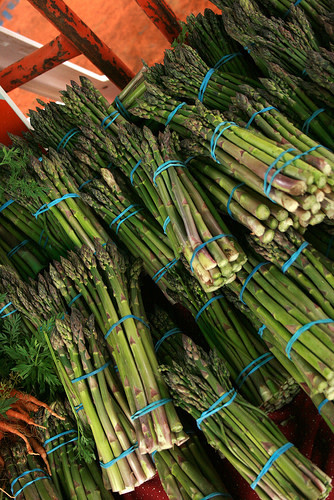 Slender as straws or thick as thumbs, tender spears of asparagus are being sliced on sandwiches, shaved in salads, sauteed in sauces, and slurped as soup all over town. Leave it to Portland's creative chefs to take things past steamed spears in butter: we've sampled asparagus tamales, asparagus soup, asparagus pizza… Suffice it to say we've braved asparagus overload to bring you some of the best restaurant takes on the vernal veggie.
Did we leave out your favorite asparagus dish? Share your springtime spear finds in the comments. We look forward to hearing from you!
1) Asparagus Tamales
With a restaurant in Milwaukie and mobile tamale kitchens at several local farmers' markets (notably the Thursday evening Buckman Farmers' Market), Canby Asparagus Farm has cornered the market on asparagus tamales. Choose between chicken and asparagus, pork and asparagus, and "asparagus only" and layer on the salsa and crema for a kicky take on the steamed and stuffed staple.
Canby Asparagus Farm, Casa de Tamales, 10605 SE Main St., Milwaukie and at local farmers markets.
2) Pizza Primavera
The special springtime pizza at Southeast Portland's Italian eatery Nostrana features house-cured ham, fresh asparagus, creamy provolone, pecorino sardo (a firm sheep milk cheese), and a farm egg. Grab a glass of wine and cozy up to the open-kitchen counter and watch your pizza go from dough in the air, into the wood-fire oven, and onto your plate.
Nostrana, 1401 SE Morrison
3) Asparagus Velouté
This thick and creamy soup from Northeast Killingsworth's new French bistro will have you licking the bowl clean. With fresh asparagus, leeks, cream, and a simple, fresh herb pistou, Cocotte's asparagus velouté is a velvety and satisfying taste of spring.
Cocotte, 2930 NE Killingsworth
4) Golden Fried Asparagus Spears
Any list of Portland asparagus dishes would be a sham if it failed to mention the fried asparagus spears from sustainable fast-food joint Burgerville. Local asparagus dredged in local (Shepherd's Grain) flour, fried, and served up with garlic aioli for dipping? Yes, yes please. Ten spears are just $3.99, but they're only around through June 7th – don't miss 'em!
Burgerville, locations throughout Oregon
5) Ham, Brie, and Grilled Asparagus Sandwich
Bare Bones Cafe's deliciously gooey sandwich is piled high with sweet ham, melty brie, and tender spears of grilled asparagus with sweet & spicy mustard. Vegetarians can sub juicy grilled portobellos for a meat-free alternative. The sandwich is also available at Bare Bones' new bar next door, on the corner of SE Belmont and 29th (with plenty of sunny sidewalk seating for the coming months).
Bare Bones Cafe, 2908 SE Belmont
6)Asparagus Risotto
You'll find the classic combo of pasta and asparagus around town, but Wildwood takes the Italian connection one step beyond the expected with a creamy risotto packed with Outback Farm's asparagus, prosciutto, pecorino, and a poached egg. The asparagus keeps its texture and provides a toothsome counterpoint to the cheesy rice and egg yolk – perfect with a glass of Oregon wine.
Wildwood, 1221 NW 21st Avenue
7) Asparagus Salad
What says "Oregon in Spring" more than asparagus with hazelnuts and truffles? Accanto's fresh salad is a celebration of the season, with local arugula, house-smoked bacon, asparagus, hazelnuts, black truffles and shaved Parmesan dressing. With balanced color, texture, and flavor, this salad could replace the beaver on our state flag.
Accanto, 2838 SE Belmont St.
8) Miso-Butter Grilled Asparagus
Tamales and pizza are great, but sometimes all you want is a heaping pile of asparagus slathered in butter. Purists and adventurous eaters alike will rejoice at North Portland's Miho Izakaya, where you can get a plate of the grilled spears with a generous helping of savory miso-spiked butter and lemon for just $6.
Miho Izakaya, 4057 N. Interstate