INTERVIEW
Five Questions for: Pie Peddler, Sarah Curtis-Fawley
With a newly-opened restaurant in Southeast Portland, Pacific Pie Company is set to bring Australian meat pies to the masses.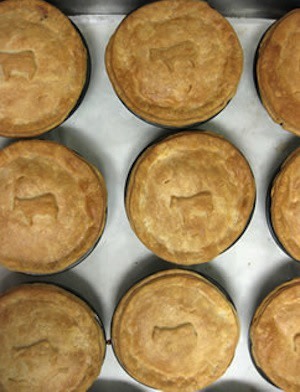 The list of Portland restaurants beginning as humble Farmers' Market stands just got a little longer. Sarah Curtis-Fawley and Chris Powell, the husband-and-wife team behind Pacific Pie Co., recently opened a full-service restaurant dishing up their signature savory Australian meat and vegetable pies, pasties, and sausage rolls. With a liquor license and full menu including salads, sides, and desserts, the Aussie transplants behind Pacific Pie Co. are bringing a bit of Oz to the Pacific Northwest.
We interrupted the pie mastermind's crust rolling, stout braising, and pork pulling to get the scoop on perfect pie pairings, Pacific Pie's most popular flavors, and the new sit-down space in Southeast Portland that's quite a bit larger than their first market stall.
Pacific Pie Co. is open seven days a week, 11am to 9pm at 1520 SE 7th Avenue
1) What makes an Aussie pie, well, an Aussie pie?
The meat pie is probably the most iconic food of Australia. You find them everywhere in Oz – at gas stations, football games, bakeries, supermarkets, pubs. Savory pies are the ultimate comfort food. When we moved to the States 3 years ago Chris couldn't believe that it was so hard to find a good meat pie. I started baking them for him, our friends and family loved them, and a business was born!
2) What are your most popular pies? Which pies do you think SHOULD be the favorites?
The Creamy Chicken pie is probably our best seller – it is our take on the classic chicken pot pie with peas, and carrots in a creamy white sauce. My favorite pie is our Beef + Stout, with tender grass-fed beef braised in Laurelwood Space Stout beer with carrots and yukon gold potatoes. Another popular choice is our Pulled Pork pastie with homemade pulled pork in our molasses BBQ sauce, served with spicy slaw.
3) Let's talk perfect pie pairings – what would you sip with some of your savory selections?
At the new shop we have a great beer and wine list to complement our pies. We have 3 rotating taps of local beers, some Aussie beers, and a list featuring great wines from Australia and New Zealand. Our pies are great for pairing:
- Pulled Pork Pastie with Hopworks IPA
- Creamy Chicken Pie with Peter Lehman Riesling (Barossa Valley, South Australia)
- Sunday Roast Lamb Pie with Hazard Hill Shiraz (Western Australia)
- And for dessert…Chocolate Peanut Butter Pie with Wolf Blass Sparkling!
4) Tell us a little about the new shop space.
The new shop is at 1520 SE 7th Avenue, the former home of Roots Organic Brewing just south of SE Hawthorne. We spent 10 weeks renovating the building and have created a quick service cafe and a pub with table service. We worked with local design firm Compressed Pattern to create a space with an Australian vibe, and hired local muralists Cecilia + Jason to paint an amazing mural of an outback scene. We continue to participate in the Beaverton and Milwaukie Farmer's Markets, and you can also find our pies at Coalition Brewing Co, The Alberta Rose Theater, Caffe Viale, and online through Spud!
5) What drew you to Portland out of all the cities in the world? Are there any Portland restaurants you flock to when you take a break from your own creations?
When Chris and I decided to start Pacific Pie Co. we spent a long time researching cities all over the States. We knew we wanted to source local ingredients directly from farmers, and it was important for us to be able to get 100% grass fed beef. We also both love the outdoors, so Portland was a perfect fit. We started out by selling our pies at farmer's markets in 2009, and the business has taken off from there! We work with a lot of really awesome farms, including Lonely Lane Farms for beef (in Mt Angel), SuDan Farms for lamb (in Canby), Rain Shadow El Rancho for chicken and bison (in Scio), and tons of produce farms, including Sweet Leaf (in Corvallis) and SunGold (in Forest Grove). When we step away from the pie, we love the Portland restaurant scene. Our favorites include Olympic Provisions, Detour Cafe, Little T Baker, Pok Pok, Nostrana, Coava coffee, and Le Pigeon.