ON THE SCENE
Full Plates for Full Bellies
Portland's take on Taste of the Nation turns out the city's top chefs, shakers, and gourmands for an evening of small bites and big crowds.
You know it's going to be a great event when you're handed a plate and a wine glass as you walk through the door. Portland's Taste of the Nation benefit brought together 75 local restaurants, distillers, brewers, and wineries for a night of nibbles, sips, and conversation for a worthy cause: All of the ticket and auction proceeds went straight to Share Our Strength, the nonprofit that works to end childhood hunger in America. The Luxe Autohaus on 17th and Sandy was transformed into a veritable Colosseum of culinary talent – from fine dining and pork tongue to the humblest of mini cupcakes. Guests were treated to selections from Beast, Castagna, Genoa, June, Laurelhurst Market, Tasty & Sons, Aviary, Bamboo Sushi, Biwa, Clyde Common, Ned Ludd, Nostrana, Saint Cupcake, Screen Door, Wildwood, Xocolati de David and many, many more. As always, I was there – with camera in hand – to catch the action for your celebrichef-watching and vicarious-tasting pleasure.
Chef Jason French brought a bit of Ned Ludd's ambiance to the night, offering up Berkshire pork three ways, house-cured pickles, and Volkhornbrot (a traditional rye bread recipe from Germany).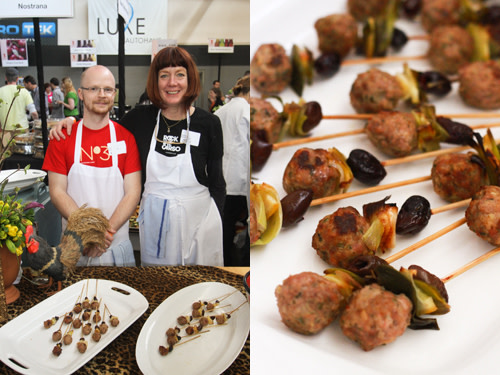 Nostrana's Cathy Whims turned out "Polpettine Spiedini" – skewered meatballs, olives, and lemon. Whims once again earned recognition as a finalist for the James Beard Foundation's Best Chef Northwest this year. Winners will be announced at the James Beard awards in New York City on May 6th.
Guests had access to row after row of tables filled with the city's best treats, and word of the crowd's favorite bites spread quickly throughout the hall. Aviary's pork belly buns, Screen Door's chocolate peanut butter pies, and Boke Bowl's edamame cakes with housemade kimchi were hot commodities.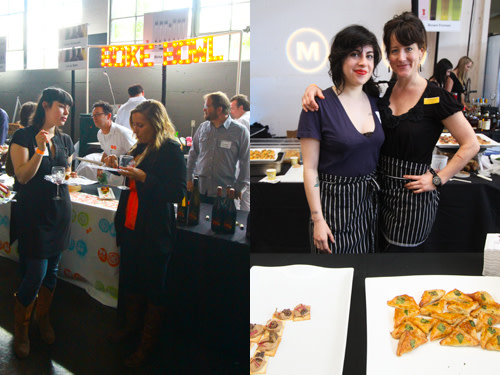 As newcomer Boke Bowl's neon lit up one end of the room, smiles from Beast's "Top Chef" Naomi Pomeroy and sous chef Mika Paredes shined as they offered up Foie Gras and chicken liver mousse with roasted morels and pickled ramps.
Sweet treat peddlers Cupcake Jones and St. Cupcake battled it out for top frosting favorite.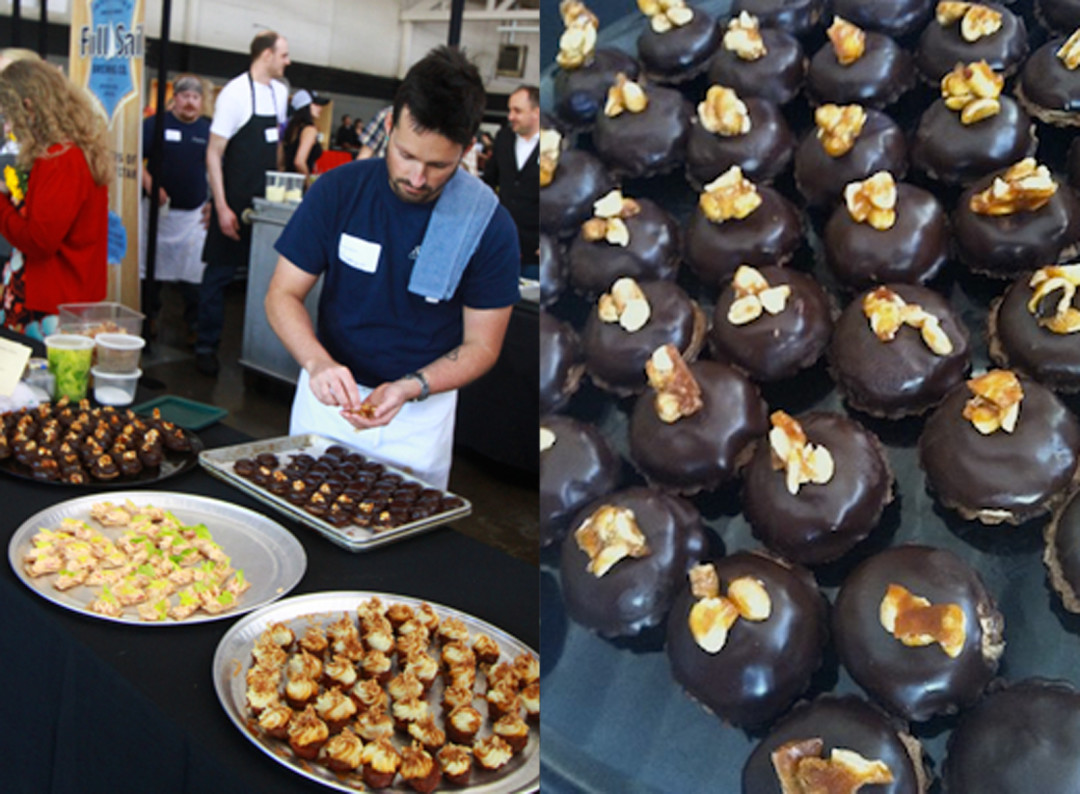 Screen Door brought the comfort food, dishing up smoked meatloaf and whipped potato with crispy shallots side-by-side with mini versions their popular chocolate and peanut butter pies.
June's Greg Perrault and Kelly Swenson had a blast with their hay-smoked lamb heart with peas and barley and refreshing carrot and Grappa "Grassroots" cocktail.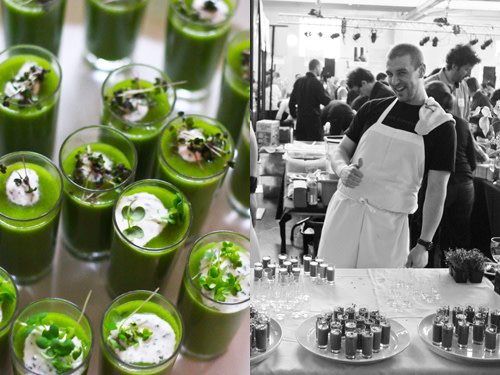 Celebrating the colors of spring, Clyde Common's chef Chris DiMinno ladled up shot-glass servings of chilled cucumber soup, pickled onions, creme fraiche, and mini herbs.
All Images © Allison E. Jones