Happy Hour
Happy Hour of the Week
It's another tequila funrise at Acapulco's Gold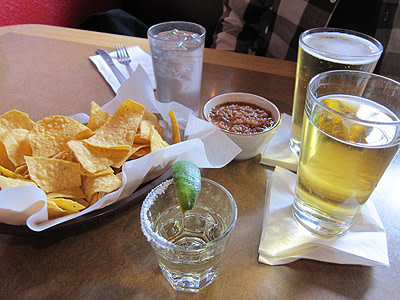 Tequila and I don't mix. I've always shied from those salt-rimmed and wonderfully colored margaritas, instead choosing to nurse a cold brew or a simple gin and tonic. Is it fear of the unknown and underappreciated that muddles my mood for tequila, or could it be the hallucinatory flashes I have of taking a shot of José Cuervo, only to wake up on a chigger-infested couch on a curb in Tijuana, wearing nothing but a sombrero?
Whatever the case may be, I made it my goal to muster some courage when I stomped into Acapulco's Gold (2610 NW Vaughn Street). Named after an infamously potent strain of cannabis (John Lennon and Robert Plant were apparently big fans), the bar resembles a fading Mexican fiesta; bright ketchup and mustard colored flames lick up the walls behind devilish portraits of pin-up girls and Corona bottle-shaped piñatas. Video poker machines glow and pop with noise, and the counter features a rockabilly Day of the Dead aesthetic.
Happy Hour (3-6pm) at Acapulco's Gold deserves a mariachi band in its honor: the prices aren't far from what you might find in Mexico. Little convincing was needed to saddle me up with a pint of Bud ($1.50) and a handful of Tex-Mex snacks ($2-4). Besides the complimentary chips and salsa (which are dandy), I chomped on a small but hearty cup of chili ($3.50) and a sizzling beef taco ($3.25). Next time I'll try the alluring beer-battered halibut taco ($4.25), which is served on a soft corn tortilla with mango salsa, cabbage and rice. If tequila and Bud don't suit your fancy, well drinks are a very reasonable $2.75 a pop. Feeling adventurous, I flung myself into the tequila menu, a two-page roundup of over thirty bottles of 100 percent agave hooch. Seeing my brow on permanent furrow, the bartender recommended the Milagro Reposado ($7), a milky white elixir I cautiously sipped with salt and lime. It was surprisingly smooth and fortifying especially accompanied by a nice, bland lager and some zippy salsa. Take note, my fellow tequila-phobes.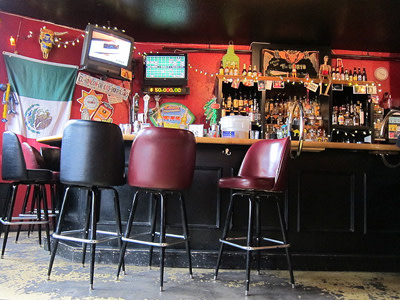 The menu had traditional fare, with burgers and salads to boot, but I wanted to give their veggie quesadilla ($7) a shot. Served with crackling fajita-style vegetables, the cheesy goodness sank in perfectly with the house margarita ($4), a steal impossible to ignore. Sprinkled with salt and oozing a soft jade color, I could almost imagine the clouds parting as I quaffed this sweet, molten concoction.
By the end, I was abuzz with a warm belly. I left Acapulco's Gold feeling a little rejuvenated, the jubilant Mexican atmosphere having sparked a little sunshine in my brain (and my stomach); I was ready to take on the pouring rain and ride out the rest of the day in post-margarita bliss. When summer finally rolls around, I'll be adding a bottle of tequila to my home bar. The sombrero, however, will remain in the closet.