EAT HERE NOW
Chop Thinks Big With Small-Batch Charcuterie
A new shop selling cured meats and inventive pates is another step in Oregon's New Charcuterie Frontier.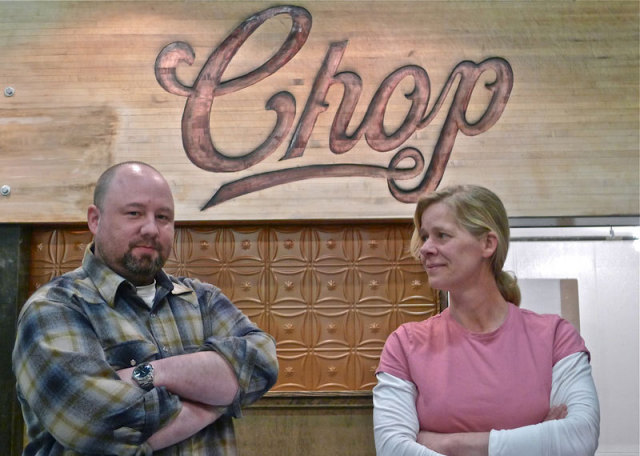 You haven't heard of Chop? Hang not your head in foodie shame. Most people simply know Chop Charcuterie & Butchery as the meat counter inside City Market on Northwest 21st Ave, or "you know, that place the Simpatica guys used to own." But quietly and impressively, butcher buddies Eric Findley and Paula Markus have transformed an iconic food-lover's spot (and a springboard for the likes of John Gorham, Laurelhurst Market, and famed sausage man Fred Carlo) into a bold expression of American meat craft.
With a stand-alone satellite opening today at 3808 N Williams Ave (behind Tasty n Sons in the Hub Building) and a new line of salumi ready to hang, Chop is carving its name in a burgeoning cured-meat scene making Oregon the Next Charcuterie Frontier.
As Eat Beat first reported last December, Chop is close to securing coveted (and challenging) certification from the USDA, required for distribution. In Oregon, only Olympic Provisions currently has certification. But in a short time, OP has impressively grown into the Stumptown of salumi, blending indie cred and serious craft with ambition. Also joining the USDA-stamped salumi party: Fino in Fondo, opening soon in McMinnville with a serious lens on Italian-style cured meats.
Chop is taking the micro approach, with small-batch, American-style salami. The plan is to also expand the duo's meaty sandwiches and fantastic pates, led by an exquisite chicken liver mousse pounded with pistachios, and incorporating impressive seasonal specials like turkey skins, port, and cranberries. Findley is also tapping his pickling books for vinegared goods, from French baby radishes to chard stems. But he thinks the big seller may just be head cheese. "There's a frenzy for it right now," he says, based on the rampage for Chop's head cheese bahn mi at the recent Taste of the Nation event.
Chop's identity can be easily found around this modest shop. You see it the logo carved into Fred Carlo's old nine-foot-long cutting board. Or in the sausages hand-cranked on an ancient grinder from the original Gartner's Country Meat Market.
"We've figured out who we are," says Findley. "We're straight-up Portland. We didn't train in Europe, though we may look there for ideas and values. We're don't pretend to be something we're not. In Portland, you can be yourself—there's not a lot of rules. We just want to keep it fun."
Chop isn't looking to grow big, but to keep it small and real. That doesn't mean success isn't built into the formula. "Our goal is to kill it on the retail," says Finley. "Ever see how many people are wandering around the hall waiting to get in to Tasty n Sons?"
Chop opens today at 11 a.m. Watch for the Grand Opening party, and samples galore, in conjunction with Tasty N Son's anniversary party, on May 16 at 5:30 p.m.
Chop Charcuterie & Butchery
3808 N Williams Ave
9 a.m.–6 p.m. Tues–Sun