EAT HERE NOW
Good Food Here: The Guide
A year-old cart pod on SE Belmont Street grows in strange, wonderful ways—not all of them involving good food.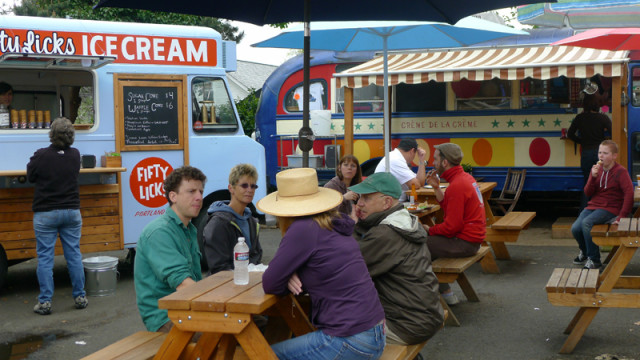 Portland's Food Cart Season is officially open. During winter's gloom, some of the city's best carts went off-line for the season, and pods that looked like street parties in happier, rain-free days, looked like relics from "Blade Runner." Whispers of The End drew near. Portland's vaunted food cart scene was over. Hardly. In the past few weeks alone, carts seem to be multiplying like guppies. Sadly, the food does not appear to be getting better—for every great new cart we get another 20 generic versions.
But the scene remains fascinating, as makeover parking lots evolve into strange and wonderful gypsy food villages. Good Food Here at SE 42nd Ave & Belmont St is one of them. This boisterous mashup of mobile trucks and reimagined outdoor eateries now holds more than a dozen carts and counting, with options from trashy to triumphant. On any given day, you can find foie gras with fried potatoes as well as a basic hot dog, ambitious vegan menus steps away from over-the-top meat sloth starring local animals and in-cart butchery.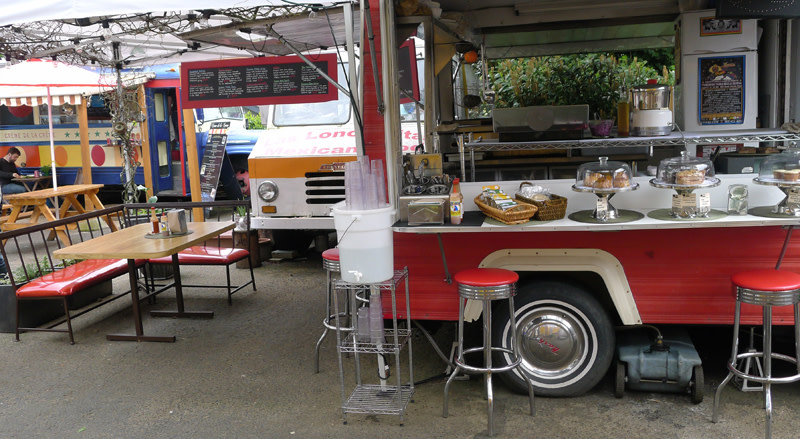 The atmosphere includes a shiny red fold-out diner complete with its own counter culture and a "living room" of tables under a tent wrapped in spindly branches and night lights. Parking spaces are free and ample, an AMT machine stands ready to feed you money, and seats are plentiful, from hobo chairs to tiny table nooks, and extending to a centralized picnic-table "cafeteria" enclosed by shower curtains.
Alas, this is not foodie heaven. This pod could just as well be titled OK FOOD HERE. Gnarly ribs, escargot that tasted straight from the can to the paper cup, chicken drier than the Gobi dessert, and biscuits doing a great impersonation of rocks all turned up here recently. You also have to wonder about a "farm fresh" stand serving grilled corn in May: someone did not get the seasonal vegetable brochure.
But there are plenty of finds here. I had a couple desserts I was still dreaming about the next day, and the whole pod pumps out enough natural energy to qualify for a government grant. Good Food Here feels like community, and it's infectious. It's hard to imagine a cooler, friendlier refurbished school bus than Creme de la Creme, with its eye-popping circus colors, faux-French attitude, and handy copy of "The Quotable Douchebag." After all, in these drill-down times, who doesn't need a good laugh?
A few recent additions should make Good Food Here a cart destination: The Sugar Cube, Portland's star dessert wagon (formerly at Mississippi Marketplace), and ice cream creatives Fifty Licks, making it first pod debut.
EATER'S GUIDE: FOUR THINGS THAT SHOUT "GOOD FOOD HERE"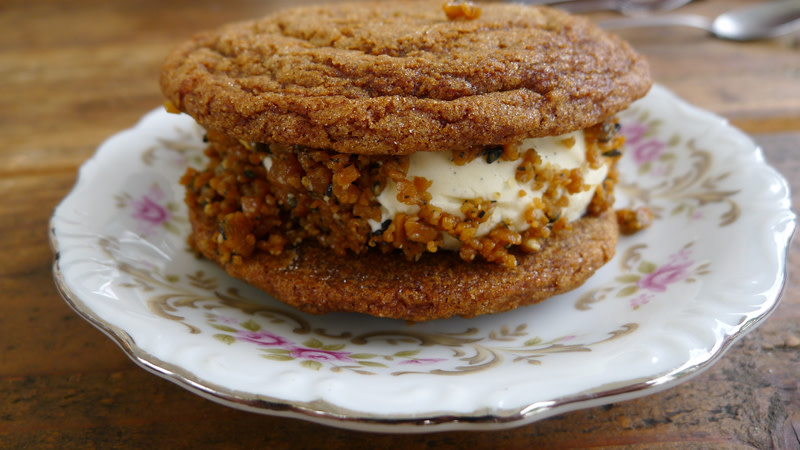 Oh Snap Ice Cream Sandwich at the Sugar Cube
It's hard to know what Kir Jensen is best known for: keeping erratic hours or saving the cupcake genre single-handedly—from a trailer bakery kitchen. Her heavenly frosted chocolate cakes are so light they seem to defy gravity, and it's hard to order anything else. But it would be crime to miss Jensen's seasonal inventions. Right now that means fresh gingersnap cookies with the perfect ratio of ginger, crunch, and chew, sandwiching a thick pad of Stumptown Coffee Ice Cream packing a cold-water extraction and a whopping 18 percent milkfat from mobile truck neighbor Fifty Licks. The fun doesn't end there: the whole thing rolls in the hay with black and white sesame brittle crunch.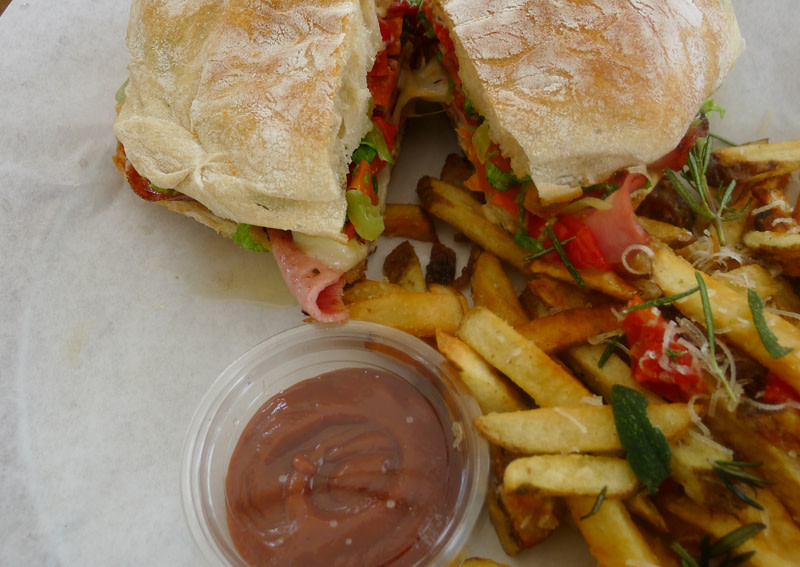 Fried Mortadella Sandwich at Lardo
Think upscale bologna sandwich, but instead of supermarket mystery meat, slices and slices of classy Fra Mani mortadella, speckled with pork jowl and hand trimmed at Berkeley's famed salumi house. Gregarious cart man and former Vermont farm-to-table chef Rick Gencarelli is test-driving ideas for a future restaurant, including sandwiches like this one, featuring good meat fried to glory, messy with mayo, and crunched up with lettuce on a fine flour-dusted ciabatta roll from local baker Fleur de Lis. Regulars add an order of Lardo's rosemary-loving fries and homemade catsup, a pile that gains traction with the "dirty" extra: chunks of Gencarelli's slow-roasted porchetta.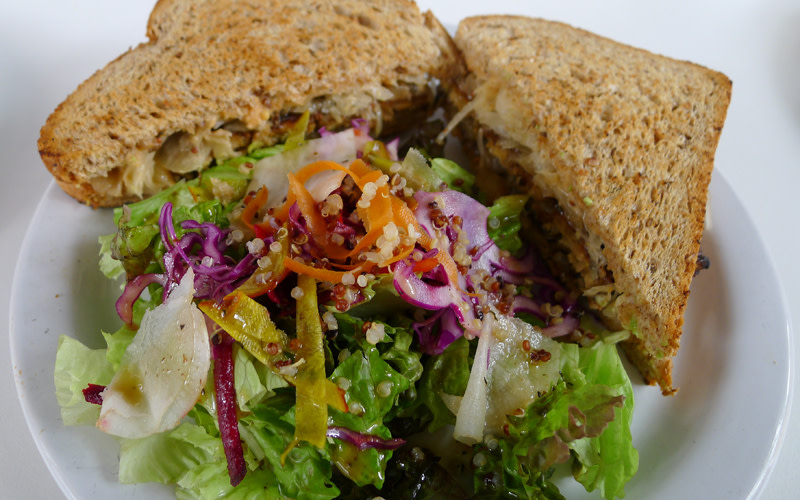 Tempeh Reuben Sandwich at Kitchen Dances
This makeshift vegan "cafe" is the striking centerpiece of Good Food Here, with flip-open windows, old-fashioned chrome stools, a vegan and farm-fresh philosophy, and restaurant-level menu ambition. In summer, tomato plants grow out front, and in all seasons, the kitchen marches to a reggae beat. The elaborate combos appeal mostly to the converted (who else would want a walnut taco free of cilantro, lime, and double layered corn tortillas?). But the art of flavor, balance and surprise knows no genre, and it arrives here in satisfying package: marinated tempeh pads, a nest of onions caramelized to order, and springy whole grain bread. On the side: a pristine salad strewn with quinoa grains and slivered golden beets. When did you last see a truly fine fresh salad in a cart? Major points.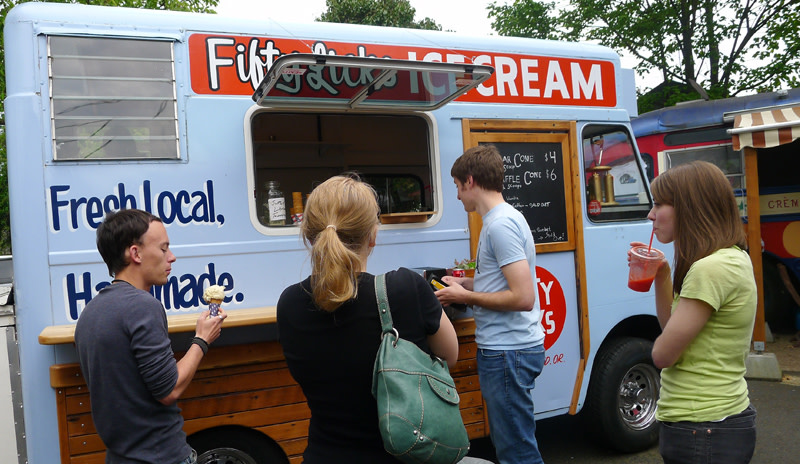 Ice Cream Cone at Fifty Licks
Ice cream innovator Chad Draizin churns out a cast of five regulars, including the cultish Maple Bacon, packing pieces of smoky meat, and a super refreshing Coconut Saffron Sorbet, twinkling with anise and cardamom. But it's the surprises that keep you coming back. Most recently, an unexpected Passion Fruit with Sichuan Ppeppercorns was on tap. Draizin's also experimenting with toppings, from ancho chile to smoked sea salt, to add to scoops stuffed into the cart's homemade waffle cones.