FOOD CART WATCH
Picnic's Simple Appeal
Five reasons to try Portland's newest snack shack on wheels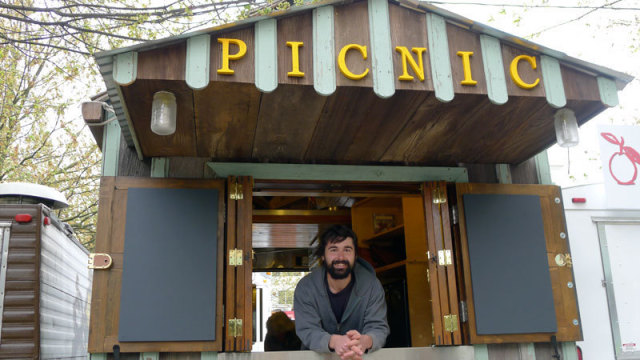 The newest food cart to open at the corner of SW 9th Avenue and Washington Street is more forested cabin than food truck. The just-opened Picnic, a brainchild of local winemaker and foodie eccentric John Dovydenas, diverts from the cart norm with country charms like mason jar lamps and board and batten siding. For Dovydenas, the dream of opening a food cart began with the purchase of rusted-out metal truck and encouragement from friends and family who enjoyed his bi-monthly supper club. Three years later, Picnic has become a reality on one of Portland's most popular food cart blocks, starting with a barebones menu and quaint brown paper bag lunches. Here are five reasons to grab your checkerboard blankets and check out Picnic:
Perfectly A-Framed
Dovydenas' food cart "house" started 21 months ago as a metal frame on wheels. After frustration and setbacks with transforming an existing mobile kitchen to fit his needs, he started from scratch, gathering up as much reclaimed wood and carpentry books he could get his hands on. With its barn wood siding, oak slat floors, and 150-square-foot interior designed using CAD software, Picnic is sure to be the envy of the block.
Holy Smoke
Hidden behind the shack, whole legs of pork are smoked daily and sliced thick—the opening lob to Picnic's Ham & Cheese sandwich. Tillamook cheddar, house made olive oil mayo, and fresh pickled carrots contribute to one crafty sammy. And there's more…
Rising to the Occasion
Holding the whole picture together is Dovydenas' impressive homemade sliced sourdough bread, baked inside the cart and boasting just the right amount of chewiness and a golden crust. And with Picnic's promise of breakfast in the future, count us curious for a taste of Dovydenas' longtime home project: homemade bagels and smoked salmon.
Pic-A-Nic Basket
While the name Picnic seems whimsical for a food cart located in the paved landscape of downtown, form meets function with lunches being served up in brown paper bags just across from O'Bryant Park. While soft grass is not in the picture, head across the street and create your own urban picnic on a lunch break.
Keeping It Simple
Picnic's simple menu (two $6–8 sandwiches, a weekly salad, and a chocolate chip cookie) is likely to get more complex. Dovydenas says his approach to his first business will be slow and steady. The goal: introduce more locally sourced seasonal ingredients and down-home food with a mild Lithuanian flare borrowed from family recipes.
pdxpicnic.com
SW 9th Ave & Washington St
Tue–Fri 11–2