Cheap Eats
Hidden Gem: Cruise In Country Diner
These milkshakes (plus the burgers and fries) bring all the boys to the yard. Girls too.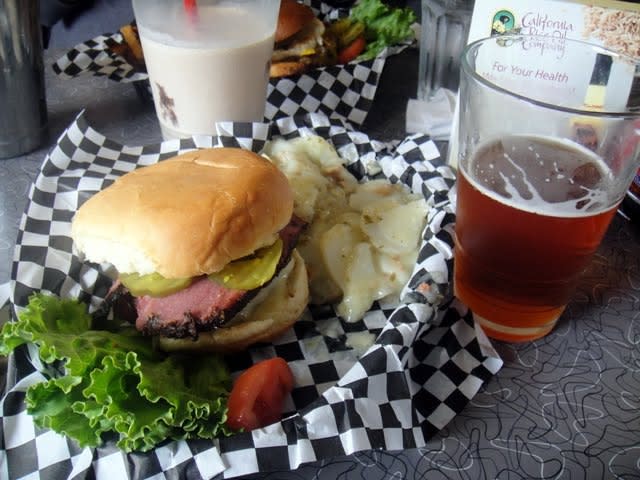 About 18 miles from downtown via a combo of US-26, OR-217 S, and a spider's web of slow-moving town and country roads, sits the Cruise In Country Diner (9785 SW River Rd, Hillsboro). A cheery oasis amid verdant fields and hills, it's one of those hidden gems that you always dream of stumbling upon when you're in the middle of nowhere. More often than not, these gems often turn out to be nothing but shiny rocks. But the Cruise In is the real deal. A mix of farmers, families, bikers, and hipsters sit at pristine diner tables and booths surrounded by old-fashioned signs, photographs, and hubcaps circa the '50s and '60s, and seriously chow down.
What's on the menu:
Mains: 19 burgers, including fish, chicken, buffalo, and three veggie varieties, plus a pulled pork sandwich, hot dog, and options for kids. They strive for local and organic whenever possible, but everything is natural and hormone-free. You can get your Hemi Challenger (three patties with Tillamook cheddar and bacon, $13.95) on a white, wheat or gluten-free bun (sourced from NatureBake, Dave's Killer Bread, and Laurel's Sweet Treats in Tigard), or crown your locally made Chez Gourmet veggie patty (I recommend the earthy WOW, which mixes chopped mushrooms with mozzarella cheese) with fresh guacamole or an organic egg. The Studebaker Burger, which tops the expertly-cooked and not-overly-thick beef with high-quality natural pastrami and Swiss cheese ($9.95), is especially awesome—for such a meaty sandwich, it manages to avoid feeling like, ahem, overkill.
Sides: All the burgers come with your choice of a green salad, German potato salad, or thick, salty house-made fries that taste of potato and clean fryer oil and are refillable for free! Get the fries. You can eat green salad at home, and the potato salad (essentially just slices of tuber in Italian dressing) was the only let-down in the whole joint.
Sips: They dispense natural fruit smoothies and Longbottom Organic Black Gold coffee, but I highly recommend the killer Alpenrose ice cream milkshakes. For $.25 you can add malt (crushed Whoppers!) for a sweet, salty, rich delight that will conjure visions of Pulp Fiction's glorious $5 milkshake. For boozers, they have 12 microbrews on tap (you are welcome to try them first), as well as gluten-free RedBridge beer and Spire Mountain Pear Cider.
If you're thinking of firing up your HOG, Huffy, or hybrid to check it out, I have three pieces of advice:
1. Ignore the picture on the website. The food looks (and subsequently tastes) much better in person.
2. Instead of taking the OR-217 S route that MapQuest and other navigation systems will suggest, I advise staying on US-26 and taking Exit 61 (Helvetia Rd/Brookwood Pkwy). It is infinitely faster to avoid those suburban streets.
3. Schedule your first foray for Saturday, May 21, when all tips will be donated to Mercy Corps to help earthquake victims in Japan, demonstrating that the real jewels here are the staff. Plus, it might just be sunny enough to enjoy your classic eats on the patio out back.