CHEAP EATS
More than just a Pretty Cake
Bakery Bar's affordable menu features brunch, booze, and some of the best biscuits in PDX.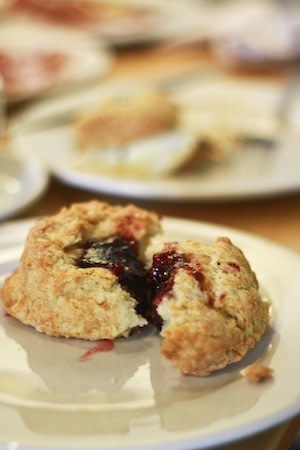 Perhaps best known for their beautiful put-a-bird-on-it wedding and special occasion cakes, NE Glisan's Bakery Bar shines as a reliable spot for weekday breakfast or a scone to go. Separated from the street by a patio with plenty of outdoor seating, this cozy cafe is one of a growing breed of Portland restaurants that are equally inviting on a rainy morning or a sunny afternoon.
The brunch menu is solid, with a wide variety of hashes, sweet entrees, and egg sandwiches available on house-made English muffins or black pepper buttermilk biscuits ($4.50-$6). Favorites include the "Reuben in the morning" with fried egg, house-made pastrami, gruyere & special reuben sauce, and the Veggie, with fried egg, chevre, roasted mushrooms, and spinach. The cheeseburger was also a surprise hit: a great beefy specimen with white cheddar, harissa ketchup, pickled red onions, lettuce & mayo on a house-made English muffin ($8). Served with their signature rosemary hashbrowns, it's a dish that could have been the original inspiration for the word brunch.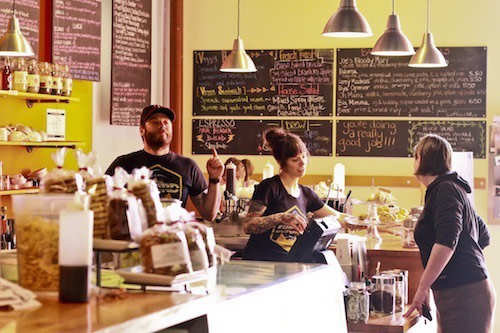 The real Cheap Eats finds at Bakery are the baked goods. The Bacon apple scone with maple glaze ($3) could inspire epic poetry, and the biscuit jammers have me ready to swear off other biscuit emporiums in town. Crumbly, buttery, and dolloped with a generous amount of fresh raspberry jam, Bakery Bar's biscuits are so good I ordered an extra for the following morning, knowing that they'd stay fresh. Any pastry that can still make my eyes flutter after 24 hours gets a gold star in my book.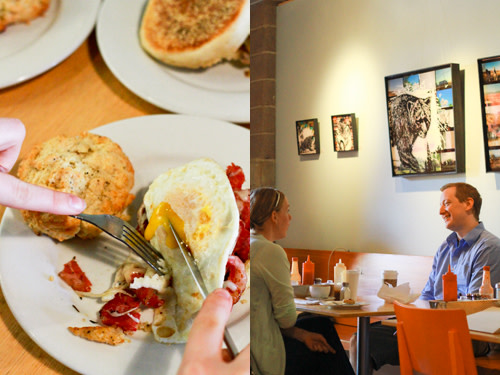 Staying true to their boozy name, cocktails at Bakery Bar put a little something extra into the morning sip. The "Spiked Morning Joe" is a daring take on your usual Stumptown brew. With its decadent blend of espresso, housemade bourbon caramel, and a extra splash of bourbon and whipped cream ($6.50), it'll definitely give any other latte an inferiority complex.
Bakery Bar – 2935 NE Glisan St. Open Monday – Saturday 7 am – 3 pm, Sunday 8 am – 3 pm
All Images © Allison E. Jones