Street Seen
Theology PDX
A real-life religious confrontation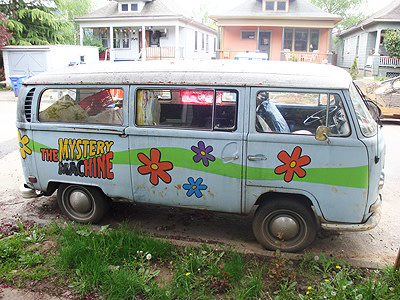 I was schlepping around in Southeast Portland on Saturday when I stumbled across this "Scooby Doo"-inspired van. I snapped a photo, though I'm not entirely sure why. As I was clicking away, a very sensible-looking middle-aged chap wandered by. After taking in the VW's paint job, he quoted Corinthians:
"When I was a child, I spoke as a child, I understood as a child, I thought as a child: but when I became a man, I put away childish things."
Then he looked at me, perhaps because he thought the van was mine. All I could think of to counter with was, "He moves in mysterious ways," which is not a Biblical quote, but like I said, I was stuck for an answer. The guy laughed and said, "I like that." He seemed reasonably satisfied. If only all religious confrontations could resolve themselves in such benign fashion.