BEST OF PDX
Planet of the Crepes
We searched the city looking for crepes both sweet and savory, and came up with nine variations on the flat and folded favorite.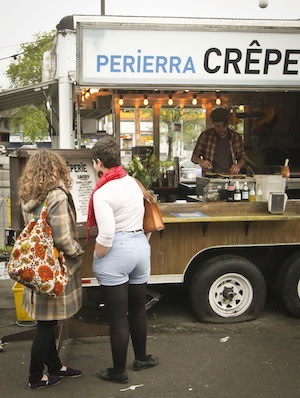 A crepe is a crepe is a crepe, or so it would seem. Setting out to explore the offerings of creperies around town, we had no idea that we'd find so many creative takes on the flat pancake. From sweet crepes filled with red bean paste and topped with a scoop of green tea ice cream to tuna melt crepes and savory vegetarian versions filled with lentils and pesto, the classic crepe has a versatility that has truly been tapped by Portland chefs. Our list spans every dining style and budget, because somewhere out there is the crepe for you, and we want to help you find it.
Did we miss a great crepe? Do you have a better crepe pun? Share your take on all things crepe-y in the comments. We look forward to hearing from you!
1) Suzette 2921 NE Alberta Street
Crepe Style + Service: Former Chez Panisse pastry chef Jehnee Rains serves up traditional French savory buckwheat crepes, dessert crepes, and build-your-own variations. The goods are prepared in a 1972 Airstream trailer, with covered seating in the adjacent historic carriage house where you can catch Friday night screenings of French movies. Offers vegan and gluten free options.
Favorite Bites: Savory crepe with marsala-smoked figs, roasted garlic spread, caramelized onions and spinach ($7); The Smoked Salmon with goat cheese, spinach, and capers ($8); The Normandie, filled with lemon butter and topped with cider-poached apples, crème fraîche ice cream and cider caramel sauce ($8). All crepes $1 more for gluten free.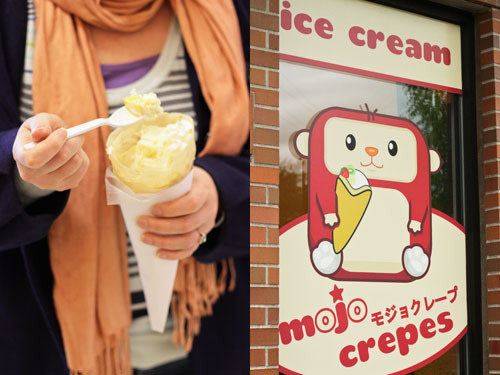 2) Mojo Crepes 8409 SE Division Street
Crepe Style + Service: Japanese street vendor-style dessert crepes filled with fruits and sweet sauces, rolled into a cone, and topped with a scoop of ice cream. Served up in an adorable, brightly-lit shop with giant smiling murals and plenty of tables, couches, and easy chairs.
Favorite Bites: The Tokyo Sundae, with mangoes, red bean paste, sweetened condensed milk, and vanilla ice cream ($5.25); Jean's Flambe, with butter, bananas, caramel, cinnamon sugar, and chocolate ice cream ($5.25); or the best-selling Mojo, with nutella, strawberries, bananas, and choice of ice cream ($5.25).
3) C'est Si Bon PSU, OHSU, World Trade, and King Farmers' Markets
Crepe Style + Service: This farmers' market cart offers organic buckwheat breakfast crepes with eggs and bacon that offer a quicker alternative to the hour-long wait for Pine State Biscuits. They also use seasonal ingredients straight from the surrounding farm stands, like wild mushrooms, fresh berries, and baby lettuce.
Favorite Bites: Le Corbusier, with béchamel, ham, monterey jack, wild mushrooms, and organic herb salad ($7).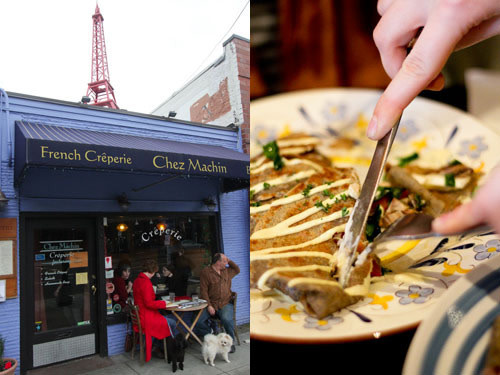 4) Chez Machin 3553 SE Hawthorne Boulevard
Crepe Style + Service: French buckwheat crepes served up with a wide variety of fillings sweet and savory, with gluten-free batter available. The space is tiny, cozy, and very French, with a great back patio that is a welcome respite from busy Hawthorne. Prices are higher here, but the sit-down cafe experience is top-notch.
Favorite Bites: La Bèchamel, with black forest ham, swiss, mushrooms, scallions and béchamel sauce ($9.95); L'Allemande, with bacon, potatoes, caramelized onions and roasted red pepper coulis ($9.25).
5) Pudding on the Rice 1503 SW Park Avenue
Crepe Style + Service: This quirky little Park Avenue shop serves dessert crepes filled with fruit, chocolate, caramel, and often a scoop of their signature rice pudding. They also serve savory crepes, but the surprisingly delicious combo of rice pudding and sweet crepe is enough to have you skipping straight to dessert.
Favorite Bites: Nutella, bananas, caramel, and a scoop of Englishman's Toffee in New York rice pudding – creamy rice pudding with toffee crunch ($5).
6) Le Happy 1011 NW 16th Avenue
Crepe Style + Service: A solid late-night option for Northwest nommers, Le Happy is a crepe restaurant masquerading as a trendy dive bar (think red lightbulbs and fake flowers). The variety here is mind-boggling: where else can you get a crepe filled with tofu, cilantro, cucumbers, onions, fermented black beans and panang sauce?
Favorite Bites: A simple garlic crepe is deceptively complex ($4); Pommes Fromage with apples, gorganzola, and walnuts ($7); The sweet Citron gingembre filled with lemon curd and fresh ginger ($6).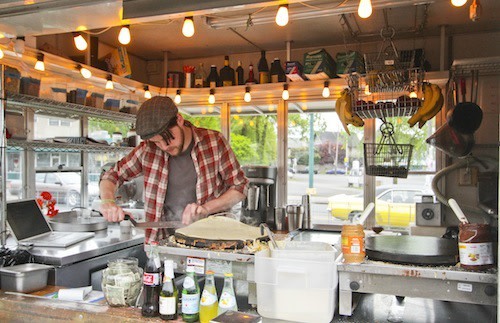 7) Perierra Creperie/Central SE 12th & Hawthorne and 220 SW Ankeny Street
Crepe Style + Service: With a location in the hipster-tastic Cartopia pod on Hawthorne and a swanky pseudo-speakeasy around the corner from the original Voodoo Doughnuts, Perierra seems culled straight out of a Portlandia episode. The crepes, however, speak for themselves. These folded, delicate and crispy crepes stuffed with simple sweet and savory fillings are easily among the best in town, and you can get them from breakfast until after the bars close.
Favorite Bites: Fig, prosciutto, chevre, and honey ($8); Cranberry, turkey, arugula, and brie ($7); Lemon curd, lingonberry, and chevre ($6).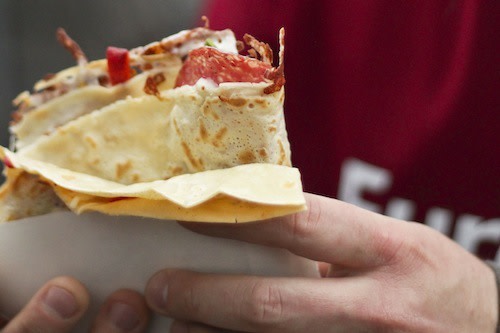 8) Love Via Crepes 1019 NW 23rd Avenue
Crepe Style + Service: Another bright and cheery space serving conical Japanese-Style Crepes and Waffles with scoops of Tillamook ice cream, Love Via Crepes features vaguely-unsettling plastic replicas of all of their menu items, including tuna salad and eggs, chicken teriyaki, and oreos.
Favorite Bites: Reese's Beloved, with peanut butter, bananas, chocolate ice cream, and whipped cream ($5.45); Harajuku Sweet with strawberries, red bean paste, and green tea ice cream ($5.45). Chicken teriyaki ($5.95).
9) Wholly Crepe 4707 SE Hawthorne Boulevard
Crepe Style + Service: Located in the other parking lot food cart pod on Hawthorne, this little crepe and falafel cart serves up interesting takes on traditional crepes in large portions. The lentil crepe is filled with spiced lentils, pesto, and mozzarella, while the Zaalook is stuffed with zucchini, garlicky eggplant, tomatoes, onion, and mozzarella. The sweet crepes are among the cheapest in town, starting at $3.
Favorite Bites: The Lentil ($5); The Chicken Avo, with chicken, tomatoes, avocado, mozzerella, and Caesar dressing; Sugar and lime dessert crepe, an interesting variation on traditional lemon ($3).