HAPPY HOUR OF THE WEEK
Ringside's Late Night Deals
The newly-reopened Ringside Steakhouse brings Happy Hour back to the classics with steak tips and strong drinks.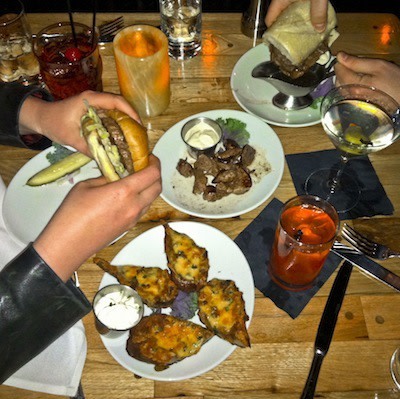 Late night weekday Happy Hours usually fall into the not-for-me category, but I'll bend my rules for a $2.25 burger. Ringside Steakhouse has been a throw-back Portland institution for decades, but the remodel of their West Burnside location has a new generation of Portlanders waiting for a table. What's the draw? A long list of classic bites, priced between $2.25 and $4.75, to wash down with well-made martinis and strong Old Fashioneds.
The Happy Hour menu is only available at the windowless, wooden-beamed Ringside Bar, so be prepared to fight for a seat. You may have to stand up and take in the framed boxing memorabilia for a few minutes, but the cheap eats are worth the wait. Tender bites of Ringside's signature steak, a "fork and knife" Caesar salad, twice-baked potato skins with cheddar and bacon, or a classic hamburger are only $2.25 each. The steak bites come with a creamy horseradish sauce for dipping, and the hamburger's toasted bun and creamy sauce will give In-N-Out fans a familiar punch in the mouth.
For an extra buck and a quarter you can get a plate of fried calamari, a braised beef quesadilla, steamed mussels with angel hair pasta, or a spicy prawn satay ($3.50 each).
For the big spenders, the Prime Rib Dip Sandwich, Fried Oysters, Dungeness Crab Cake, and Old Bay Poached Prawns will each set you back a whole $4.75. The dip sandwich was our favorite, with fresh sourdough baguette providing a satisfying crunch that holds up to the savory au jus.
Yes, the portions are smaller than your typical dinner fare, but the quality and prices make the old-school Ringside a solid addition to the westside's late-night dining scene.
Ringside Steakhouse – 2165 West Burnside. Happy Hours:
Monday to Saturday, 9:30 pm to close
Sunday, 4pm – 5:30pm and 9:30pm to close