Behind Bars
The Return of Trader Vic's
Vaunted tiki bar will set up shop in the Pearl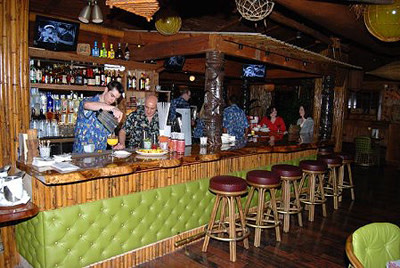 As you may recall, about six months ago I posted news of a possible Trader Vic's reopening in Portland. Well, it looks like a done deal according to the following press release from local marketing and PR dude Dean Rogers at KoiFish Communications.
Good news, I think. The lovably tacky tiki aesthetic is one of my favorites. Hopefully the drinks will shine (and won't require a bank loan) and the corporate atmosphere won't be too stifling.
Trader Vic's Returns to Portland, Bringing a New Approach to a Timeless Concept
Iconic Polynesian restaurant offers an authentic tropical environment and a place for Portlanders to get away from it all
Portland, Ore. – May 4, 2011 – This June the legendary Trader Vic's restaurant and Tiki lounge will return to Portland for the first time in more than 20 years. Located in the heart of the Pearl District, the new Trader Vic's is sure to become a favorite oasis for Portlanders looking to celebrate the sun, escape the rain and enjoy a taste of the tropics.
Defined by authentic island décor, innovative mixology, eclectic Polynesian-style cuisine and impeccable service, Trader Vic's has played a pivotal role in the Tiki culture since its beginnings in the early 1930s. Today the family-run business is headed by "Trader" Vic Bergeron's grandson, Peter Seely, who honors his grandfather's legacy by infusing the Trader's time-tested formula with an exotic and contemporary menu and an approach that's sure to put a smile on the faces of past and future beach bums, jet-setters, lounge lizards, Tiki aficionados and lovers of all things delicious.
"Our goal today is the same as it always has been – to create a tropical refuge where people can escape for a few hours and immerse themselves in the island mindset," said Seely. "The essence of Trader Vic's remains unchanged, but we've updated our style, sophistication and energy level to extend our appeal to next-generation diners. The new Portland location will provide a shining example of modern Tiki and today's Trader Vic's at its finest."
The restaurant's Polynesian décor evokes visions of paradise. The new Portland location will showcase tribal masks, Tiki carvings, tapa cloth and woven grass wall coverings as well as other indigenous art and artifacts collected by the Bergeron family over the past 75 years.
As the inventor of the quintessential Tiki beverage, the Mai Tai, the Trader's dedication to the art of the perfectly executed cocktail has become a foundational part of the company's heritage. Bartenders in Trader Vic's Tiki lounges around the world continue to push the boundaries of creativity and innovation in search of the next classic. The expansive Portland lounge will feature an extensive collection of more than 80 hand-crafted tropical drinks, including one yet-to-be-developed "PDX" concoction that will be available on a "locals only" basis.
The menu will boast a wide selection of small plates for sharing plus signature entrées and a few off-menu favorites. A number of new items that take advantage of abundant Pacific Northwest ingredients are also under development. Wherever possible, fresh produce, seafood and meats will be sourced locally and sustainably. Like all Trader Vic's locations, the Portland restaurant will house a Chinese wood-fired oven. The oven, the history of which can be traced to the Han Dynasty (206 B.C.-A.D. 220), is a drum-shaped oven used for slow-roasting meat, seafood and poultry to perfection.
"Like the décor, our menu pulls in elements from many different cultures, and that's what makes it unique," said Seely. "We encourage our chefs around the world to continue that tradition by incorporating local flavors into their restaurants. With so many fresh, local ingredients to choose from, the possibilities are endless."
The original Portland Trader Vic's operated in the Benson Hotel from 1959 to 1996. The new restaurant is located at 1203 NW Glisan St., and the grand opening is scheduled for mid-June. To learn more, visit www.tradervicsportland.com, www.facebook.com/vicspdx, or www.twitter.com/tradervicspdx.
About Trader Vic's
Trader Vic's was created in 1934 by "Trader" Vic Bergeron when he converted his saloon in Oakland, California, into a tropical retreat decorated with artifacts he collected during his extensive travels to the South Pacific. Today the Trader Vic's family of restaurants has expanded to 27 locations in 12 countries. Recent additions include Kiev, Dubai, Kazakhstan and Portland. For more information visit www.tradervics.com.