INTERVIEW
The Scoop on Salt & Straw
We've got the first look at Portland's first "Farm-to-Cone" Ice Cream shop, debuting this month on NE Alberta.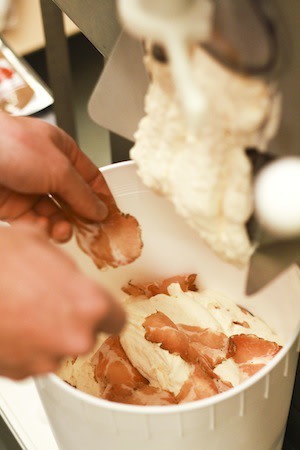 Portland trivia buffs love to offer up the cool fact that we consume more ice cream per capita than any other American city, but our home-town scoop choices have been pretty limited. Kimberly Malek hopes to change that this summer with her new Northeast Alberta ice cream shop, Salt & Straw. The name is an homage to traditional methods of ice cream preparation, featuring pots of cream in a tin pail surrounded by hay and rock salt. While Malek's team is taking advantage of modern technology that doesn't require a barn, Salt & Straw will be a "farm-to-cone shop" using home-grown ingredients like Olympic Provisions charcuterie, Rogue Creamery Blue Cheese, and the best of Oregon's fruits and vegetables. Yes, you read that list correctly.
Featuring creative flavors like Honey Balsamic Strawberry With Cracked Black Pepper, Brown Ale With Bacon, Pear With Blue Cheese, and Mimosa Sorbet, along with pumped-up versions of traditional favorites, the new ice cream shop will be at 2035 NE Alberta Street (the old ACME Glass building). The shop is slated to open mid-August, but Portlanders wont have to wait that long to get a scoop of bacon and beer ice cream. The Salt & Straw ice cream cart will be serving up a selection of flavors on the patio in front of Aviary at 1733 NE Alberta as soon as May 26. Yes, that's Last Thursday – just in time for the kick-off of the Alberta Arts Walk summer season.
I sat down with Kim Malek to get the scoop on all things ice cream and to sample a few flavors in the works. It's a tough job, but somebody has to do it.
What inspires your ice cream flavors, and which flavors are you most excited about?
We're aiming to strike a balance of featuring flavors you may not have heard of and over-the-top, great renditions of old favorites. It's painful really…we can't eat, smell or even look at pictures of our favorite things anymore without wondering – how would this taste in an ice cream? The head ice cream maker, Tyler, and I will literally stop everything and whip up a batch of ice cream at the weirdest times – like being struck with the idea of melon ice cream with prosciutto during breakfast, or asking for a to-go box in the middle of dinner so that we can rush home and try Sriracha ice cream. We haven't cracked that flavor yet… There are two flavors that I'm kind of obsessing about right now: our pear ice cream with Rogue Creamery Blue Cheese and grilled peach or ripe raspberry in our barbecue ice cream.
Why do you think your team is so open to non-traditional ice cream flavors?
I think we're so open to "non-traditional" ice cream flavors because that's the creativity that ice cream has been lacking for a long time. Ice cream has a rich history here in America, but our modern ice cream choices are the equivalent of an what Bud Light is to the beer world. At Salt & Straw, we're able to take flavor combinations that are historically proven to be great – take melon and prosciutto for example – and turn them into a tasty frozen treat. In my point of view, it's not that we're going against traditionally delicious flavors, it's that we're going back to traditionally delicious flavors.
You're using some of the best ingredients around. How did you track down the local products that you feature?
I started the shop because I want to be more a part of creating and supporting strong local communities in Oregon. Plus, we think local and sustainable ingredients are just plain tastier. That being said, we are getting fruit from Oregon Hill Farms, our honey balsamic from Honeyridge Farms, our pears from Truitt Brothers, our cheese from Rogue Creamery, our vanilla from Singing Dog in Eugene, our chocolate from HolyKakow in Portland, our meats from Olympic Provisions, beer from Laurelwood, and our coffee from Stumptown. Our cream is coming from Lochmead, the only dairy in Oregon who actually own their own cows, and we're going to local farmers' markets to source fresh fruit and produce and meet the farmer face-to-face. The coolest part is collaborating with each of these folks to come up with the right flavors to accentuate their beautiful products in ice cream. It's often a very collaborative process, which makes it more fun and even more delicious.
Tell us a little more about the shop and the cart – what's your vision of the space?
Our scoop shop will have that old school mercantile feel with a sort of a low key, industrial vibe – like it's been there forever. Comfortable, not fussy, and a great place to hang out and enjoy the simple pleasures. We've already found book shelves from the old Multnomah County Library for the walls, and an old workmen's table from a shop in Eastern Oregon for our back counter. It's going to be a nice blend of old and new… kind of like our ice cream flavors. While it's under construction, we'll have a limited menu available at our little ice cream cart, which is pretty dang cute all by itself. We're having it custom built with a wrap of aged galvanized steel, a simple two-pole red-and-white, striped awning, and little white-wall tires with refurbished fenders and from a 1920's Tee Nee boat trailer…all painted in our signature red. It'll be super sweet.
It can't be all dessert all the time, right? What are your favorite restaurants in town?
I'm a lucky lady because our cart is going to be located in front of one of my new Portland favorites, Aviary. Their menu is so creative, the plates are beautiful, everyone is incredibly nice, and the wine list kills me. Also, it's no coincidence that we are working with Olympic Provisions on our meats. I was in love with Salumi in Seattle and I can't say I miss it, thanks to Olympic Provisions' entire menu.
Want a say in which flavors will be offered at the ice cream cart? Throw in your two cents in Salt & Straw's flavor poll.