INTERVIEW
5 Questions for: Chef on the Move Paul Losch
Vino Paradiso's ambitious chef is set to share the open kitchen at NE Killingsworth's cozy DOC.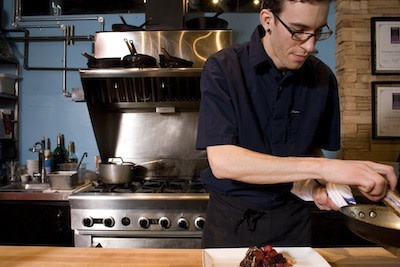 The seasons aren't the only thing changing this month. After several years at Pearl District wine bar Vino Paradiso, chef Paul Losch will be joining the team at DOC, Dayna McErlean's Northeast Killingsworth seasonal Italian eatery. Losch is set to join one half of the current chef team, Jobie Bailey, as the über-cute restaurant says farewell to Timothy Wastell (who will be heading to northeast's Firehouse restaurant of Portlandia fame). The successful restaurant team is gearing up for fresh summer ingredients and even fresher ideas from Losch. The new menu launches June 21, just in time for the summer solstice.
We caught up with the chef as he juggles time in both kitchens leading up to the big swap to chat about ultra-open kitchens, the coming onslaught of Portland's summer produce, and his eclectic cooking playlist.
1. Tell us a little bit about the new job, and when we'll be able to find you in the DOC kitchen.
I'm stepping in beside Jobie Bailey at DOC to keep things on track. The kitchen is already doing great things – I don't need or want to fix what's not broken – but I will be putting my personal touch on the menu. Jobie and I have eaten each others food and see a lot of each other at the farmers markets, and our styles and ideals match up well. Our shared passion for local ingredients – along with a keen intuition, sense of spontaneity, and desire to keep things honest and fresh – will drive the menu and focus going forward. It will be exciting to see where things lead! The official kick-off of my time at DOC is next Friday, the 17th. That weekend is Tim's send-off, and Jobie, Tim and I will all be working on the line those two nights. DOC will close the following Tuesday, giving Jobie and I a chance to finalize the menu, do some shopping, and get ready to start with our first menu on the 21st.
2. DOC is known for its incredibly open kitchen – diners walk through the cooking area to get to the dining room – so are you prepared for cooking in the spotlight?
In general I'm always trying to be cleaner, more efficient, quieter, and more meticulous, and in an open kitchen the work itself doesn't really change. The trick is to always practice extra control and focus. The customers coming into the kitchen, that is something new for me. Generally in an open kitchen, you are facing the dining room, so it will take some getting used to diners passing behind, but I don't mind interaction with diners. It's a great way to engage people in what we're passionate about – the food. What better place for them to experience that than the kitchen? From my bit of time in DOC, it seems like the guests are aware of the fact that they are in a working kitchen, and when we are cooking, we are focused on that. I find most diners are friendly and courteous, and if anything the kitchen at DOC gives you a chance to hear all the feedback people often only give to each other on their way out the door.
3. How do you feel about the DOC menu format? Is there anything in particular you're excited about cooking up as we head into summer?
I really like the structure of the DOC menu. The fact that it is already established as a frequently changing, market driven menu is great, and there is a lot of room for creativity with the antipasti/primi/secondi setup. It's full, it's ambitious and I don't want to change any of that. The first weekend with Tim and Jobie we'll be getting in a mutton (one of the guys' favorites), but beyond that you'll have to check back in and see what Jobie and I come up with. Change will come about organically, unforced. On the market side, I tasted my first 2011 tomato grown in Oregon dirt at the Groundwork Organics booth at the farmers' market on Saturday, which is so exciting. It seems like we really are just hitting stride with things like peas, favas, and morels, but I am looking forward to summer! I can't wait to see Oregon coast albacore and fresh sardines, DeNobles artichokes, Gales Meadow's peppers, fresh beans, cherries, peaches… ok, that may be getting ahead of myself. Anyway, who am I kidding, we're coming into the most exciting time of year for a chef, it all looks good!
4. NE Killingsworth has become quite the restaurant row. Do you frequent any other clusters of restaurants around town?
With the neighborhood setup of Portland, the ones closest ones to home get hit up the most. For my wife and I that's the middle-inner NE: Beaumont, Alberta, MLK/Williams. Places like Bumblekiss, Helser's, Thai Noon, Ned Ludd, Lincoln, and Delphina's see us regularly. Outside of the home area, Bar Avignon and Kin are favorites if we happen to be close by.
5. I hear you're always playing music in the kitchen. Can you give us some tunes from your cooking playlist?
I have a broad spectrum of musical preferences, but get stuck in genre ruts, so I've made a habit of randomized playlists for work. Here's the first ten tracks of my shuffled 'work' playlist:
Newsflash (Metronomy Remix) by Diplo (featuring Sandra Melody)
Doo Wop (That Thing) by Lauryn Hill
Island Of Lost Souls by Blondie
Life Can Be Good by dZihan and Kamien
Kiara by Bonobo
Grover by The Philadelphia Experiment
Run Like Hell by Pink Floyd
When I Go by Emancipator (featuring Thao Nguyen)
There You Go by Johnny Cash
Spandex Man by Mr. Scruff
Looking at that list, I think I am going to have to make some adjustments for Jobie's serious interest in old country music.
DOC 5519 NE 30th Ave. 503-946-8592
Open Tuesday through Saturday, 6 pm to close.