INTERVIEW
5 Questions for Trader Vic's new Portland chef, Michael Broderick
Classic tiki bar Trader Vic's is returning to Portland, and we've got the scoop on the Pearl District spot straight from the chef.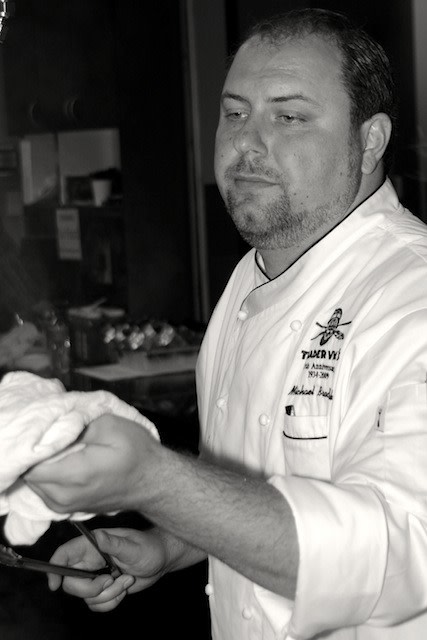 It's baaack… Trader Vic's original Portland location was a go-to hangout for almost forty years, serving up brightly-colored mai tais under palm fronds and Polynesian masks until it closed in 1996. The tiki bar brought a splash of island-inspired flavors and flamboyant tropical ambiance to the city's rainy streets, and it's setting out to do it again with a new location at 1203 NW Glisan in the Pearl (slated to open July 26).
Anyone who's lifted a fork in this town knows that the 2011 food scene is a completely different animal than that of Portland in the 90's, so it'll be interesting to see how the city's diners respond to the return of the Trader Vic's chain. We sat down with Michael Broderick, Executive Chef of Trader Vic's Portland, to see what's changing at the new location, what's staying the same, and what's heating up his kitchen this summer.
1. Tell us a bit about the new space – what kind of experience can people look forward to at the new location?
It's going to be fun! It's an escape, a party, an oasis, for 250 people. It will have that tropical hut feel in a busy city. Coming from the Caribbean, I used to love sitting on a porch while it rains outside of our accordion-style windows. Trader Vic's will be just that, with a little more upscale food. I want the food to be inviting and friendly, and at the same time introduce new flavors and textures that will surprise people.
2. Are you putting a Portland spin on any of the dishes and drinks?
Absolutely. My jaw dropped when I visited the Portland Farmer's Market, and my head has been swimming with ideas on how to incorporate the great local ingredients ever since. One example is this spring roll I developed using Misty Mountain wild mushrooms and local chevre. I just learned this: Oregon has one of the best climates for producing fresh wasabi root, which we use quite frequently. Look forward to signature dishes like Trader Vic's Crispy Duck with mu shu pancakes, cucumber, scallions, and duck sauce, as well as Northwest specials, like Cedar Plank Salmon with artichoke hearts, aged balsamic spinach, and thyme-roasted local fingerlings. The bar staff is also hard at work on the "locals only" cocktail, and there are rumors of a Trader Vic's Portland tiki mug under development, but for now we'll have to leave that to everyone's imagination.
3. What will set this new Trader Vic's location apart from other Vic's around the country?
Besides the fact that we'll get more people wearing fleece than any other location? All joking aside, I think it's the fact that we're paying homage to both the 70+ years of Trader Vic's traditions and thinking of ways that we can fit into the Portland restaurant landscape. We're doing that by paying attention to what matters to the diners in this city: we're using locally-roasted coffee, we're going to make sure that our burger measures up to the local high standards, we're doing a brunch because Portland loves its breakfast.
4. Have you ever purchased a piece of equipment for your home kitchen after using it in a pro kitchen?
Trader Vic's kitchens offer something that most professional kitchens don't – the wood fired Chinese Oven, which produces a smoky/sweet flavor profile. I wish I could duplicate it at home, especially with BBQ season approaching, but I don't see that happening. I have picked up smaller items like mixers and mandolins. Also, working at Trader Vic's has given me an appreciation for perfectly mixed cocktails, which requires a few specialty tools. An ice crusher is an absolute must as is something that allows you to make precise liquid measurements. With our drinks there's surprisingly little room for error.
5. Tiki culture is one of those things you don't really understand unless you're a part of it – what's your take on the tiki enthusiasts? Do you count yourself among their ranks?
Tiki culture is kind of like Star Trek: it's easy to enjoy on a surface level but there's enough depth to it to turn it into a complete lifestyle. Most Tiki enthusiasts are pretty passionate – they collect mugs, they argue on message boards about the authenticity of a tapa cloth, they turn their basement into a Tiki bar… Our Facebook fan page is growing by leaps and bounds thanks to them! I would say that I'm definitely "on the spectrum" but I'm still a lightweight and I'm OK with that. I just can't wait until I look out from the kitchen and see all of them hanging out in the lounge. Their energy is infectious.
Trader Vic's Portland 1203 NW Glisan St.
Monday through Thursday 3 pm to midnight; Friday and Saturday 3 pm to 1 am; Sunday: 10 am to Midnight; Happy Hour: 3 to 7 pm and 10 pm until closing, every day.