New Bars
First Impressions: Bazi Bierbrasserie
It's a full-on Belgian bistro just off Hawthorne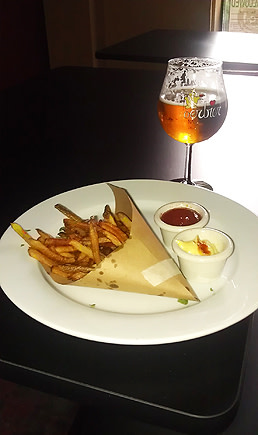 Finally I have a "local" to call my own. A scant few blocks from my humble abode stands Bazi Bierbrasserie, a new Belgian-themed bar that resides in the former Magnolia Cafe locale. I've been twice in the last two days and I can reliably report the following:
• Happy Hour is generous indeed, stretching from 3-7 pm. The GAB burger at $6 is a HH bargain, made from Highland Oaks Farm beef and cooked to order—with an egg on top.
• There are 17 taps of Belgian-style brews including the seriously fabulous Duchess de Bourgogne and a scintillating berry-forward wit from Corvallis's Flat Tail Brewing.
• The frites are delicate, delicious, and served with a curry mayonnaise that fires tiny needles of pleasure throughout the mouth.
• Head bartender Johnny, who used to mix at Nuestra Cocina, is a skilled artisan whose pepper-infused margaritas have won my girlfriend's heart.
• The croque madame is an expansive pile of applewood smoked ham, gruyere, zesty dijon mustard, house-made mayonnaise, and grilled brioche, that will easily conquer most run-of-the-mill attacks of hunger.
• I will be back like the Terminator.