BREAKING FOOD NEWS
Bluehour Hires Spago Alum Thomas Boyce
Bruce Carey's Pearl District charmer adds a missing ingredient: a power player in the kitchen.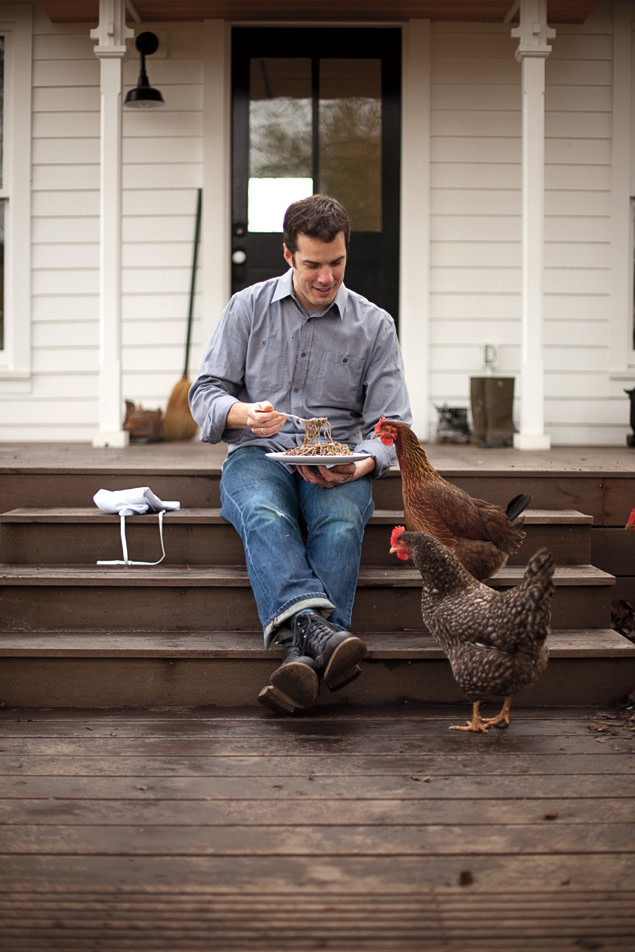 Since arriving in Portland last summer with his baker-star wife Kim Boyce and an impressive resume from L.A.'s famed Spago, local food watchers have waiting for Thomas Boyce to make his move. And today, Eat Beat has learned that after fielding offers to open his own place, Boyce has decided to take his talents to Bruce Carey's Bluehour.
It looks like a coup for both sides. Boyce gets a big stage to build a local reputation without financial risk; Bluehour gets a serious talent capable of turning Portland's sexiest perch into a food destination.
Boyce spent nine years as chef de cuisine ("second in command") in a high-flying Beverly Hills kitchen with celebrity restaurateur Wolfgang Puck, the mastermind behind "California cuisine," with a range from fine dining to canned soup. L.A. Weekly food critic Jonathan Gold calls Spago "a known training ground for the country's rising-star chefs…it remains the kind of restaurant that continually surpasses its lofty reputation." And this from a guy who won the Pulitzer in food writing for his devotion to street food.
Menu ideas for Bluehour are in the think-tank stage. But the 42-year-old says this, with confidence: "I don't like fussy food. I like some complexity but not overdone. I'm seeing crudos ("raw" fish in Italian and Spanish) and seafood, which is under-utilized on Portland scene. I'm seeing mostly French and Italian, my base, but pulling in some Japanese and Indian flavors. I love handmade pasta, and want it to be special. Actually, I want everything to be special…you look at the menu and have a hard time deciding."
Boyce was one of several hundred cooks who responded to Bluehour's ad following the resignation of original chef Kenny Giambalvo in April. "We narrowed it down to three finalists," says Carey. "Thomas' try-out dinner blew us away. He has such high standards. He understands subtleties, textures, restraint. No decorations, no bells and whistles. It's simple and perfect, but it's also elegant, something I aspire to at Bluehour."
That's a good description based on my own Boyce immersion last Sunday at Wild Goose Farm, an intensely artisanal supper club on Sauvie Island and a showcase for off-the-radar talent. Boyce's menu included an impressive collection of wood-fired pizza; elegant oysters; an eye-popping spring salad, with each vegetable cut to reveal a hidden beauty; breathtaking fresh pasta pinched into beautiful packets; expertly wood-oven roasted salmon with skin as crispy as bacon; and a cheese board accessorized by thoughtfulness, from wood-roasted cherries soaked in port and pinot noir to sweet-and-sour cippolini onions.
And this was cooking in a barn, on a three-burner camp store, choreographed by a guy who looked like Nijinsky warming up at the bar. The only question at Wild Goose's farm-yard table: when can we eat this guy's food again? Bruce Carey, one of dozens who had also signed up for the communal dinner, called with a surprise answer on Tuesday: starting in August, at Bluehour.