FOOD AND DRINK EVENTS
Can it, Portland.
The Guild Public House redefines "green beer" with The Cans Fest, popping into town July 9th.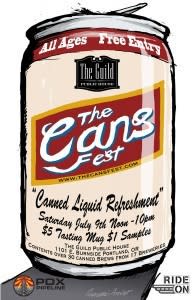 Let's face it, beer cans don't have the best reputation. Long the domain of PBR, Coors, Natty Light, and various other varieties appreciated by serious collegiate scholars around the country, the humble aluminum vessel has a lot to overcome. Jesse Cornett, owner of the Guild Public House on 11th and E. Burnside, hopes to help the can on its way to resurrection with The Cans Fest on Saturday July 9th. Taking over the Guild Pub from noon to 10 pm, the Craft Beer Month event will highlight the features that make the can "better than the bottle"—think increased shelf-life, easier portability, increased sustainability with easier recycling, and faster cooling for maximum refreshment.
While not a fringe movement—more than 100 American craft brewers have switched to cans—the can revolution is just beginning, and eco-friendly Beervana, Oregon is the natural next frontier. The Cans Fest will introduce Portland beer lovers to canned craft beers from the Northwest and beyond – including Oskar Blues Dale's Pale and Imperial Red, Pyramid Hefeweizen, Avery The White Rascal Wit, and Kenai River Skilak Scottish – and most of the beers sampled will be available for purchase to go.
The festival is free to enter, tasting mugs are $5 and each 4 ounce pours are $1. Proceeds from the event will benefit Ride On Portland, an organization dedicated to keeping drunk drivers off the streets by providing late-night car rides home on the cheap. If Portland breweries and beer lovers have their way, 2011 could be the beginning of the can's rebirth, and I'll gladly drink to that. Just don't make me shotgun it.
The Cans Fest, Saturday July 9th from 12 noon to 10 pm
The Guild Public House 1101 East Burnside 503-233-1743