MARKET EATS
Chef in the Market: Gregory Gourdet
Departure's chef is next in the summer series of free cooking demonstrations at the PSU Portland Farmers' Market.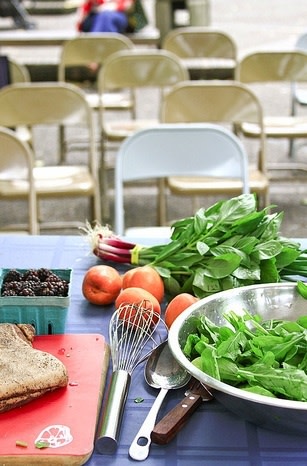 Saturday is my favorite day of the week. I know I'm not alone in that, but the first day of the weekend holds a particular significance for me. It's the day I get to wake up early for the Portland Farmers' Market at PSU, plug in a headset microphone, and host a free cooking demo with one of Portland's best chefs in front of a crowd of market enthusiasts. I've been MC-ing Chef in the Market for three seasons, and this year I'm so excited to feature previews of our demos here on Eat Beat before they happen (check out the full 2011 line-up here).
Each week you'll get the inside scoop on why chefs love their local markets, what dishes are hyper-local right now, and what Portland's chefs are snacking on while they're sorting through radishes and greens at the market. Hint: at 10 in the morning after a busy Friday night, it usually includes coffee. Plenty of coffee.
This week, come on down to the PSU market at 10 am to meet, greet, and eat the market-fresh treats from Gregory Gourdet, chef at the stylish modern Asian restaurant Departure at the top of the Nines hotel. We'll be making a signature dish from the restaurant and sharing tips and tricks for picking produce, saving time in the kitchen, and selecting the best seat at Departure for the most romantic view.
To get everyone pumped for the main event this weekend, I sat down with Gregory to sniff out his market secrets to share with all of you. See you on Saturday!
Which Portland farmers markets do you frequent?
I go to the PSU market every weekend unless I am out of town or have an event in the morning. It is the highlight of my Saturday for all the obvious reasons. If it's sunny I hang out even longer and go to work late. I live in Northeast and the King Market is literally down a few blocks on my street. It's a great way to kick off a Sunday.
What seasonal ingredients are inspiring you right now?
I love baby carrots, strawberries, all colors of asparagus, all spring onions and green garlic, anything dark leafy and green that is coming up these days like summer raab. I also love, love rhubarb. Right now we are highlighting the season's bounty on our $25 Portland Dining Month Menu. My faves on the menu are Baby Carrots with ginger and pickled ramp yogurt, Rock Fish with green spring vegetables, aromatics and lime, Charred Skin Chicken with shitakes, snap peas and rhubarb chili vinaigrette.
Picture this: It's Saturday morning and the PSU market is your brunch buffet. What would be your perfect wake-up meal?
I have a ridiculous sweet tooth but try to eat healthy, so my perfect market buffet would be a dessert feeding frenzy at Petunia's Pies and Pastries. All of her desserts are amazing, and they also just happen to be vegan. I usually start with her Banana Almond Flax Seed Bundt Cake (it's unbelievably moist and delicious), get into a Peanut Butter and Jelly Blondie (amazing!), Passion Fruit Coconut Cupcake for fun, Key Lime Pie to cleanse the palate, and finish off with her ridiculously good Peanut Butter Chocolate Pie as a main course. I'd get a cup of coffee from the guys at Cafe Velo to fight the food coma and sweet sugar high.
What does the Portland farmers' market mean to you?
The Farmer's Market represents everything I absolutely love about Portland! Great farm fresh vegetables, artisanal products, specialty meats – all sold by the person who grew it or made it! I love the abundance of flowers being sold, the families, the chefs and foodies who hang there… It's all about the smiling happy faces of people who understand how good we have it here.
Chef in the Market 10 am, FREE, in the middle of the farmers' market at Portland State University in the South Park Blocks between SW Hall & SW Montgomery.
Departure Restaurant + Lounge 525 SW Morrison Street, Portland, Oregon 97204 P 503-802-5370