FOODIE FREEBIES
Hammer and Pickle
The People's Sandwich of Portland is celebrating their second year serving up subversive sammies with a special deal for Eat Beat readers!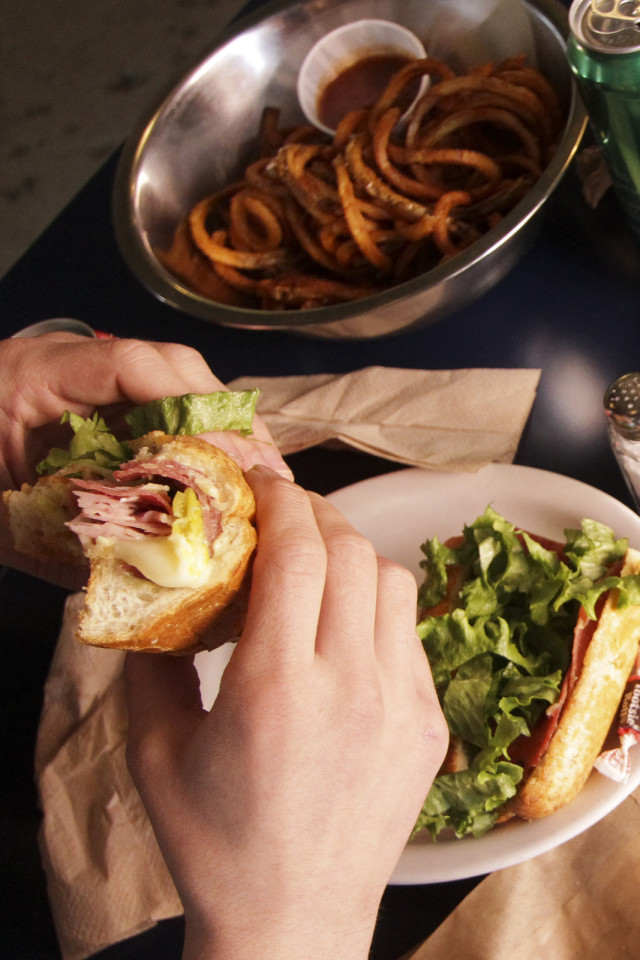 If you've been a reader of Eat Beat for any time at all, you'll no doubt know that we LOVE us some food puns (see: The Dawning of the Age of Asparagus, Planet of the Crepes, KIN-dred Spirits etc.) so we get a kick out of restaurants dishing up some wordplay. The holy grail of food punnery? A restaurant with food as tasty as their witticisms.
The People's Sandwich of Portland, a brick-and-mortar restaurant on NW 1st, satisfies our hunger AND our humor with delicious offerings like the Hammer & Pickle, a Cuban with ham, pork loin, Swiss, and pickles on a grill-pressed French roll with just enough mustard and mayo to keep things saucy. Or the Something Fishy, a different take on tuna salad, served hot or cold on a multigrain hoagie with lettuce, tomato, mayo, and red vinegar. The Navin R. Johnson is a work of sandwich artistry, a down-and-dirty melange of "Jerk"ed chicken and collard greens with yams, red onions, and mayo (see what they did there?). Every sandwich comes with house-made dicTater chips, though, trust me, you ALSO want to order a side of their fresh curly fries for the full PSoP experience.
This week, The People's Sandwich of Portland is celebrating two years of stellar sandwichery at their Old Town shop. For a limited time, you can grab a homemade meatball sub made with Painted Hills and Carlton Farms meat, a Buffalo Chicken sandwich made with cast iron-fried Draper Valley chicken breast, as well as a few other birthday specials. Eat Beat Foodie Freebie: When you buy two sandwiches and mention you read this on Eat Beat, you'll score a gift card for a free sandwich on your next visit. Go and get it, people!
The People's Sandwich of Portland 53 NW 1st, 503-222-0525
Hours: Mon-Fri 10 am – 6 pm, Sat-Sun 12 pm – 5 pm