HAPPY HOUR OF THE WEEK
Hopworks BikeBar Happy Hour
Hopworks Urban Brewery's new location on North Williams is bike—and budget—friendly.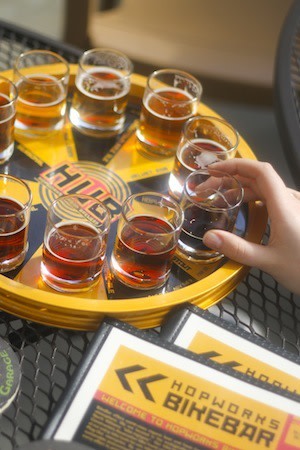 Today marks the official first day of summer, and—for once—it seems as though Portland's weather gods are willing to cooperate! Celebrate the sunny forecast with a beer and some cheap eats at Hopworks BikeBar, the local brewery's new two-wheel-friendly outpost on North Williams. After a few years of successful beering at their flagship location on SE Powell, the good folks behind Hopworks are spreading the love to the north. With plenty of bike parking, 10 different organic Hopworks Urban Brewery beers on draft (plus one on cask), and tons of happy hour meal deals under $4, BikeBar is surely pedaling towards success.
The Happy Hour menu features 10 items priced between $2.25 and $3.75 in surprisingly large portions. Our favorites included the mammoth black pepper and garlic beer sausage with potato chips ($3.75), the refreshing house salad with housemade vinaigrette ($2.75), the "Warrior Wings" with spicy BBQ sauce and rogue river blue cheese ($3.75), and the addictive cajun-seasoned thick-cut french fries ($2.75).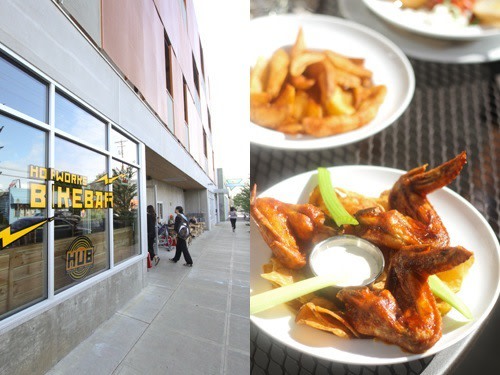 The pizza specials also satisfied—a large slice piled high with mushrooms, artichoke hearts, and bell peppers was so tasty we ordered two more—and came at great price. All happy hour slices are $2.25, including cheese, pepperoni, and veggie or meat specials that rotate daily.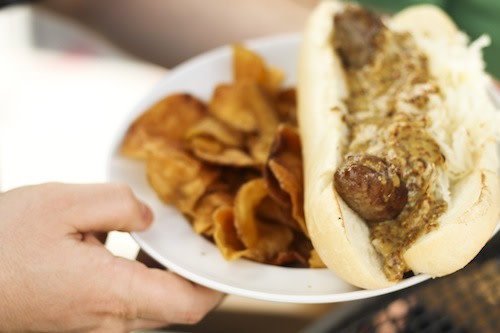 To sip, try a few rounds of the HUB sampler with ten 3 ounce pours of their signature and seasonal organic beers for $8.50. It's a fun way to try a taste of the brewery's offerings before settling on a full pint.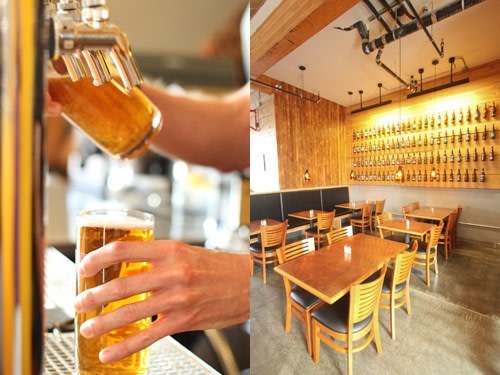 As you wait for a fresh pour of beer, be sure to check out the 40 bike frames from local custom builders hanging above the bar, as well as the light fixtures made from Hopworks growlers and two Plug-Out stationary bicycles that allow you to generate electricity back into the building's grid while you're waiting for a barstool. If you're willing to stray away from the bar and lounge's biketastic decor, the back patio provides plenty of outdoor seating with umbrellas in case it gets too hot.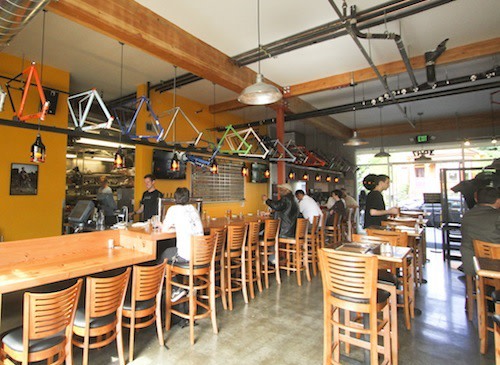 The Happy Hour menu is available Sunday through Thursday from 3 to 6 pm and 9 pm to close, as well as late night on Friday and Saturday, from 10 pm to close. Those generous hours provide plenty of opportunities to check out the new space and enjoy the sun. Welcome to summer, Portland!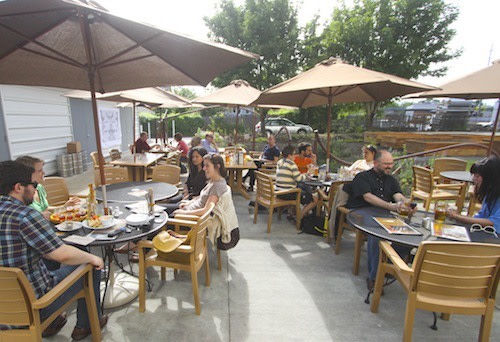 Hopworks BikeBar 3947 N. Williams in North Portland, 503-287-625
Happy Hours:
Sunday through Thursday: 3 – 6 p.m. and 9 p.m. – Close
Friday and Saturday: 10 p.m. to Close