OPENING NIGHT
Inside the Bent Brick
Park Kitchen's Scott Dolich shows off his new tavern, a cozy ivy-decked locale with an eye toward the future of food.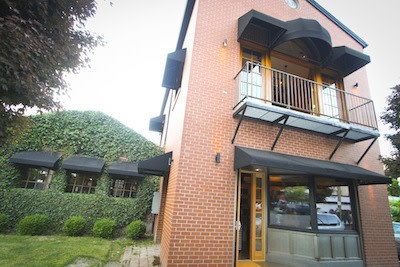 What do you get when you combine the Portland-centric food ethos of chef Scott Dolich and the words "neighborhood tavern"? There's the expected—great ambiance, local ingredients, top-notch drink program—but there are also a few surprises in the mix. The James Beard nominated Park Kitchen chef and his team are taking on preconceptions of "tavern food" with The Bent Brick, the newest chef side-project to hit the city's scene. With this Northwest PDX project (located on NW 16th and Marshall), Dolich has transformed a former shoe store into an intimate and whimsical backdrop that allows creative food and drink to take center stage.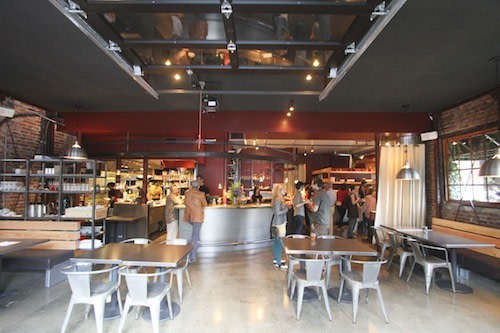 Anchored by the long bar and open kitchen (the domains of bartender Adam Robinson and Executive Chef Will Preisch, respectively), the Bent Brick's interior mixes modern industrial design with the timeless history of a classic Portland building. The blend of wood, metal, brick, and ivy create a space that is both familiar and innovative, much like the new menu that mixes familiar ingredients in unexpected ways.
The 42 seat restaurant features 16 local wines on tap, 10 killer summer cocktails, and a well-curated menu full of innovative yet accessible dishes – think Gravlax-cured, sous vide tuna over Green Goddess dressing with fennel and strawberry salad or tender prawns with saltine grits and Old Bay Hollandaise. The Bent Brick opens to the public tomorrow, June 28. Stop by and let us know what you think! In the meantime, check out my photos from the soft-opening below.
The Bent Brick 1639 NW Marshall Street, 503-688-1655
5 to 10 pm, Tuesday through Saturday
Happy Hour Tuesday through Friday, 5-6:30 pm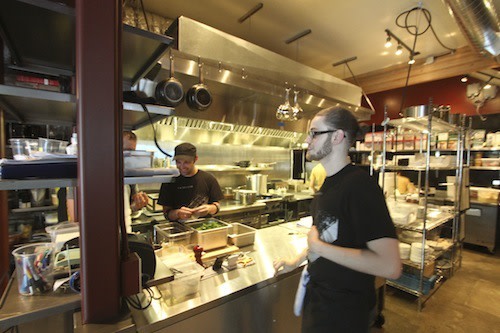 Executive Chef Will Preisch is hitting the ground running, with a slew of creative culinary projects. He's working on several house-fermented vinegars, breaking out the high-tech gear, and plating up new takes on classic ingredients.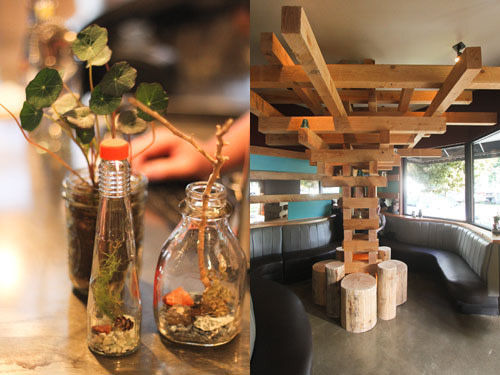 The restaurant is filled with creative touches, from terrariums made inside hot sauce bottles and dairy jars to a giant "Jenga Tree" decked with candles in the lounge/waiting area.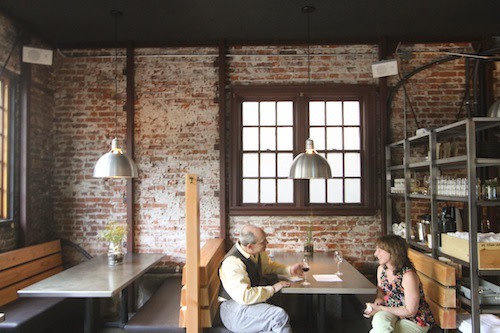 Several large booths provide ample space for bigger parties or an afternoon unwinding with a glass of wine in the well-lit space.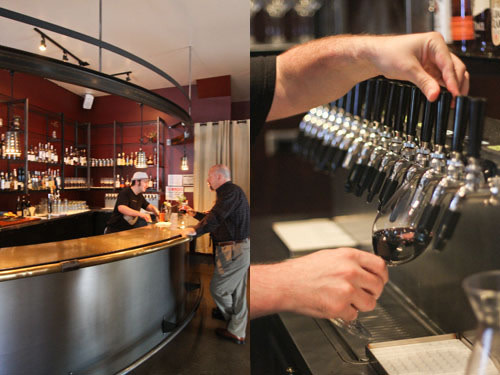 The curved bar features locally-sourced beer, spirits, and 16 wines on tap, including J Christopher's 2009 JJ Pinot Noir, Grochau Cellars' 2009 Tempranillo, and Boedecker's 2010 Pinot Gris, fresh from the keg.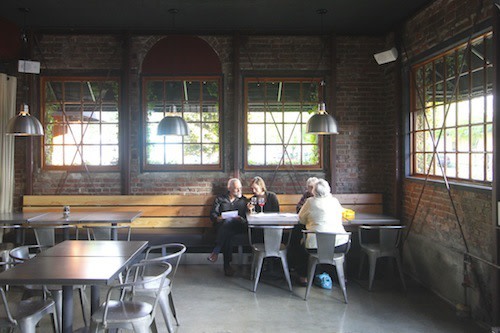 Mixing ivy and brick with reclaimed wood with modern metal industrial touches, the Bent Brick's interior feels chic and special, while the music and friendly service keeps things casual.