INTERVIEW
5 Questions for: New-World Restaurateur Kurt Huffman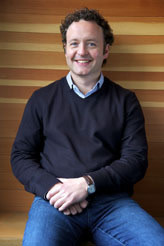 Kurt Huffman's company, ChefStable, has become the secret force behind some of Portland's most acclaimed recent restaurants—Andy Ricker's Ping, Chris Israel's Gruner, the bustling new St. Jack, and others. In the June issue of Portland Monthly, we profiled Huffman in our business column. Here are more of his thoughts on the business of restaurants, and the opportunities and drawbacks found in Portland's food scene.
ChefStable essentially invests money and resources to help chefs start new restaurants. Can you describe how that works?
We find good chefs who have good ideas that they would, in many cases, not be able to open on their own. That's our investment filter. That's been the premise for each of the restaurants. At first, that meant confirmed talent—people who themselves could be the guarantor of excellence for a new project. Andy Ricker, Chris Israel—they're known quantities. You know the food will be good, and you will get the benefit of exposure, because the press and the public know these people already. But that exposure is fleeting. Ifwhat you're doing isn't good, you'll still end up closing.
What do you do for chefs, besides give them money?
We do things that chefs, by and large, are not good at or interested in. Lease negotiations, contracts, purveyor negotiations, insurance, credit card processing, HR and accounting infrastructure, legal structures—all the things most chefs, and most entrepreneurs in general, don't have a clue about. The combination of our back-end systems and competency in all those areas and the chefs' vision and talent—that combination maximizes the chances of success.
I've seen a lot of failure in restaurants. And a lot of failure has to do with elementary mistakes: under-capitalizing at the beginning; not understanding how to adhere to cost structures or deal with major overhead issues. People get into huge leases or impossible revenue shares.
One thing we are, I think, is patient. In this economy, given how constrained the credit markets are, and how difficult it is to find private investors, we've been almost exclusively opportunity-driven. We've done a $20,000 restaurant at Foster Burger, to 10 times that at Gruner, and everything in between. Basically, once we identify chefs and evolve the concepts, we find places where restaurants have gone out of business, recreate the space and open. We have four projects in the works and they're all just waiting on the right opportunity. As a result, we can make things happen for a fraction of what traditional groups would be able to make it happen for.
What do you personally bring to this process?
I tried to be a chef for a long time, and I wasn't very good at it. I was in France for 10 years, doing restaurants and breweries for eight years. And I got my ass kicked for eight years. It was a hard decade. So much of what we do was forged in that experience—trying to be the partner that I did not have. I committed to go to business school, and I went into consulting, to try to develop a skillset that would allow me to remain in the food industry, but at a level where I could be really good. And over the last three or four years, I've gone through a process that makes me feel that I can stand toe-to-toe with anyone on this stuff.
So from that perspective, what's one major flaw in Portland's foodie paradise?
I hope we become the preeminent eating capital of the universe, but I don't think we have enough wealth and enough cultural diversity to be that. New York, San Francisco, London, Paris—they will always have more money and diversity and perspective. And we're in Portland, starting restaurants on a shoestring budget, and there's a limit to how far we can go with that.
The thing we suffer from the most is our service talent. Our chef talent is 15 years ahead of our service talent. We're full up on chefs who are incredibly motivated and holding themselves to an incredible standard. We have almost no service people who are like that. A lot of places that could be great are just mediocre because the staff has a sense of entitlement about being there, and a certain laziness. In our businesses, we are merciless about front-of-house professionalism, but it is a constant effort. We have a list of "100 Things You Must Never Do" posted in every one of our kitchens. Never touch the client. Never kneel down by the table. Never call the client 'Bud' or 'Dude.' I mean, crap that happens all the time in this town. We post that list, and we ask our front-of-house people to read it, and think about how to extrapolate it into other areas of their work.
Part of this is just a matter of size, maturity, and expectations. There's a certain Portlandia slackness on both sides of the equation. Some people hate the service at Pok Pok, whereas I love it, because Andy insists that everyone know how to pronounce everything, and what goes with what. The people who work at Pok Pok will tell you how to eat there. And some people don't like it.
On the other hand, your restaurants have been very successful—they're making money, and they've earned critical acclaim. What are your longer-term aspirations?
When people ask me, so, are you just going to own 50 percent of a bunch of marginally profitable restaurants? The first answer is, yes, and I'm proud of that. But I also hope that we have opportunities to develop ideas that can be real moneymakers. I think that portfolio is really compelling, and the opportunity in Portland is just immense. We can work with James Beard-nominated chefs. We've had restaurants on GQ's Top Ten Restaurants in America list two years in a row—one is awesome, getting two is almost embarrassing. But I think it means our concepts are valid.
I really believe something special is happening in Portland. You hear about schools of thought in philosophy—the Vienna School, whatever. Things happen in isolated geographic locations over short periods of time. In food, you could look at Bocuse in Lyon in the '70s, or the movement that's coming out of a small area in Spain now. In Portland, there's a constantly raising level of quality that forces everyone to get better. Think about what's happened in 10 years. It's remarkable. Something you see here, which you don't see elsewhere, is people trying to create something excellent in a little cart in a parking lot. Nong [of the acclaimed food cart Nong's Khao Man Ghai, and partner in a future ChefStable project] worked for months to get one dish perfect and sell it out of an eight-by-six truck. Fifteen years ago, no one, anywhere in this country, thought that way.
There is so much kitchen talent in this town—so many talented people moving here. At times, I'm like, what are you doing? Kim and Thomas Boyce—he ran Spago for nine years. He's going to come to Portland and open a restaurant? He could be doing something radically different, but he wants to be part of what's happening here.
So great food concepts will come out of Portland. In the next decade, major things will come out of here. There already are—you can look at Stumptown Coffee as a hint as to what can happen. Andy could take Pok Pok out into 50 cities—it would be a nightmare for him, but he could do it. Pok Pok doesn't exist anywhere else, and people are jealous. What we're going to do with Nong—that could go elsewhere. I think something is very important here, and I don't know how long it will stay, but as investors, we have an opportunity to get involved with ideas that could become national ideas.