EAT HERE NOW
Wings of Victory
How good is the food at Pok Pok and Le Pigeon post Beard awards? In a word: soaring.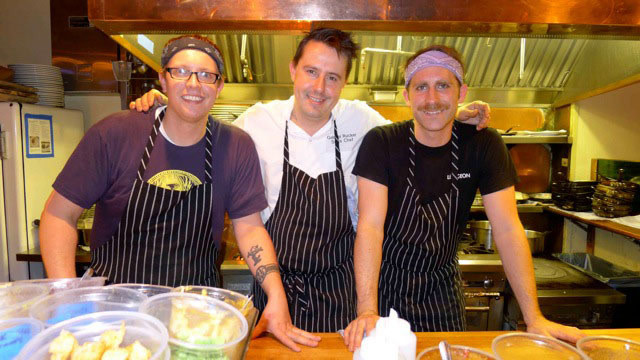 They're the Odd Couple, the new anti-heroes of the James Beard awards, cooking complex creations from completely different impulses. Pok Pok's driven-to-get-it-right Andy Ricker compulsively nails the soul and the science of Thai street food in kitchens where "riffing" is not applauded. Le Pigeon's loose-limbed Gabriel Rucker lives in the moment with his merry kitchen crew, responding only to the house mood ring and sideways humor.
But the differences end there. Ricker and Rucker are bound by approaches and menus that never cease to surprise, challenge, and, at times, awe. Few restaurants stand taller after intense success (most do the opposite), and ever fewer maintain integrity once an owner branches out to other projects. But Ricker and Rucker—both with offspring projects, both recipients of local and national kudos over the past few years—have always fed off the frenzy and pushed harder.
Now, both are experiencing great new surges on the national scene after last month's Beard awards designated Ricker as Best Chef Northwest and named Rucker the country's Rising Star—the first ever for a Portland chef. Judging by dinners last week at both restaurants, everything has changed and nothing has changed.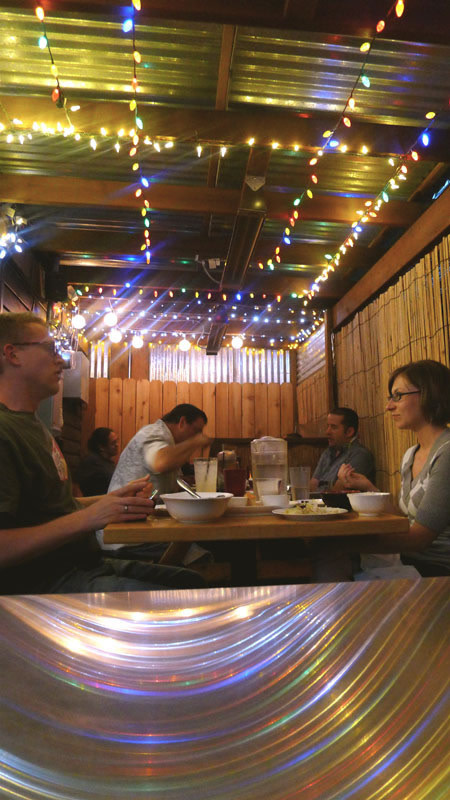 At six years old, Pok Pok still feels like a work-in-progress. Not unfinished. Just always morphing into a place that feels new and improved. The outside eating area has grown from a hut with three picnic tables to heat-lamped eating clusters to what it is now: a shielded outdoor village twinkling with colored lights, Asian pop music, brisk service, and a growing menu of drinks and specials. Ricker has brought the indoors to the outdoors, and it's magical.
Even after the awards, it's hard to pass on the chicken wings, still insanely good despite the reality that the kitchen pounds through more than 1,000 orders weekly (order the "spicy" version to plumb the depths, and don't overlook the fat spears of pickled vegetables and herbs on the side). To a heap of wings, I usually add a salad called yam samun phrai, a Northern Thai festival of crunch, nuts, and herbs cut as thin as needles. The combo, aided by warm sticky rice plucked from a cellophane bag stuffed in a colorful bamboo box, is instant heaven. If I'm in the mood for my lips to buzz, I also spring for yam wun sen, a tangle of glass noodles teeming with fresh-made sour pork sausage, Chinese celery, and pickled garlic. It's like thunder and lightening.
But only a fool sticks to the regulars. Pok Pok's menu is meant for exploring, and waiters can be counted on to steer you in the right directions. Last week that meant plaa op, a whole fresh rainbow trout, speared with lemongrass, glowing with Thai curry paste that arrived in a giant banana leaf wrapper after a romp over hot coals. Another find: grapefruit drinking vinegar, at once racy and soothing. Also, given that June in Portland comes with the reality that sweaters are still in season, don't miss the yam kai meuang, a rustic, aromatic Northern Thai soup made with Asian street roosters, known for spectacular skins. Like many dishes here, it's pure Ricker: labor intensive, elemental, and irresistible—and rarely seen outside its home turf.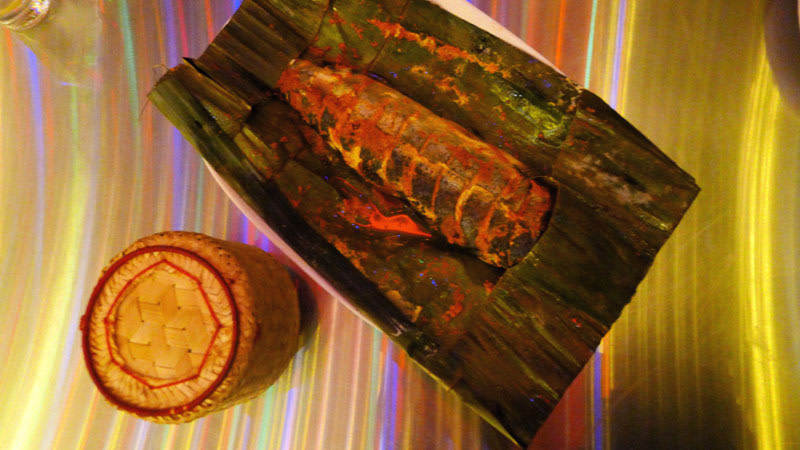 Meanwhile, Le Pigeon is surging on new kitchen energy now that various staff members have shifted to Little Bird, Rucker's boisterous new downtown bistro. As Little Bird readied to open last December, Rucker commented that he couldn't wait to get back to Le Pigeon and cook with the new "kids" in the kitchen. Clearly, something has energized him.
As a longtime customer who has logged untold memorable meals, last week's dinner was one of Le Pigeon's best. Leading the charge: a hunky goat ragout draped over fingers of crispy polenta packing yellow interiors, soft and hot, earthy and buttery, like some great cornbread from the sky, all sprayed with dots of black garlic pesto and somewhere, buried in it all, the tang of goat cheese.
Every dish showed how deep and original Rucker can be: foie gras pâté vaulted another level with a X-shaped eel-rhubarb sauce, rising like a vision of Oregon's farm fields from the bottom of the sea. Lamb, its edges crackling with sear and char, arrived alongside curry-scented fennel pickles and cheesy green garlic risotto with bits of radish buried within its depths—a dish that had nothing on one of the best salmon throw-downs in recent memory: crisp-skinned and toppled over sharp red onions and tender potatoes.
At the night's end, Rucker said the award still hasn't sunk in. All he knows is he's back in the kitchen doing what he loves to do. "It never gets old," he once told me. "It's like getting Nintendo on Christmas. The greatest thing is being in the kitchen serving happy people that stumbled on Le Pigeon."
Looking around, Rucker will have an endless stream of them now.