BREAKING FOOD NEWS
Cathy Whims and ChefStable Team Up at New Oven & Shaker
Nostrana's Cathy Whims, Aviation Gin's Ryan Magarian, and ChefStable's Kurt Huffman head to the Pearl with a powerhouse plan for pizza and drinks.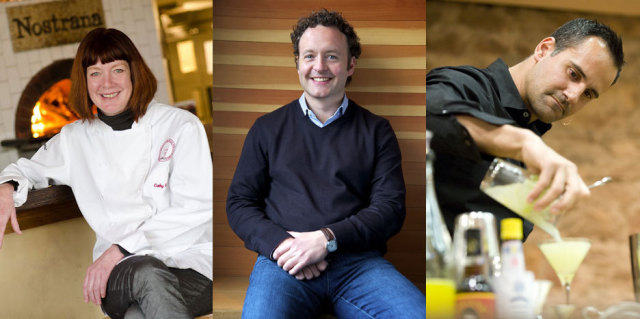 French food isn't king of the hill yet. Butter and bones may be back, on a big, comforting plate, but never underestimate the local appetite for pizza: wood-fired, farm-flavored, and topped with a Portland sensibility.
That's the thinking behind Oven & Shaker, opening in late summer in the Pearl District: wood-fired pizza meets artisan cocktails in distinctly local space. A dream team of partners is poised to pull it off. Last week, pizza goddess Cathy Whims of Nostrana fame joined forces with innovative restaurateur Kurt Huffman (whose ChefStable indie talent-scouting company is hotter than a wood fire) and Aviation Gin co-founder Ryan Magarian, a mover and shaker in the cocktail world.
Oven & Shaker takes over the former Bella Gioia space, which closed last week at 1134 NW Everett St. The plan is to reopen the 3,200-square-foot space in late August with a new look, 80–90 seats, a 45-foot-long bar, and, burning bright in the corner, the one thing left behind—a wood oven.
Whims plans to stick to her signature slow-rising, sourdough-tingling, classically Neapolitan pizza crusts and market-driven toppings. The menu is still in the think tank. But expect to find some of Nostrana's Eastside hits transported to the Pearl, including the kitchen's signature salad fashioned from radicchio, rosemary sage croutons, and Caesar-style dressing.
Still, Whims is looking to break out a bit from her purist approach and the Italian lexicon. "I just want to reflect Ryan's delicious, crazy-fun cocktails," she says.
"This is a true and rare partnership between a chef and a bartender," says Huffman, whose ChefStable is quietly behind many recent hits in the food scene, including St. Jack and Grüner. "It's a careful marriage of two visions here. That's unique for me."
Magarian, a Portland native, is a nationally respected craft bartender with a chef-to-shaker approach and a reputation for creating successful bar programs that emphasize precise execution. He plans to be a constant fixture behind the bar at O&S, overseeing a whimsical approach to simple, classic cocktail variations intended to work seamlessly with what's coming out of the oven.
"But ultimately it's about more than great food and drinks," says Magarian. "The environment and service are just as important. It's nailing all those pieces in a fun place."
So far, the group agrees on what they want Oven & Shaker to be: a living room for the city, fun and rolling, with a Portland sensibility and a party every night.
Magarian puts it a different way: "This is Cathy Whims having fun with pizza. How cool is that?"