INTRODUCING
Wild Goose Farm: Hot Homestead Feasts
An architect and designer open up their Sauvie Island home to a new kind of farm-to-table supper club featuring a delicious lineup off-the-radar chefs.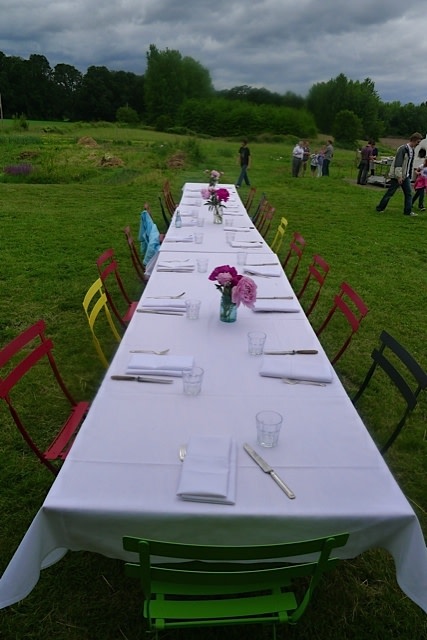 Last Sunday afternoon, 60 food lovers, families, a posse of French-speaking oenophiles, and a flock of L.A. refugees convened at long tables set with white linen, big white Ikea plates, bursting peonies in Mason jars, and some of the best food you're likely to eat this summer—farm-fresh, fresh-butchered, and wood-fired in one-of-a-kind menus.
And that's not even the headline at the new Wild Goose Farm. The setting is smack in the middle of a transforming five-acre farm on Sauvie Island, deep in lush grass, and surrounded by garden patches, bee hives, chicken coops, a big barn kitchen, and outdoor wood oven that looks an igloo.
Once a month, eco-architect Yianni Doulis and his interior designer wife Jessica Helgerson turn their new urban farm dream into a kind of homestead speakeasy, with tables and evenings curated and art-directed to reflect their love of food, drink, and design.
This intensely artisanal supper club also introduces Portlanders to talented newcomers and cooks not attached to traditional restaurants. Following a few test-drive dinners last fall, Wild Goose kicked off round two on Sunday with a dinner by Thomas Boyce, who has been chewing over his place and voice in Portland's scene since arriving last summer with his star baker wife, Kim, after years at L.A.'s high-flying Spago. The menu was indeed an impressive taste of what Boyce might bring to the local table: a collection of wood-fired pizza sporting porcinis and ramps and fava beans; elegant oysters; an eye-popping spring salad, with each vegetable cut to reveal hidden beauty; breathtaking fresh pasta pinched into beautiful packets; expertly wood-oven-roasted salmon with skin as crispy as bacon.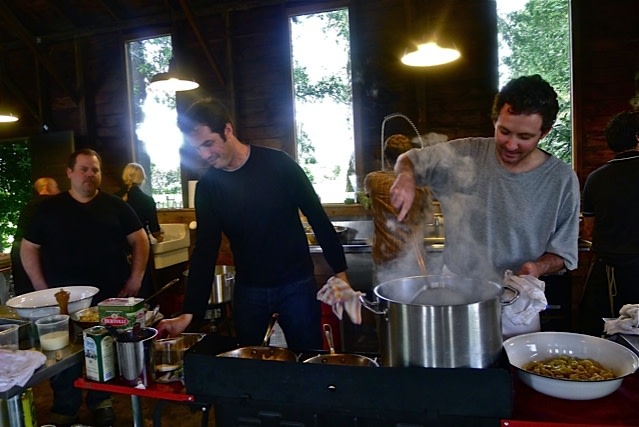 Two days later, Bluehour announced that Boyce will head up its Pearl District kitchen come August (read Eat Beat's post here).
The generous monthly feasts include Doulis's artisan cheese projects and small-batch charcuterie, a growing percentage of fruits and vegetables plucked from the yard, and a procession of dishes from afternoon until sundown, when the fire pit roars and candelabras twinkle. This underground lawn party includes free-roaming walks around the charming, slightly scraggly property and darts into the adorable 547-square-foot-house, as we dream with Doulis and Helgerson about possibility and new ways of living.
Kids are welcome, with their own beautiful table, and child-care comes with the deal. There's even a ladder to climb a tree.
It's the best secret in town. Check out the summer/fall schedule below.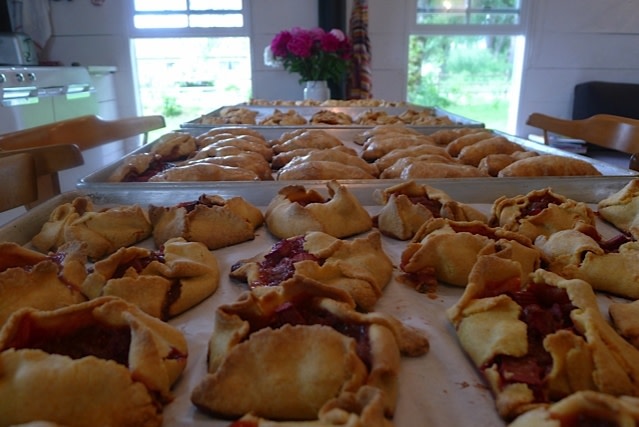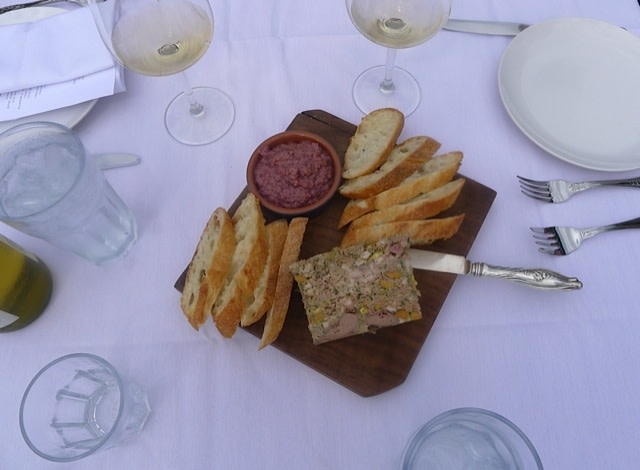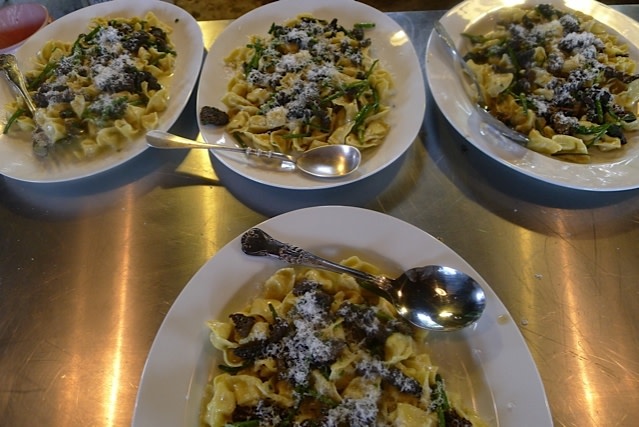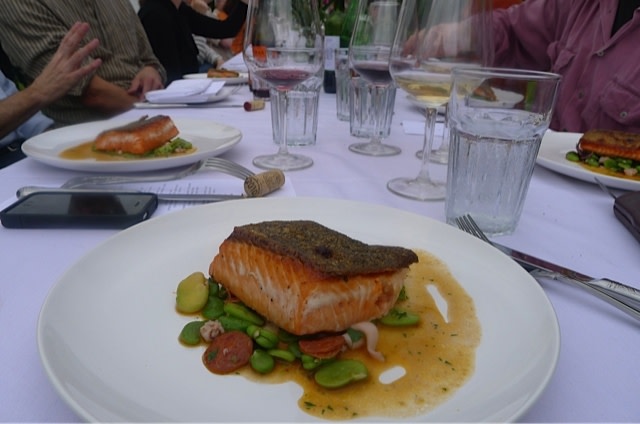 July 10: Jason Barwikowski
Catch the former Clyde Common and Olympic Provisions chef between projects. Barwikowski, one of the bad boys of Portland's food scene, likes to riff on rustic Spanish flavors—with an edge. Here, he'll throw wood-fried musings into the mix.
July 31: David Briggs
With a growing chocolate company called Xocolatl de David, the former Park Kitchen cook-turned-chocolatier is boldly reinventing the American candy bar as a new generation brings local, artisan, and wild imagination to the bon bon. In short: Briggs likes to play with his food. This should be interesting.
August 20: Timothy Bartling
Portland newcomer Timothy Bartling has been organic green caterer, a chef alongside American cooking pioneer David Burke, and head honcho at a lodge kitchen right in the Alaskan bush. And that doesn't count the two years cooking in Tuscany and the south of France. Or the inspiration for last summer's Wild Goose dinner—an understanding of the art of the wood-roasted chicken, gleaned at San Francisco's famed Zuni Café. Bartling's one of the smartest food minds in the city, and he makes a gorgeous fruit tart to boot. This should be another window on his food, and a hope that he'll join the local restaurant ranks.
September 17: Kevin Gibson and Teri Gelber
Yes, we all love Evoe, where Kevin Gibson pays exquisite homage to the season, Spain, and Italy in lovingly crafted snacks made right before your eyes in a teeny space on SE Hawthorne Boulevard. But who doesn't miss Gibson's full-on cooking—dinners from his Castagna days, when an evening out was like a trip to a European vineyard? Gelber (a good friend and contributor to Portland Monthly) is an extraordinary cook in her own right, with deep roots in L.A.'s food scene, and the co-author of the Beard-award-winning Sunday at Lucques and Nancy Silverton's Sandwich Book. Expect beautiful food celebrating the harvest.
October 8: Rick Wilson
Café Velo in downtown Portland is one of the city's gems, a sweetly designed take-out spot serving a singular mix of pour-over coffee and North African street food as practiced in France. Wilson may be best known for his mobile coffee bar at the Portland farmer's market, but he's a fine cook with a reputation for wood-fired paella. If we're lucky, he'll be pulling a big tajine out of Wild Goose's oven.
*"Wild Goose Farm":http://wild-goose-farm.com/
19433 NW Reeder Rd, Sauvie Island
Reservations: [email protected]