Cook This Now
Life Isn't Just a Bowl of Cherries
Cherries and phyllo dough make perfect sense. Hurry up cherries, so I can make this goat cheese cherryskopita soon!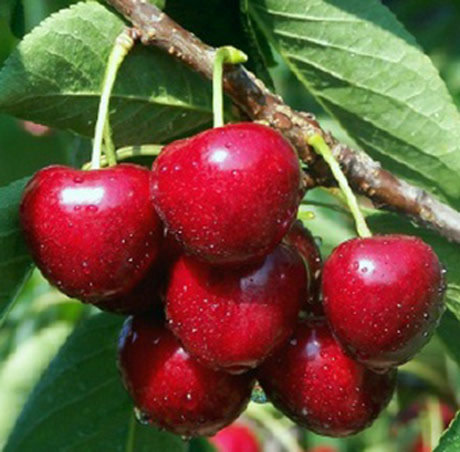 I love cherries fresh from the tree. In my opinion, a sweet, juicy cherry needs nothing but a mouth to eat it. *Recently, while impatiently waiting for Oregon cherries, I started pondering all the wonderful things I could do once my favorite fruit (besides peaches and apricots) finally arrived in the markets.
I recited to myself all of the usual recipes and preparations: sour cherry pies, cherry jam, clafoutis, cherry rustic tarts, cherry ice cream, cherry compote, cherry soda, and pickled cherries. Then, after taking a bite of baklava, a culinary lightbulb blinked: cherries with phyllo dough. It makes so much sense to serve cherries with that Mediterranean mille feuille, though I couldn't recall ever eating them together.
I'm a from-scratch sort of person. This, I confess, can be a curse. But sometimes, there are certain things that are better store-bought, like ketchup and phyllo dough. They even sell organic these days. And sure you can spend hours rolling and turning your pastry, if you must, but why bother when it doesn't really taste that different. I always keep a box or two of phyllo dough in my freezer for last minute guests or who knows what. You should too!
Here is my Cherryskopita recipe. I hope the Greeks don't mind. It has a not-too-sweet goat cheese filling and gets a honey syrup and cherry compote to sweeten it up. It takes a little time, but well worth the effort. Make the honey syrup and cherry compote ahead of time or as the phyllo bakes.
Cherryskopita:
For the filling:
1 box phyllo dough, defrosted for 2 hours, no more
2 sticks melted unsalted butter
1/2 cup fine breadcrumbs, lightly toasted
8 ounces fresh, mild goat cheese, room temperature
4 ounces cream cheese, room temperature
1/4 cup granulated sugar
1 teaspoon lemon juice
1/4 teaspoon fine sea salt
1/8 teaspoon very finely chopped rosemary
4 large eggs, beaten
For the syrup:
1/2 cup honey
1/2 cup sugar
1/2 cup water
1/2 vanilla bean, split and scraped
1 teaspoon lemon zest
For the compote:
3 cups bing cherries, pitted
1/2 cup sugar
1 star anise
1 tiny piece of cinnamon stick
2 teaspoons cornstarch mixed in 1 teaspoon water
Preheat oven to 350 degrees.
Keep the phyllo dough sheets covered with a damp kitchen towel to prevent them from drying out as you defrost them and are assembling the dessert.
For the filling: In a mixer, combine the goat cheese, cream cheese, sugar, lemon juice, salt, and rosemary. Mix on medium speed until combined, about 2 minutes. Slowly, add the beaten eggs a little at a time, mixing another two minutes.
To assemble: Unfold 1 sheet of the phyllo dough and place it in a buttered 8 × 13 inch casserole dish or baking ban. Brush the sheet with melted butter and sprinkle with breadcrumbs. Repeat the process by laying a second sheet of phyllo dough over the first sheet, brush it with melted butter and continue adding more phyllo sheets, until about 12 sheets have been used. Spread the cheese mixture evenly over the dough. Add another sheet of phyllo and continue brushing with melting butter and topping with phyllo for about 10 more sheets of dough, finishing your phyllo pile with melted butter.
Bake in the oven for about 35 minutes, until the edges are lightly browned.
Remove and immediately spoon the syrup over the top of the phyllo.
To make the syrup: In a small saucepan, combine the honey, sugar, water, and vanilla bean and its scrapings. Bring to a light boil and turn down to simmer for about 15 minutes, until thickened. Remove the vanilla pod and stir in the lemon zest. Set aside to brush over the phyllo when it's warm.
To make the compote: In a medium non-reactive saucepan, combine the cherries with the sugar and spices and let sit without heat for about 15 minutes, so the cherries release their juice. Over medium heat, cook them about 3 minutes. Strain the cherries over a bowl and pick out the star anise and cinnamon stick to discard. Return the liquid to the pan and whisk in the cornstarch slurry. Cook about 4 to 5 minutes, until the liquid is thick and glossy. Add the cherries back to the liquid and remove from heat.
To serve: While the cheese phyllo is still warm, slice it into squares or diamonds and serve with a spoonful of cherry compote on the side, in a puddle.
Serves 8 to 10