BREAKING FOOD NEWS
Little Big Burger Gets Bigger
Budding indie burger mogel Micah Camden inks a deal for a third location in student-happy Eugene.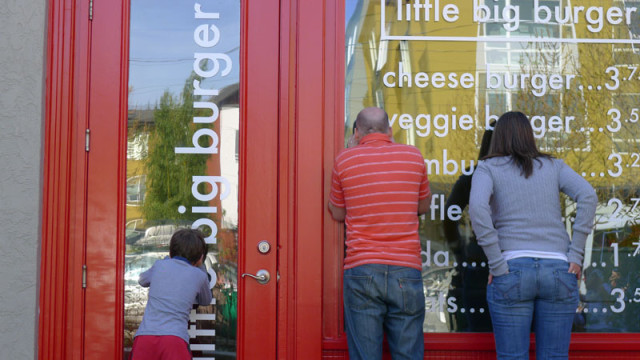 Micah Camden is taking his reimagined soda fountain to school. The savvy burger maestro—whose Pearl District prototype for modernist fast food has been a runaway hit—just signed a deal to open his third Little Big Burger at Courtside, a new apartment building in Eugene, across the street from the new $200-million Matthew Knight Arena, and just blocks away from University dorms. Camden and fiance/business partner Katie Poppe were recruited to the space by Jonathan Ledesma and Tom Cody, who run the Portland-based projectpdx and call themselves "values driven real estate developers."
The offer came last week, coincidentally, the day after Camden and Poppe conducted a scouting mission in Eugene, a city prime for what LBB sells: good prices and good quality in a setting that feeds on eye-popping graphics and social media. It's Burgerville for Now People, down to the truffle fries and two dozen canned beer brands stacked on shelves as though posing for a Warhol painting—and it's growing fast.
LBB's second location is set to open at 3753 N Mississippi Ave, waiting only for a liquor license and seats to arrive. Free burgers will be handed out on opening day, which is bound to be on short notice. Follow the action on twitter.com/littlebigburger.
"I'm boldly taking burgers where Burgerville didn't," says Camden. "I'm going to have a never-ending supply of customers and employees: as one year graduates, a new year begins."
Right now, Camden is doing the math…and looking like an A student.