OPENING WATCH
Sizzle Pie Crosses the River
Sizzle Pie is set to open a new location in the recently-shuttered Rocco's building downtown.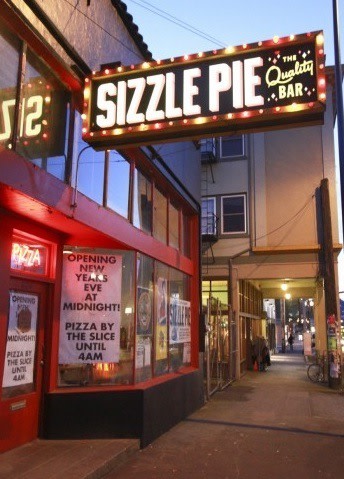 Sizzle Pie, the late-night pizza joint catering to the Lower East Burnside crowd, is taking its signature brand of drunk-friendly pie a whole sixteen blocks to the west. Sizzle's second location is set to transform the iconic Rocco's building on the corner of West Burnside and Tenth, across the street from Powell's City of Books.
Sizzle has built a name for itself as one of the most reliable spots for late-night noms, offering more than 35 varieties of thin-crust pizza by the slice, half-slice, and whole pie to Portland's hungry carnivores and vegans alike. Popular pies range from the classic D-beat (Cheese) and Ace of Spades (Pepperoni) to the creative – on weekends you can snag a slice of Brunch Pizza and a Bloody Mary for $6, and the surprise hit Gold Chain features white truffle oil, goat cheese, pancetta and green onions. The housemade New Deal Vodka cream sauce, Oregon pinot noir marinara, and Secret Aardvark blended red sauce keep it local, and have become some of the most popular alternatives to the typical tomato topper.
The new location will feature sidewalk seating, a full bar, and even more creative pies, including an expanded brunch menu (think spicy pulled pork "omelet" pie, and an a.m. vegan option with seitan chorizo, creamy white bean and shallot spread all topped with fresh cilantro). No word yet on when the new location is slated to open, or whether the spot will continue to draw Rocco's suburban tween customers, but, as always, we'll keep you updated.
Hungry for more breaking food news? Sign for Portland Monthly's weekly Eat Beat newsletter to stay up on the hottest new restaurants, happy hours, and top chefs.
Ye Olde Location: 624 E Burnside St; 503-234-7437; sizzlepie.com
Nü location: West Burnside and Tenth Ave