Mark your calendar
The Brews in June
Summer of Suds begins now!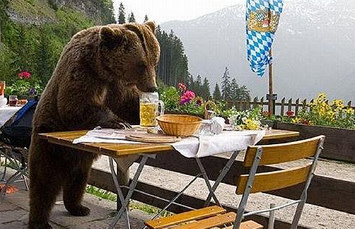 In our never-ending quest to keep you abreast of as many brew fests as humanly possible, allow us to present another installment of Mark Your Calendar.
It's time to go hog-wild at the fifth annual Zoo Brew! Over 35 breweries will be pouring sudsy samples to refresh your flagging spirits. Your ticket price entitles you to live music and admission to the zoo. Do not—we repeat—do not pass out in the bear enclosure.
Where: Oregon Zoo
When: Friday, June 3 @ 5-10pm
How Much: $30 in advance, $35 at the door. Includes tasting glass, 10 tokens, and admission to the zoo. 21 and over.
We Northwesties do love our hops, and for good reason. This is the world's second-largest hop region, and ours have their own special flair. But if put to the test, could we identify one hop from another?
Amnesia Brewing's Single Hop Fest is a chance for you to get fresh with your hops, while keeping it monogamous. Nine breweries will be brewing nine beers (except Amnesia, who has two single-hop seasonals) made from a single variety of hop from start to finish. Along with your beer, you'll get a cone of the hops with descriptions so you can learn more about what each variety offers.
Participants will include Burnside Brewing, Caldera Brewing, Cascade Brewing, Coalition Brewing, Double Mountain Brewing, Rogue Brewing, and Upright Brewing.
Where: Amnesia Brewing
When: Saturday, June 4 @ 12-8 PM
How Much: $2 per ticket (2 tickets for a full glass). No minors.
North American Organic Beer Festival
The concept behind the North American Organic Beer Festival is simple (and ambitious)—host the most earth-friendly beer festival in North America. They'll be pouring 50 organic beers and ciders, all into reusable, compostable cornstarch glasses made using solar power (science FTW!). The festival is set with live music, a children's zone, and lots of eco-compliant vendors. Be forewarned, there's no parking. Bring the tandem bike, leave the car.
With our powers combined, we can make damn good beer in a sustainable, environmentally conscious manner.
Where: Overlook Park, N Fremont St & Interstate Ave.
When: Friday & Saturday, June 24 & 25 (Noon – 9 PM), Sunday, June 26 (Noon – 5 PM)
How Much: Free admission, all ages. $6 tasting glass (required for tasting), $1 per token (4 tokens for a full glass, 1 token for 4 oz. taster). $1 off glass with validate MAX ticket, onsite bike corral ticket, or 3 cans of food.
Last, but certainly not least, check out the first-ever Portland Fruit Beer Festival (click to read full post by Eat Beat's Allison Jones).
Where: Burnside Brewing – 701 E. Burnside
When: Saturday, June 11th (11 to 9 pm) and Sunday, June 12th (11 to 6 pm)
How Much: Free to enter, All ages. $6 Tasting Glass (required to taste), $1 per drink ticket (4 tickets for a full glass). Buzz Tent beers 2-3 Tickets for 4oz pours; Special Package: 1 Tasting Glass and 10 Tickets for $15