BEST OF PDX
The Summer of Ceviche
When the temps start rising, it's hard to beat a meal of ceviche and a cold beer. We've tracked down some of Portland's hot spots to grab this cool summer favorite.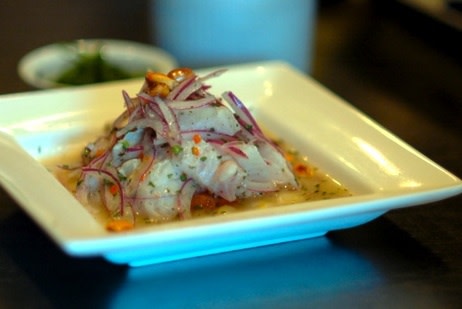 Whether you spell it Ceviche, Seviche, or Cebiche, one thing is clear: this South American staple is one of the best ways to savor fresh fish this summer. Originally an ancient Incan method of preserving fish with salt, ceviche has become a true culinary art form that uses citrus or another acid to "cook" fresh seafood – you could think of it as the (delicious) lovechild of sushi and salsa.
With the abundance of fresh seafood here in the Pacific Northwest, it's no surprise that Portlanders have access to a wide selection of top-notch ceviche, from renowned Peruvian eateriess to Mexican food trucks around town. HANGOVER BONUS: It's rumored that the juice left on the plate after finishing a serving of ceviche – called leche de tigre – will cure your morning-after headache. Keep this list in your wallet the next time you drink one too many, and let the season's seafood chase away your cares.
Did we leave out the essential Portland ceviche? Share your summer seafood finds in the comments or give me a holler on Twitter at @allisonejones. I look forward to hearing from you!
1) Andina
This Peruvian Pearl District institution serves up four kinds of ceviche, including the traditional De Pescado 5 Elementos, the Mixto Chorrillano with shrimp, mussles, scallops, octopus, and fresh fish, the Mango Verde y Langostinos with green mango, pasionfruit, and prawns, and the Tuna Nikkei with tuna, ají amarillo, soy sauce, and cucumber.
Andina, 1314 NW Glisan St
2) del INTI
With plenty of outdoor seating options, Northeast Alberta's del INTI is a good bet for ceviche in the sun. Their signature ceviche – the Ceviche Mixto – is a flavorful mix of shrimp, octopus, red onion, cilantro, cancha (puffed corn), sweet potato, and ají limo leche de tigre, and they even offer a vegetarian ceviche with Peruvian white beans, asparagus, beets, carrots, corn, red radish, onions, parsley, ají, and olive oil leche de tigre.
del INTI Restaurant, 2315 NE Alberta Street
3) Nuestra Cocina
In order to maximize the potential of the dish, Southeast Division's Nuestra Cocina offers a new ceviche daily. Recent offerings included rockfish with pineapple and red onion in a spicy poblano tomatillo broth – a blend of salty and sweet, crisp and smooth. You can call the restaurant at (503) 232-2135 to check out the current selection.
Nuestra Cocina, 2135 SE Division Street
4) Fonda Rosa
Part of East Burnside and 28th's solid Restaurant Row, the latin fusion coming out of Fonda Rosa's open kitchen includes some extremely fresh ceviche. Chef Hugo Hernandez grew up in Colima and Jalisco along Mexico's central Pacific coast, and incorporates flavors of his childhood with fresh Oregon ingredients, including salmon, crab, and prawns from the Pacific Northwest.
Fonda Rosa, 108 NE 28th Ave
5) Limo
For your Happy Hour Ceviche fix, look no farther than Limo Peruvian Restaurant on Northwest Westover Road. Monday through Friday, from 3 to 6, you can get a substantial serving of Classic (fish tossed with chili, cilantro, lime juice, and onions) or Classic Mixed (fish mixed with shrimp, calamari, octopus, and chili peppers) ceviche at Happy Hour prices ($6 and $7, respectively).
Limo, 2340 NW Westover Road
6) Kin Restaurant
Head over to Kin in the Pearl District for an Asian take on ceviche. Chef Kevin Shikami serves up a delicious hamachi ceviche in yuzu vinaigrette with chili, ginger, shiso, daikon, fresh herbs and cucumber. No, it's not traditional, but this dish is so packed with fresh flavor you're bound to embrace the cultural mash-up.
Kin, 524 NW 14th
7) ¿Por Que No?
For a bit of a karmic boost with your lunch, try ¿Por Que No?'s take on the dish using wild line caught pacific coast fish and wild shrimp from sustainable fisheries. This colorful ceviche is a blend of red snapper and wild shrimp marinated in seasoned lime juice and served with guacamole, cabbage, hot sauce & sliced avocado.
*¿Por Que No?, 3524 N Mississippi Ave and 4635 SE Hawthorne Blvd
8) Autentica
James Beard award nominated chef Oswaldo Bibiano knows his ceviche: the menu at his Northeast Killingsworth eatery features both traditional ceviche crudo with lime juice, hot peppers, red onions and cilantro as well as camaron con pulpo, a prawn and octopus ceviche with cucumber, chiles and avocado. The fresh fish is the perfect counterpoint to Bibiano's signature spicy mole.
Autentica, 5507 NE 30th Ave