INTERVIEW
Axmen Appetites
Check out what your favorite Timbers players are eating—at home in Portland and on the road.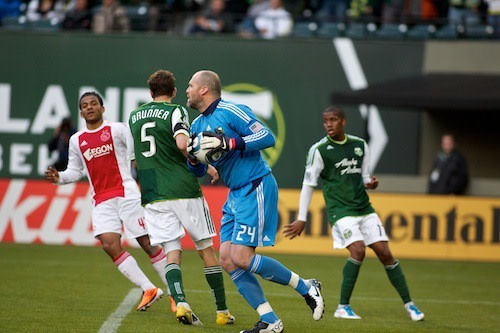 Portland has been invaded. It's difficult to go two blocks without seeing evidence of the new order—their faces stare down at our cars from billboards downtown, their chants fill the air around bus stops, and their play-by-plays have taken over our Twitter streams. That's right: the men and women of the Timbers Army have spread their infectious blend of green and white enthusiasm across the city, and their ranks have reached even the food sections of our monthly magazines. Don't worry, our new overloads are benevolent. All they ask is that we pledge our support to the pantheon of soccer players that now call Portland home.
As is the way of things, once you reach celebrity status in the City of Roses, someone will invariably ask you where you go out to eat. Without further ado, here are the eateries where you're most likely to spot your favorite Timbers players, as well as the dishes they cook up at home when they're not performing for the Army at Jeld-Wen.
Adin Brown Goalkeeper from Berkeley, California
You'll find this goalie noshing on the local, organic food at The Farm Cafe (10 SE 7th Ave, www.thefarmcafe.com): "The daily fish is pretty good, but the menu changes every week and everything I have tried there is fantastic. They are well-known for their veggie burger." At home, he's fond of his version of the French classic, beef bourguignon.
Eric Brunner Defender from Dublin, Ohio
Brunner can't get enough of the bacon, cheddar and potato pie at Hotlips Pizza (4 locations in PDX, www.hotlipspizza.com) Not just for carbo-loading, he insists this creative pizza "has a very unique flavor and tastes amazing!" On the road, Brunner keeps it simple with "pop" and chips, but gets fancy back in his home kitchen: His specialty is steak with chimichurri, rice, and grilled corn with butter.
Kenny Cooper Forward from Baltimore, Maryland
The Pearl's Piazza Italia is Cooper's top pick (1129 NW Johnson St, www.piazzaportland.com). Why? "The food is great and the people couldn't be nicer. The soccer on TV and soccer jerseys on the wall make it a perfect atmosphere!" The Pizzaiola – thinly sliced beef sautéed with a spicy garlic marinara sauce – is Cooper's top pick, and he's a big fan of their classic Minestrone soup. On the road it's oatmeal and cereal, but at home Cooper and his fiancé are adventurous cooks. Their current obsession? Bison filets.
Futty (Mamadou Danso) Defender from Serekunda, The Gambia
Futty's a big fan of the chicken bowl from Chipotle, because it's reliable, close to home, and similar to the Gambian food he grew up with. On the road it's granola bars, but at home Futty makes a mean chicken alfredo.
Jeremy Hall Defender/Midfielder from Tampa, Florida
Hall's favorite noms are at Henry's Tavern in the Pearl (10 NW 12th Ave, www.henrystavern.com) former home of the Blitz-Weinhard Brewery for more than 140 years. Hall's ideal meal? The chicken club sandwich – no tomato or mayo – and Gorgonzola fries. On the road he's known to scarf a few handfulls of Skittles "in the purple bag", but at home it's pasta with meat sauce (sense a trend?).
Troy Perkins Goalkeeper from Springfield, Ohio
And lastly, the gourmand of the group: "My favorite place to grab a meal in Portland is actually my own kitchen. Having a two-year-old doesn't allow you to get out very much, so we tend to eat at home nearly every meal. The other main reason is that I fancy myself as a chef and really enjoy cooking new things and refining some old favorites." His go-to meal? Beer-can chicken with his "southern special grits." We couldn't get our hands on the secret recipe, but they're a magical combo of grits, cream cheese, peppers, bacon, onions, garlic, and "some other things" that get crock pot love for six hours. Perkins may be a vigilant defender of his recipes and the Timbers' net, but we sure wouldn't mind scoring an invite to his next BBQ.