New Bars
Base Camp Brewing
Brains meet brawn meet brew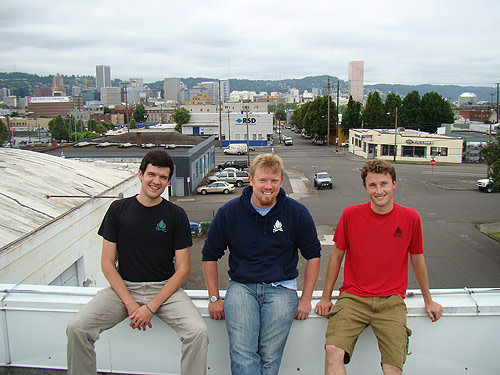 There are some new kids on the block at Libation Alley (the inner Southeast 'hood around SE Oak and Ninth Avenue), and, thank God, they're bringing beer with them. Justin Fay, a former brewer at Klamath Basin Brewing, will (hopefully) be opening his brainchild Base Camp Brewing Company in November. We realize that this is still a ways off, but when it comes to beer, is it ever too early to mark your calendars?
Fay and his brewing buddies will be filling a much-needed void in the hop-happy Portland beer scene—lagers (woot!). As it stands, their beer line-up will consist of six standards, including an Octoberfest-like lager, and a seasonal. Although he has styles picked out, Fay is more interested in brewing innovative beers with the ingredients available than following cut-and-dry formulas.
Fay started professionally brewing at Klamath Basin Brewing in 2006, where he racked up a variety of awards, including a blue-ribbon-winning amber at the 2008 West Coast Brew Fest, beating out New Belgium's Fat Tire, which got third.
The men of Base Camp can easily be described as a group of beer geeks. Fay, a Pre-Med turned Fermentation Studies grad from Oregon State University, has more than a palatable appreciation for suds. After spending a summer in the King Estate Winery's taproom, Fay became fascinated with the science behind brewing and has been wearing his brewer's goggles ever since. "I loved the atmosphere and the science behind brewing," says Fay, "There's a design and hands-on aspect. It's this idea of building things, building beer."
However, the Base Camp crew is more than your usual brew brainiacs. This is a staff of hard-core outdoor adventure junkies. For the Base Camp staff, beer and the great outdoors is the Pacific Northwest version of peanut butter and jelly. A big part of their motto is looking to your own backyard for adventure, whether it be the Portland City Marathon, geo-caching in Eastern Oregon, or kayaking the Wilson River (which may or may not entail losing one's camera, wallet, and car keys). Their current office looks like a search-and-rescue base, with marked out trail maps of Mt. Shasta, a future company trip, hanging on the wall. "You don't have to drink light beer," says in-house Marketing Manager Joseph Dallas, "just be active and drink good beer. It seems like a healthier diet."
A sneak peek at their labeling plan tells a similar story: a sample 12-pack case sports topography charts and bottle labels use images of compass navigation and rock climbing equipment. Floor plans for the taproom include a curved bar with an angular profile (inspired by salt columns) surrounded by walls covered in refurbished barn wood. Slab samples with pieces of broken beer bottles and plans for floor-to-ceiling glass roll-ups give an impression of the outdoors brought inside.
Also unique about Base Camp is that they're skipping the nano-brewing stage altogether, and starting out with a 20-barrel brewhouse (think the size of Hopworks Urban Brewery), with bottling and kegging operations. Fay and his staff plan to live up to the "go big or go home" mentality. Shopping around also helps. Their equipment comes from the defunct Nicolet Brewery in Florence, Wisconsin. Ten days and four semi trucks later gave them the equipment needed for a full-fledged production brewery.
For this group of fledgling brew barons, there is still a long way to go. Their building, an electrical company warehouse built in 1949, will take quite a bit of work to get up to code with (ironically) electrical and plumbing. A staggering amount of permit fees and feet-high stacks of applications are just a couple of the steps necessary to complete before having wort in the kettle. Fay and his staff are optimistic, though, being a group of "rigorous men" (their words) with steep learning curves.
Needless to say, we're expecting big things from Base Camp, as is Fay and his staff. Expect to see 22 oz. bottles around Portland in the fall/winter. Fay plans to keep distribution local, but if possible he would brew to the moon and back, where I'm told, it's easier to carbonate the beer.