Happy Hour
Happy Hour: Hit the Brix
Whimsical touches FTW!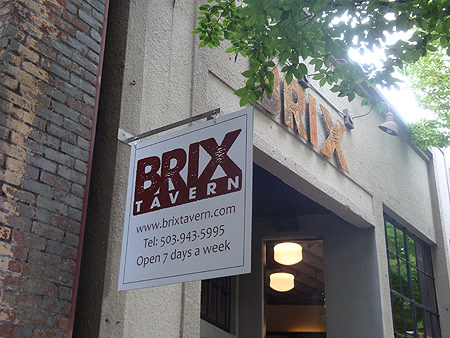 We're listening to you, dear reader! According to our own readership studies—not to mention deluge of blog commentary—happy hour is a subject that you're pretty serious about, to which I can attribute the fact that times are hard, we're working like the Dickens (Charles), and when the whistle blows our need for a drink, comforting snacks, and a little healthy venting has never been greater. With no shortage of food and drink writers in town, there are a number of trusted folks from whom you can solicit an opinion on associated topics ranging from food sourcing to Oregon Craft Beer to bang for your buck. And make no mistake, we're a competitive bunch!
Somewhere in all this happy hour hullabaloo, the notion of "fun" often gets overlooked. True, it's not as if we adults are craving some kind of Chuck E. Cheese-Pachinko Palace sensory experience—far from it. But after-work eating and drinking isn't a matter of life and death, unless you're deployed in Afghanistan. Newish Pearl bistro and bar Brix Tavern seemingly has a handle on the situation. Thanks to a few whimsical touches to its menu, the long-suffering cubicle drone can smile and relax a bit. Despite its tony address, it's pretty apparent that Brix (happy hour 3–6 and 9:30-12:30 daily) doesn't take itself too seriously.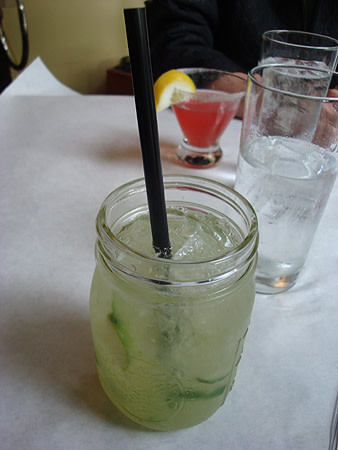 For one thing, the menu features over 30 beers—by the can. While canned beer no longer bears the stigma of ill-bred yahoo, one doesn't usually associate the Pearl District with the sounds of freshly pulled tabs. There is a serviceable selection of taps (Ninkasi, Widmer, North Coast, Lompoc), but the urge to pop a top at Brix is a tough one to ignore. Feel like living dangerously? Order the Beer in a Brown Bag ($3). It's bartender's choice and in exchange for a mere three bones you'll get a tall boy—of something. On my last visit it was Rolling Rock, but I saw a fellow at the next table over slugging down a Kokanee.
Happy hour cocktails run a cheap, cheap, cheap $4, which is a sweet deal in anyone's book. I ordered a Summer Sun, a Jolly Rancher-esque refresher with Hendrick's Gin, muddled cucumber, green apple syrup, and fresh lime served in a little Mason jar. The coexistence of cucumber and sour apple is a little testy at first, but as the ice melts the two truculent flavors kiss and make up in agreeable fashion. Other choices include the Huckleberry Gimlet, the Backyard Margarita (tequila + seasonal berries), and the Brix Julip (Jack Daniels, muddled mint and cucumber, honey simple syrup, lime).
At some point hunger needs to be addressed and the Brix happy hour men has the bases adequately covered. The turkey, mashed potato and cranberry sliders ($4.95 for 2) was a welcome change of pace but be advised to order a dash of mustard for some needed bite. Similarly, the chicken tacos ($6.95), though well portioned, could have used some zesting up (which is why I carry a bottle of Tapatio with me everywhere I go). The calamari, fennel, and rock shrimp platter ($7.95) was a smashing success; the sea creatures were cooked through perfectly and deftly breaded with a delicate touch. The addition of fried fennel brings a fleeting suggestion of anise and onion to the bountiful fish fiesta.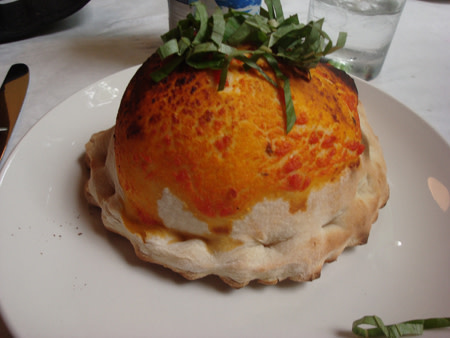 Your eyes will definitely stray to a notice for the "Daily Hot Pocket" ($2.95), and you'll be glad they did. Happily, we're not talking about the cardboard-flavored microwave monstrosity, but rather a rotating delicacy, somewhere between a pot pie and a calzone, made with fresh house pizza dough, mozzarella, and sausage, dressed in basil and baked to crunch-chewy perfection.
Brix is a very large space with at least three different seating arrangements, and tables that are thoughtfully spaced so as to allow the art of conversation to flourish. The decor is that of an upscale pub with exposed brick and a colorful chalkboard extolling the day's specials. And unlike other venues that really pump up the industrial trappings, Brix actually looks like a former warehouse that's been tastefully appointed—rather than a mad exhibition of ductwork meant to symbolize "Man's Inhumanity to Man" or something.
So calm yourself, harried wage slave, and contemplate the end of another workday with a bag of beer and a Hot Pocket. Repeat as necessary and be of good cheer when the bill arrives. It will be less than you expected.