MARKET EATS
Chef in the Market: Jeremy Eckel
Bar Avignon's talented chef is next in the summer series of free cooking demonstrations at the PSU Portland Farmers' Market.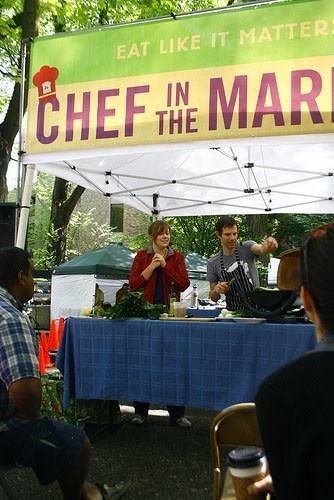 Get your notepads—and your appetites—ready! Every Saturday, all summer long, I'll be hosting a free cooking demo with one of Portland's best chefs in front of a crowd of hungry market-goers at the Portland Farmers' Market at PSU. Get a sneak peak of the upcoming Chef in the Market each week here on Eat Beat!
For Chef in the Market this week, come on down to the PSU market at 10 am to meet, greet, and eat the market-fresh treats from Jeremy Eckel, chef at Southeast Portland's Bar Avignon. Since August 2009, Jeremy has been preparing top-notch seasonal eats to complement owners Randy Goodman and Nancy Hunt's well-curated wine and cocktail lists. Thanks to Jeremy's local, seasonal approach to good eats, Bar Avignon's food offerings have grown from simple cheese and charcuterie options to a full-scale menu known for its international flavors and—insider tip—one of the best steaks in town.
Jeremy also oversees Bar Avignon's own produce garden, which supplies hyper-local greens, herbs, and veggies for his menus, and this Saturday he'll be sharing his secrets with us. We'll be making a few of Jeremy's favorite summer dishes, and we'll also be sharing tips and tricks for turning your kitchen garden into quick and easy gourmet food on the table. See you on Saturday!
Chef in the Market 10 am, FREE, in the middle of the farmers' market at Portland State University in the South Park Blocks between SW Hall & SW Montgomery.
Bar Avignon 2138 SE Division 503.517.0808
Open 7 days a week, 5 pm to close; Happy Hour Monday through Friday, 5 to 6 pm