MARKET EATS
Chef in the Market: Leena Ezekiel
Renowned local Indian chef is next in the summer series of free cooking demonstrations at the PSU Portland Farmers' Market.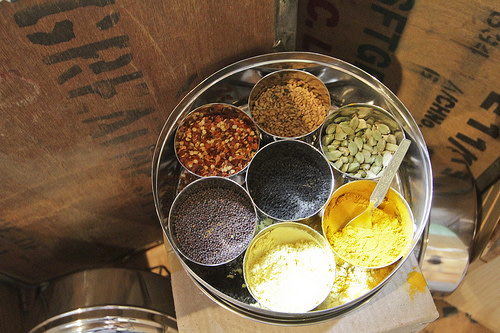 Get your notepads—and your appetites—ready! Every Saturday, all summer long, I'll be hosting a free cooking demo with one of Portland's best chefs in front of a crowd of hungry market-goers at the Portland Farmers' Market at PSU. Get a sneak peak of the upcoming Chef in the Market each week here on Eat Beat!
For Chef in the Market this week, come on down to the PSU market at 10 am to meet, greet, and eat the market-fresh treats from Leena Ezekiel, renowned cooking instructor and caterer specializing in Indian cuisine. Leena teaches packed classes at In Good Taste, Whole Foods Markets, Sur La Table and The Western Culinary Institute, but this weekend she'll be sharing her secrets with us.
We'll be making a few of Leena's favorite summer dishes—including Keema Mattar (ground lamb cooked with peas), market-fresh tomato chutney, and some simple and delicious spiced greens and potatoes. We'll also be sharing tips and tricks for getting your Indian spice combos right, picking produce, and loving your time in the kitchen. Leena's demos have been the best attended of all of our market demos, so arrive early to snag a seat and a spoon.
In order to get our bellies and brains in gear for the main event this weekend, I sat down with Leena to sniff out her market secrets to share with all of you. See you on Saturday!
Which Portland farmers markets do you frequent?
We love the Portland State University Farmers' Market on Saturday mornings, the Hollywood Farmers' Market, and the Sunday market at King Elementary Elementary School in Northeast Portland.
What seasonal ingredients are inspiring you right now?
I just love all the vegetables, namely the tomatoes, mustard greens and spinach. In fact, almost everything at the farmers' markets this time of year can be used for Indian cuisine.
Picture this: It's Saturday morning and the PSU market is your brunch buffet. What would be your perfect wake-up meal?
I'd start with some Pine State Biscuits and grab some bread from Pearl Bakery. Some fresh cheese, paté from Chop, and Double Dare pepper jelly from Rose City Pepperheads would round out the meal. I'd sit by the music and enjoy myself, just soaking in everything around me. The Portland Farmers' Market reminds me of the everyday markets that we used in India. I only miss the spices that were displayed in heaps.
Chef in the Market 10 am, FREE, in the middle of the farmers' market at Portland State University in the South Park Blocks between SW Hall & SW Montgomery.