FOOD AND DRINK EVENTS
Community Rallies Around Aviary
Portland restaurants rise to the occasion to support newcomer Aviary after 4th of July Fire.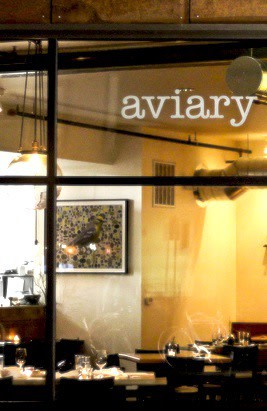 After an errant firework caused $100k in damages to the Asian-inspired NE Alberta eatery Aviary and neighboring coffeehouse Barista on the 4th of July, Portland's food and drink community set to work. Messages of support flooded Twitter and Facebook, Stumptown coffee donated a cart to allow Barista to continue serving Alberta coffee drinkers, and now, area restaurants are lending their kitchens and their time to support the community cause.
Want to lend a hand—and a fork—to the reopening? While Aviary's injured location regains use of its wings, chefs Sarah Pliner, Jasper Chen and Kat Whitehead will still be serving up their signature modern cuisine at PING on NW 4th and Couch. Think pop-up restaurant meets charity marathon, diners will sample a selection of Aviary's menu in chef Andy Ricker's Old Town kitchen. The whole thing kicks off on Monday, July 18th with five-course prix fix meals for $48, continuing July 31st on Sunday and Monday nights. (Reservations are strongly recommended – please email [email protected] to snag a seat).
The community help doesn't stop there: Matthew and Elizabeth Busetto, owners of NE Dekum's Firehouse Restaurant, and new Chef Timothy Wastell are making the most of their aptly named establishment. Firehouse will be hosting a fundraiser for Aviary on Monday, July 25, at 6:30, offering four family-style courses—antipasti, salad, roasted meats from the wood burning oven and Aviary's signature beer ice cream, with wine and beer included. The suggested donation for the evening of community, good eats, and live music is a minimum of $35 per person, and diners will be able to make a donation of any amount to support Aviary's next flight. Call Firehouse Restaurant to make reservations at (503) 954-1702.