FOOD AND WINE EVENTS
Cool off with the Summer of Riesling
Several of Portland's top restaurants are on a mission to get Riesling in your glass all summer long.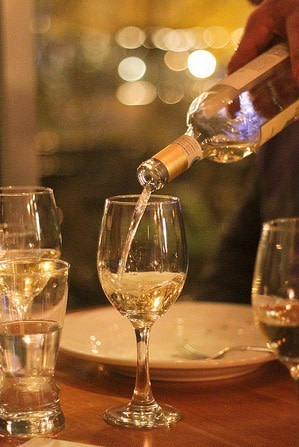 Move over Rosé, there's a new summer sip in town. From June 21st to September 22nd, some of Portland's top eat-and-drinkeries are taking part in a nation-wide Riesling Revolution. Tackling the sullied reputation of a wine that's thought of as too sweet, over-oaked, and unbalanced, the New York-based Summer of Riesling is sending a message that truly delicious, refreshing, complex, and subtle varieties of the German über-grape are out there, ready for you to love them.
Though quality Riesling has been a quiet player in the wine world for the past few decades—and only around 800 acres of the grape are currently planted in Oregon—lovers of the summery varietal are preparing for their favorite wine to hit center stage. Who's stepping up to the challenge? Portland's own Bar Avignon, Clyde Common, Gruner, June, Le Pigeon, Heathman Restaurant and Bar, Metrovino, Ned Ludd, Nostrana, and Olympic Provisions will be pairing the best of summer's warm-weather eats with glasses of Riesling—many produced right here in Oregon.
At participating restaurants, you'll be able to dive head-first into a personal exploration of the wine of the summer, including opportunities to sample flights, pick perfect pairings, and indulge in full wine pairing dinners from Portland's best chefs. Now's the time to find your favorite among Oregon's locally-produced Riesling, including Love & Squalor, Brooks, Teutonic Wine Company, Matello, Anam Cara, Amity Vineyards, Trisaetum, and many, many more. Participation in the Summer of Riesling is simple: just start sipping. I promise Rosé won't hold it against you.