DAY TRIPPER
Day Tripper: Hood River's Beers and Berries
It's possible to squeeze a relaxing vacation into a single day when one of Oregon's most charming towns is a little more than an hour away from the city.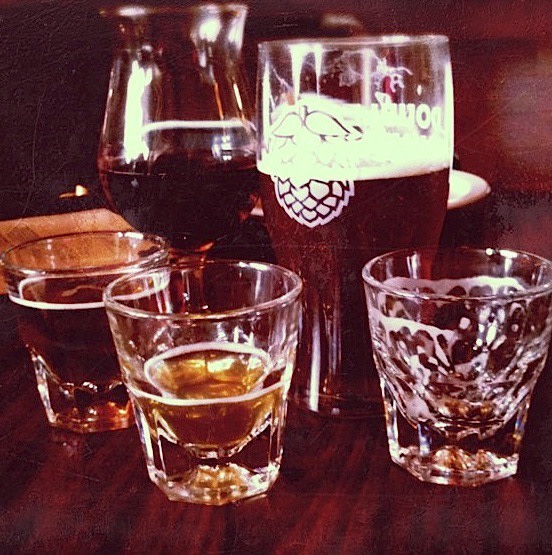 Though summer weather is especially elusive this year, we're entering prime time for day trips throughout Oregon. July is the ideal time to take a weekend drive to Hood River's picturesque farms and delightful downtown, filled with sweet bakeries, chic boutiques, and some of the best beer coming out of the state. More than 90% of America's hops are grown right here in Oregon and Washington, and Hood River is quickly becoming a go-to spot for start-up breweries with big dreams and even bigger flavors. Pop a CD into the car stereo, spend a leisurely day winding through the Columbia River Gorge, sample some worthy beers and some world-class pizza, and be home in less time than it takes to wait for a table at the Screen Door.
Where to go: Hood River is home to several microbreweries churning out a surprising array of craft beer styles—meaning there's something for everyone, from the sour beer lover to the porter pal to the Kolsch craver. The area is also haven for outdoor enthusiasts, with plenty of hiking and water sports for the extremists, and window shopping and orchard strolling for the rest of us.
How to get there: From Portland, Hood River is located just off Interstate 84—exits 61-64—just over an hour outside the city past waterfalls and gorge-ous river views (sorry, couldn't help it). If you're coming from Washington, take the scenic SR 14 to the Hood River toll bridge ($.75 each direction) at milepost 65 just before Bingen, WA.
Get in to town too early to start drinking beer? Start your day with the 35-mile Hood River County Fruit Loop, a scenic drive through the valley's orchards, forests, and farmlands offering everything from U-Pick cherries and berries to hills of lavender and alpacas. Head out from Hood River with a loaf of bread from Knead Bakery, and you'll be able to gather berries, local cheese, crisp apples, and more for a true picnic of champions.
Where to sip: Once you've thoroughly stained your hands with blackberry juice and filled your car's cupholders with cherry pits, it's time to head back into town to enroll yourself into Oregon Craft Beer 101. Set off on a city-wide brewpub crawl with tours and tastings at Full Sail Brewing (offering free Brewery tours every day at 1, 2, 3 and 4pm), Logsdon Organic Farmhouse Ales (whose spent barley, oats and wheat are fed directly to their small herd of organic raised Scottish Highlander cattle just outside of town), Everybody's Brewing (across the river in White Salmon, WA with stellar views of Mt. Hood and a truly warm and inviting tap room). Finish the day at Double Mountain Brewery for some of the best pizza in the state and a sampler of whatever beers are currently on tap.
Wind down with a slice, but save room for dessert: At this point, you've no doubt worked up an appetite (and a comely swagger to your walk) so order up a pie or three at Double Mountain's taproom.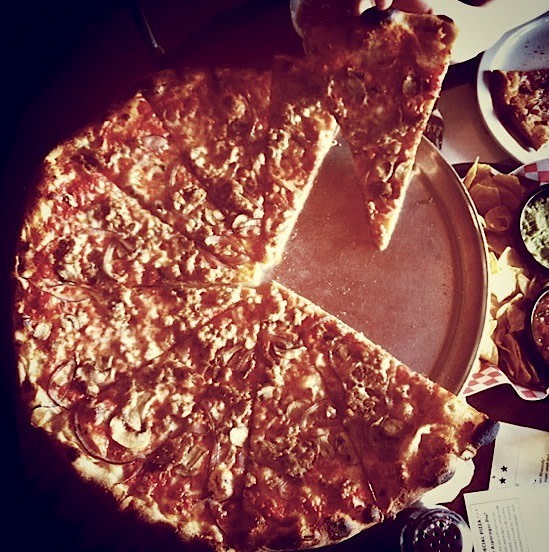 The goodly firemasters at Double Mountain offer up whole pizzas with thin, charred crusts reminiscent of New Haven's pies, topped with locally-produced meats and top-of-the-line veggies. The sausage for the Sausage, Onion & Mushroom comes from Chop Butchery in Northwest Portland, and their bratwurst and bier sausages are special-ordered from Old Country Deli Sausage Company on Portland's East Side. One slice of The Jersey Pie (with hot capicola, provolone & Mama Lil's marinated peppers) and you'll forget the dictum that you can't get good pie in Oregon.
After you've polished off the last of your pizza crusts, hop back in the car, take I-84 twenty miles to the west, and grab a cone of soft serve ice cream at Cascade Lock's East Wind Drive In. As you gaze out over Lewis and Clark's favorite river, enjoying a delicious summer dessert with a growler full of beer in the back, you'll already be plotting your next trip to Hood River. Why not go tomorrow?