FOODIE FREEBIES
Doug Fir Menu Revamp Giveaway
Don't miss your chance to try the Doug Fir's new menu for free, plus two tickets to a show to make a night of it!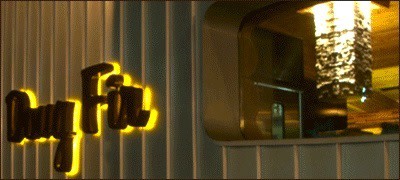 As if he weren't busy enough, Chef Christopher Israel has recently taken on a pretty tall order. In between steering the successful Southwest Portland eatery Grüner and prepping for the debut of his new bar Kask, the James Beard-nominated chef has found time to consult on a renovation of the kitchen offerings across the river at the Doug Fir Lounge. Israel and Doug Fir head chef Abigail McBride joined culinary forces to make the restaurant's menu as up-to-date as the venue's concert lineup.
The recently relaunched comfort-food menu at the popular East Burnside hangout is heavy on the local products and rib-sticking entrees, featuring buttermilk-marinated fried Draper Valley chicken, house-cured double cut Carlton Farms pork chops with Applejack sauce and mashed Yukon Golds, Italian sausage and grits with fried onions, and a new Fir Burger – a half pound Painted Hills patty with Nueske's bacon, Tillamook cheddar or Gruyere, garlic mayo, greens, and house-made pickles. Insiders have been using the term "Grünerification" to describe the trend of sleek, modern restaurant design in Portland for a few years now, and it looks like we'll be adding menu makeovers to the definition.
Foodie Freebie: Wanna get your forks into the new menu? Eat Beat snagged a $50 restaurant gift certificate plus two tickets to any Doug Fir concert in July, and we're just itching to give it away to one of our awesome readers. Shoot me an email over at [email protected] with the headline "Doug Fir" and the after-dinner show you'd most like to see, and I'll select one winner at random. You've got until 5 pm on Thursday, July 14th to enter. Check out the fully revamped Doug Fir menu here, and catch the full line-up of upcoming concerts here.
Doug Fir Restaurant, Bar, & Lounge
830 East Burnside Street, (503) 231-9663
Open Daily 7am-2:30am